Sudan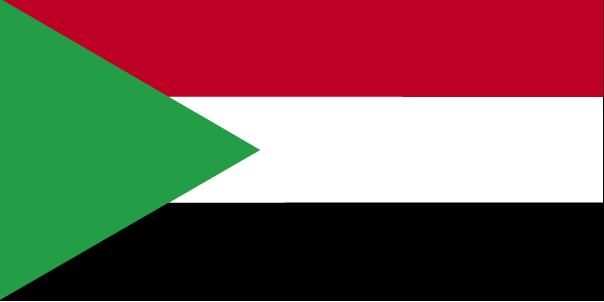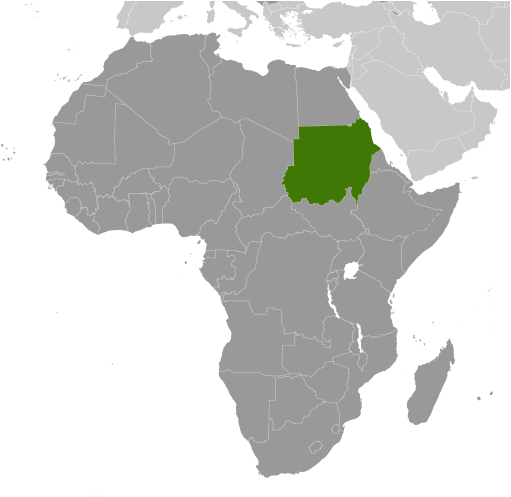 | | |
| --- | --- |
| Country | Sudan |
| Capital | Khartoum |
| Continent | Africa |
| Currency | Sudanese pound(SDG) |
| Languages | Arabic & English |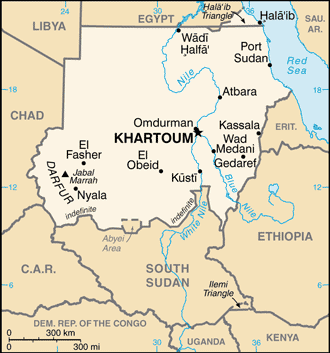 Information
Introduction
Military regimes favoring Islamic-oriented governments have dominated national politics since independence from the UK in 1956. Sudan was embroiled in two prolonged civil wars during most of the remainder of the 20th century. These conflicts were rooted in northern economic, political, and social domination of largely non-Muslim, non-Arab southern Sudanese. The first civil war ended in 1972 but broke out again in 1983. The second war and famine-related effects resulted in more than four million people displaced and, according to rebel estimates, more than two million deaths over a period of two decades. Peace talks gained momentum in 2002-04 with the signing of several accords. The final North/South Comprehensive Peace Agreement (CPA), signed in January 2005, granted the southern rebels autonomy for six years followed by a referendum on independence for Southern Sudan. The referendum was held in January 2011 and indicated overwhelming support for independence. South Sudan became independent on 9 July 2011. Since southern independence Sudan has been combating rebels from the Sudan People's Liberation Movement-North (SPLM-N) in Southern Kordofan and Blue Nile states. A separate conflict, which broke out in the western region of Darfur in 2003, has displaced nearly two million people and caused an estimated 200,000 to 400,000 deaths. The UN took command of the Darfur peacekeeping operation from the African Union in December 2007. Peacekeeping troops have struggled to stabilize the situation, which has become increasingly regional in scope and has brought instability to eastern Chad. Sudan also has faced large refugee influxes from neighboring countries primarily Ethiopia and Chad. Armed conflict, poor transport infrastructure, and lack of government support have chronically obstructed the provision of humanitarian assistance to affected populations.
Map
References
Sudan - Wikipedia
Sudan - CIA World Fact Book
Sudan - BBC
Sudan - Timeline - BBC
Cities
Links
News Headlines
Google News
Vox Sentences: 20 million in Somalia, South Sudan, Nigeria, and Yemen face starvation - Vox
---
South Sudan attack 'could hinder aid deliveries' - BBC News
---
Sudan: 2017 Humanitarian Needs Overview, Dec 2016 - ReliefWeb

ReliefWeb



Sudan: 2017 Humanitarian Needs Overview, Dec 2016ReliefWeb

The main humanitarian needs in

Sudan

result from several factors. New and protracted displacement due to conflict affects access to basic services and disrupts the livelihoods and food security of many people. Acute malnutrition in children under the

...
---
Sudan 'cooperating' with Chad and France over kidnapped Frenchman - africanews
---
Uganda's open-door policy sags amid crush of refugees from South Sudan - USA TODAY
---
War-Ravaged South Sudan Draws $500 Million Oil Bet From Oranto - Bloomberg
---
Sudan: Petr Jasek tells his story - Mission Network News

Mission Network News



Sudan: Petr Jasek tells his storyMission Network News

He eventually came alongside some

Sudanese

believers as they helped a young man injured during a protest in

Sudan

. Then, "He was arrested in December of 2015, was interrogated for a number of hours, and then they took him to a prison, owned and ...
---
Children suffer grave violations in Sudan's conflict – UN reports - UN News Centre
---
Sudan and Saudi military to hold joint air force drills | Africanews - africanews
---
Sudan, Saudi to hold first joint air force drill - News24



Sudan, Saudi to hold first joint air force drillNews24

Khartoum -

Sudan

said on Sunday it will begin this week a joint air force drill with Saudi Arabia, the first such manoeuvres since Khartoum allied with Riyadh after breaking ties with Tehran in 2015. The exercises will be held from March 29 until April

...and more »
---