Sudan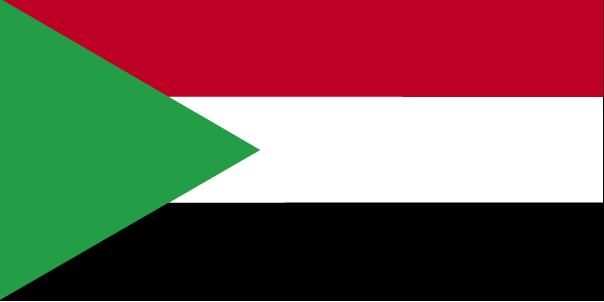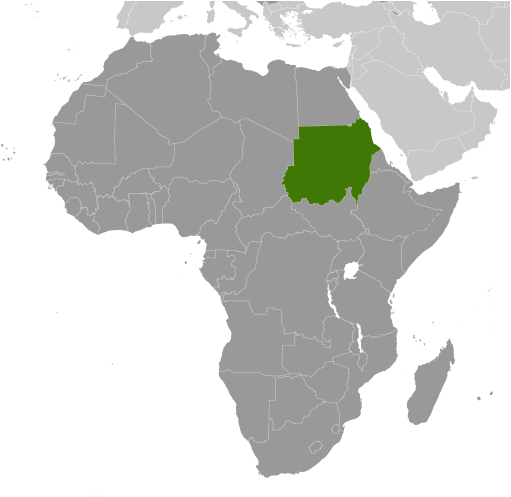 | | |
| --- | --- |
| Country | Sudan |
| Capital | Khartoum |
| Continent | Africa |
| Currency | Sudanese pound(SDG) |
| Languages | Arabic & English |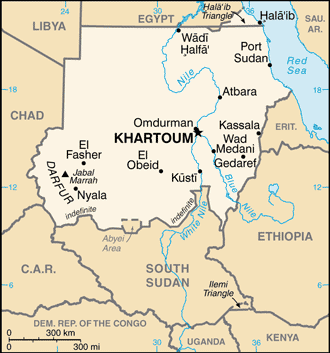 Information
Introduction
Military regimes favoring Islamic-oriented governments have dominated national politics since independence from the UK in 1956. Sudan was embroiled in two prolonged civil wars during most of the remainder of the 20th century. These conflicts were rooted in northern economic, political, and social domination of largely non-Muslim, non-Arab southern Sudanese. The first civil war ended in 1972 but broke out again in 1983. The second war and famine-related effects resulted in more than four million people displaced and, according to rebel estimates, more than two million deaths over a period of two decades. Peace talks gained momentum in 2002-04 with the signing of several accords. The final North/South Comprehensive Peace Agreement (CPA), signed in January 2005, granted the southern rebels autonomy for six years followed by a referendum on independence for Southern Sudan. The referendum was held in January 2011 and indicated overwhelming support for independence. South Sudan became independent on 9 July 2011. Since southern independence Sudan has been combating rebels from the Sudan People's Liberation Movement-North (SPLM-N) in Southern Kordofan and Blue Nile states. A separate conflict, which broke out in the western region of Darfur in 2003, has displaced nearly two million people and caused an estimated 200,000 to 400,000 deaths. The UN took command of the Darfur peacekeeping operation from the African Union in December 2007. Peacekeeping troops have struggled to stabilize the situation, which has become increasingly regional in scope and has brought instability to eastern Chad. Sudan also has faced large refugee influxes from neighboring countries primarily Ethiopia and Chad. Armed conflict, poor transport infrastructure, and lack of government support have chronically obstructed the provision of humanitarian assistance to affected populations.
Map
References
Sudan - Wikipedia
Sudan - CIA World Fact Book
Sudan - BBC
Sudan - Timeline - BBC
Cities
Links
News Headlines
Google News
China sends additional 120 peacekeepers to South Sudan - Sudan Tribune
---
Sudanese army conducts largest-ever military drills - Sudan Tribune



Sudanese army conducts largest-ever military drillsSudan Tribune

SAF's Chief of the General Staff, Lieutenant General Emad al-Din Mustafa Adawi said the exercise was the largest in the history of the

Sudanese

army, pointing the new strategy of the exercises involves the largest war formation from all military units

...
---
Sudan pressures OVL for higher tax, sits on extension - Times of India



Sudan pressures OVL for higher tax, sits on extensionTimes of India

NEW DELHI:

Sudan

is playing hardball with India on the issue of extending the licence for an oilfield with a view to extracting additional revenue, even though it drags its feet over paying ONGC Videsh Ltd, the overseas arm of flagship explorer ONGC

...
---
Sudan security seizes 16 print-runs in one week - ReliefWeb



Sudan security seizes 16 print-runs in one weekReliefWeb

December 4 - 2016 KHARTOUM On Friday, officers of

Sudan's

National Intelligence and Security Service (NISS) confiscated all copies of El Sayha and El Watan daily newspapers from the printing press. This brings the number of print-runs seized this week

...
---
Sudan to receive $500 million deposit from UAE: Bashir - Sudan Tribune
---
S. Sudanese refugees in Sudan reach 263000, say UNHCR - Sudan Tribune
---
S. Sudan media body grants officials second term - Sudan Tribune



S. Sudan media body grants officials second termSudan Tribune

He further urged the union's state branch offices to closely coordinate with the head office in the capital, Juba to strengthen the communication gap and monitor journalists' performances. The Union of Journalists of South

Sudan

(UJOSS) was established

...
---
Salesian Missionaries Operate Leprosy Program, Hospital in Tonj - ReliefWeb
---
South Sudan FA president Chibur Goc Alei suspended by board - BBC - BBC Sport
---
Sudan's dialogue higher coordination body dissolved - Sudan Tribune



Sudan's dialogue higher coordination body dissolvedSudan Tribune

December 5, 2016 (KHARTOUM) -

Sudan's

Dialogue Higher Coordination Committee known as 7+7 on Monday has dissolved itself and approved the formation of an extended committee to follow up on the implementation of the dialogue outcome, said 7+7 ...

and more »
---