Cambodia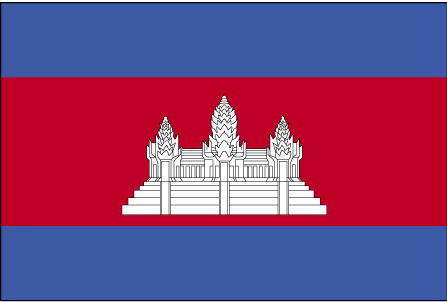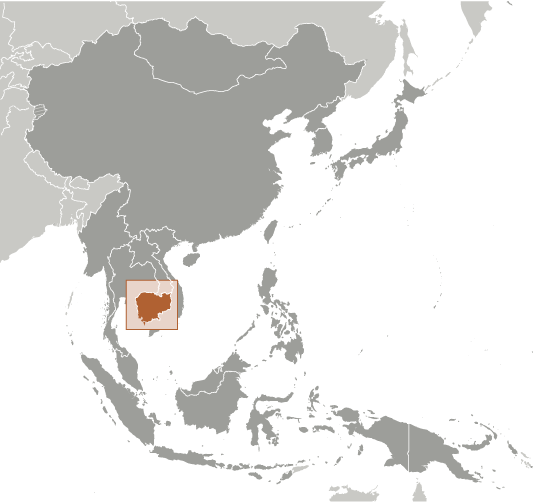 | | |
| --- | --- |
| Country | Cambodia |
| Capital | Phnom Penh |
| Continent | Asia(Southeast Asia) |
| Currency | Riel(KHR) |
| Languages | Khmer |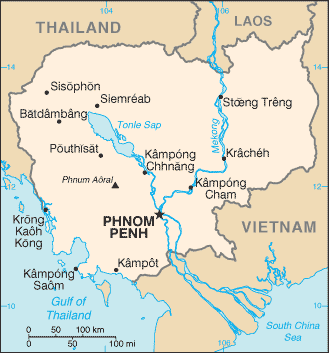 Information
Introduction
Most Cambodians consider themselves to be Khmers, descendants of the Angkor Empire that extended over much of Southeast Asia and reached its zenith between the 10th and 13th centuries. Attacks by the Thai and Cham (from present-day Vietnam) weakened the empire, ushering in a long period of decline. The king placed the country under French protection in 1863 and it became part of French Indochina in 1887. Following Japanese occupation in World War II, Cambodia gained full independence from France in 1953. In April 1975, after a five-year struggle, Communist Khmer Rouge forces captured Phnom Penh and evacuated all cities and towns. At least 1.5 million Cambodians died from execution, forced hardships, or starvation during the Khmer Rouge regime under POL POT. A December 1978 Vietnamese invasion drove the Khmer Rouge into the countryside, began a 10-year Vietnamese occupation, and touched off almost 13 years of civil war. The 1991 Paris Peace Accords mandated democratic elections and a ceasefire, which was not fully respected by the Khmer Rouge. UN-sponsored elections in 1993 helped restore some semblance of normalcy under a coalition government. Factional fighting in 1997 ended the first coalition government, but a second round of national elections in 1998 led to the formation of another coalition government and renewed political stability. The remaining elements of the Khmer Rouge surrendered in early 1999. Some of the surviving Khmer Rouge leaders are awaiting trial for crimes against humanity by a hybrid UN-Cambodian tribunal supported by international assistance. Elections in July 2003 were relatively peaceful, but it took one year of negotiations between contending political parties before a coalition government was formed. In October 2004, King Norodom SIHANOUK abdicated the throne and his son, Prince Norodom SIHAMONI, was selected to succeed him. Local elections were held in Cambodia in April 2007, with little of the pre-election violence that preceded prior elections. National elections in July 2008 were relatively peaceful.
Map
References
Cambodia - Wikipedia
Cambodia - CIA World Fact Book
Cambodia - BBC
Cambodia - Timeline - BBC
Cities
Links
News Headlines
Google News
This RSS feed URL is deprecatedThis RSS feed URL is deprecated, please update. New URLs can be found in the footers at https://news.google.com/news

---
Legislators decry abolition of opposition party in Cambodia - Lowell Sun
---
Cambodia faces US, EU action after banning opposition - Reuters
---
A Bright Future in Cambodia's Energy Sector? | The Diplomat - The Diplomat
---
Cambodia: Supreme Court Dissolves Democracy - Human Rights Watch

Human Rights Watch



Cambodia: Supreme Court Dissolves DemocracyHuman Rights Watch

Police officers stand guard at the Supreme Court during a hearing to decide whether to dissolve the main opposition

Cambodia

National Rescue Party (CNRP), in Phnom Penh,

Cambodia

, November 16, 2017. © 2017 Samrang Pring/Reuters (New York) ...
---
Cambodia's top court orders opposition party dissolved ahead of ... - CBC.ca
---
Winnipeg woman, 27, found dead at Cambodian hostel - CBC.ca

CBC.ca



Winnipeg woman, 27, found dead at Cambodian hostelCBC.ca

Abbey Amisola and her British friend Natalie Jade Seymour, 22, were found dead at a hostel in the city of Kampot, in southern

Cambodia

, on Tuesday morning. Her sister, Anna Amisola, told the CBC her family is working with a

Cambodian

funeral home to ...

Canadian and British Backpackers Mysteriously Die in CambodiaVICEBritish backpacker Natalie Seymour, 22, found dead in Cambodian hosteliNewsBackpackers die in Cambodia after taking pills for food poisoning from local pharmacistFox NewsNational Post

-

The Globe and Mail

-

Daily Mailall 73 news articles »
---
'She was just an amazing person': Winnipegger who died in ... - CBC.ca
---
Two former Radio Free Asia journalists detained in Cambodia - CPJ Press Freedom Online
---
Cambodia's Opposition Party Gives up Hope of Escaping Ban - U.S. News & World Report
---
Leaving Cambodia: How do I do right by the place I called home? - Irish Times
---