Cape Verde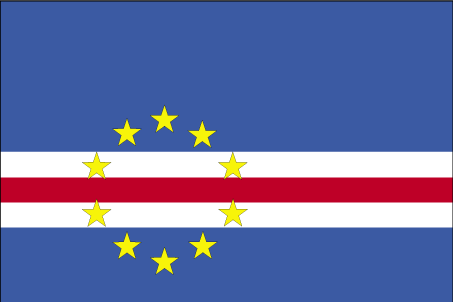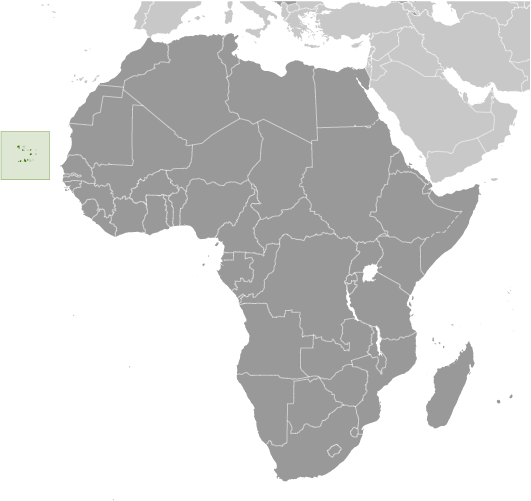 | | |
| --- | --- |
| Country | Cape Verde |
| Capital | Praia |
| Continent | Africa |
| Currency | Cape Verdean escudo(CVE) |
| Languages | Portuguese & Cape Verdean Creole |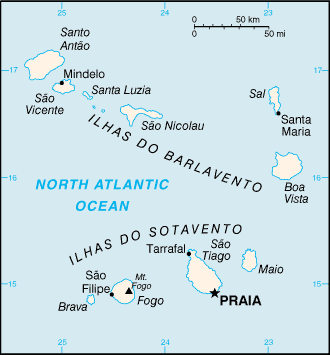 Information
Introduction
The uninhabited islands were discovered and colonized by the Portuguese in the 15th century; Cape Verde subsequently became a trading center for African slaves and later an important coaling and resupply stop for whaling and transatlantic shipping. Following independence in 1975, and a tentative interest in unification with Guinea-Bissau, a one-party system was established and maintained until multi-party elections were held in 1990. Cape Verde continues to exhibit one of Africa's most stable democratic governments. Repeated droughts during the second half of the 20th century caused significant hardship and prompted heavy emigration. As a result, Cape Verde's expatriate population is greater than its domestic one. Most Cape Verdeans have both African and Portuguese antecedents.
Map
References
Cape Verde - Wikipedia
Cape Verde - CIA World Fact Book
Cape Verde - BBC
Cape Verde - Timeline - BBC
Cities
Links
News Headlines
Google News
This RSS feed URL is deprecatedThis RSS feed URL is deprecated, please update. New URLs can be found in the footers at https://news.google.com/news

---
Acclaimed poet brings Cape Verde to Brooklyn in new collection - Brooklyn Daily Eagle
---
Touring Cape Verde can be a casual, friendly adventure - Philly.com

Philly.com



Touring Cape Verde can be a casual, friendly adventurePhilly.com

But

Cape Verde

was an unsustainable place. There is not much green – verde – in most of

Cape Verde

, with the bleached and rain-parched colors of many of the islands. Serious drought and barren soil led to waves of emigration throughout history. More

...
---
Why Cape Verde makes the perfect luxury overseas investment location - Property Community
---
Cape Verde gets its moment in the sun - Washington Post

Washington Post



Cape Verde gets its moment in the sunWashington Post

A bearded fellow in flip-flops ambles into the bar. Is this the mountain guide the bartender has called for us? My sister and I exchange puzzled glances. Casually spreading a creased island map across a table, he speaks — in French. He's a

...
---
Sun, sea and sand . . . but no stress in Cape Verde - The Sunday Post

The Sunday Post



Sun, sea and sand . . . but no stress in Cape VerdeThe Sunday Post

ADMIR, our tour guide promises, "You'll look 10 years younger," as I let volcanic clay seep into my skin and float effortlessly in the saline water of Pedra Lume, a flooded caldera in the north-east of

Cape Verdean

island Sal. Locals say the mineral

...
---
Cape Verde gov't sounds out Icelandair Group over TACV stake - ch-aviation
---
Cape Verde gets its moment in the sun | | news-journal.com - Longview News-Journal
---
Cape Verde Seeks World Heritage for ancient Concentration Camp - Prensa Latina
---
Cape Verdean Insurance Industry Governance, Risk and Compliance Report 2017 - ResearchAndMarkets.com - Business Wire (press release)
---
Thomas Cook drops Cape Verde due to l... | Travel Weekly - Travel Weekly UK
---