Equatorial Guinea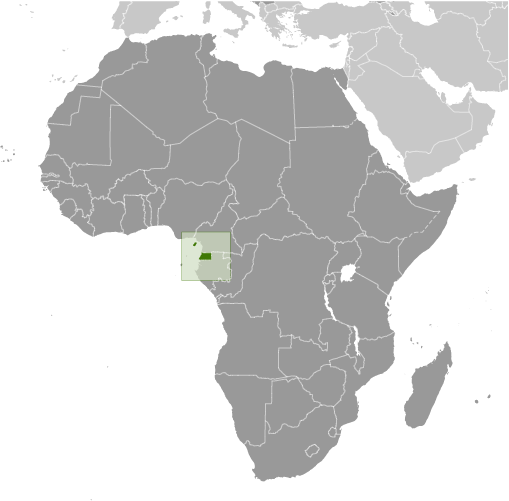 | | |
| --- | --- |
| Country | Equatorial Guinea |
| Capital | Malabo |
| Continent | Africa |
| Currency | Central African CFA franc(XAF) |
| Languages | Spanish, French, Portuguese, Fang, Bube, Igbo, Pidgin English & Annobonese |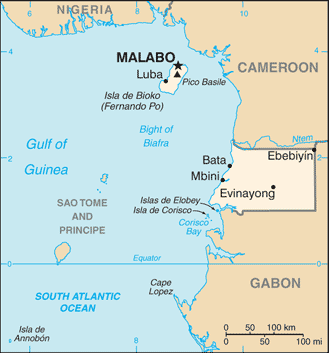 Information
Introduction
Equatorial Guinea gained independence in 1968 after 190 years of Spanish rule. This tiny country, composed of a mainland portion plus five inhabited islands, is one of the smallest on the African continent. President Teodoro OBIANG NGUEMA MBASOGO has ruled the country since 1979 when he seized power in a coup. Although nominally a constitutional democracy since 1991, the 1996, 2002, and 2009 presidential elections - as well as the 1999 and 2004 legislative elections - were widely seen as flawed. The president exerts almost total control over the political system and has discouraged political opposition. Equatorial Guinea has experienced rapid economic growth due to the discovery of large offshore oil reserves, and in the last decade has become Sub-Saharan Africa's third largest oil exporter. Despite the country's economic windfall from oil production resulting in a massive increase in government revenue in recent years, there have been few improvements in the population's living standards.
Map
References
Equatorial Guinea - Wikipedia
Equatorial Guinea - CIA World Fact Book
Equatorial Guinea - BBC
Equatorial Guinea - Timeline - BBC
Cities
Links
News Headlines
Google News
This RSS feed URL is deprecatedThis RSS feed URL is deprecated, please update. New URLs can be found in the footers at https://news.google.com/news

---
Oil, Instagram and the Plunder of Equatorial Guinea - New York Times

New York Times



Oil, Instagram and the Plunder of Equatorial GuineaNew York Times

On Oct. 27, a Paris criminal court convicted Teodoro Nguema Obiang Mangue, the vice president of

Equatorial Guinea

and son of its president, of money laundering and embezzlement of more than $100 million. Mr. Obiang received a suspended three-year

...
---
Odoh Covets Equatorial Guinea Open Treble - THISDAY Newspapers

THISDAY Newspapers



Odoh Covets Equatorial Guinea Open TrebleTHISDAY Newspapers

The South Africa-based player said he would try and get himself in proper condition for the

Equatorial Guinea

challenge by holding his final preparation at Lakowe Lakes Golf Club, Lagos over three days, begining from Friday. Odoh said he considered

...
---
Equatorial Guinea Is Looking to Build a Refinery With Venezuela - Bloomberg
---
Equatorial Guinea: Ruling party expected to win as polls close - Deutsche Welle
---
Equatorial Guinea ruling party wins elections - africanews
---
Equatorial Guinea Trial Casts Spotlight on Scrappy French Watchdog - Voice of America
---
Open Letter to the President of Equatorial Guinea: Release Artist and Writer Ramón Esono Ebalé - Human Rights Watch (press release)
---
Hess completes Equatorial Guinea sale to Kosmos - OE Digital



Hess completes Equatorial Guinea sale to KosmosOE Digital

Hess Corp. has completed the sale of its interests in offshore

Equatorial Guinea

to Kosmos Energy and Trident Energy for US$650 million. Hess' exit from

Equatorial Guinea

comes after nearly two decades of operations at the Ceiba field and Okume complex

...and more »
---
Hess completes sale of interests in Equatorial Guinea - WorldOil



Hess completes sale of interests in Equatorial GuineaWorldOil

NEW YORK -- Hess Corporation has announced that it has completed the previously announced sale of its interests in offshore

Equatorial Guinea

to Kosmos Energy and Trident Energy for a total consideration of $650 million, effective Jan. 1, 2017. "Our

...and more »
---
CHAN 2018 draw: Nigeria faces Libya, Rwanda, Equatorial Guinea [Full Draw] - Daily Post Nigeria

Daily Post Nigeria



CHAN 2018 draw: Nigeria faces Libya, Rwanda, Equatorial Guinea [Full Draw]Daily Post Nigeria

CHAN 2018 draw: Nigeria faces Libya, Rwanda,

Equatorial Guinea

[Full Draw]. Published. on. November 18, 2017. By. John Owen Nwachukwu. The draw for the 2018 African Nations Championship was done yesterday in Morocco. Nigeria was drawn in Group C

...CHAN: Home Eagles Draw Libya, Rwanda, Equatorial GuineaComplete Sports NigeriaCHAN 2018: Super Eagles to face Libya, Rwanda, Equatorial GuineaDaily TrustTotal CHAN 2018: Rwanda draws Nigeria, Libya, Eq. GuineaKT PressThe Nation Newspaper

-

Yahoo7 Sport

-

The New Times

-

Morocco World Newsall 42 news articles »
---