Mauritius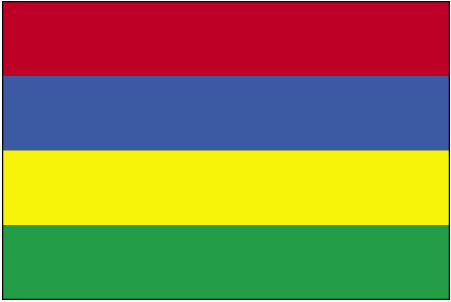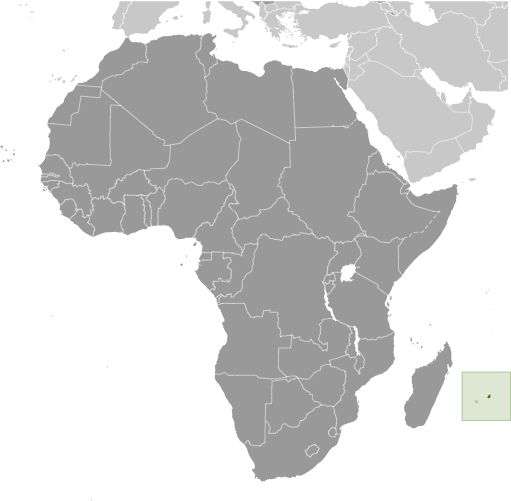 | | |
| --- | --- |
| Country | Mauritius |
| Capital | Port Louis |
| Continent | Africa |
| Currency | Mauritian rupee(MUR) |
| Languages | Mauritian creole, French & English |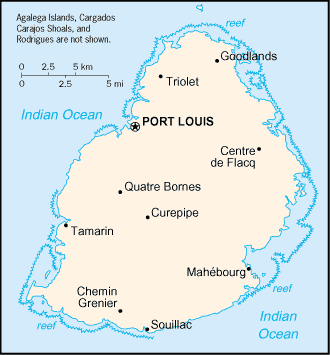 Information
Introduction
Although known to Arab and Malay sailors as early as the 10th century, Mauritius was first explored by the Portuguese in the 16th century and subsequently settled by the Dutch - who named it in honor of Prince Maurits van NASSAU - in the 17th century. The French assumed control in 1715, developing the island into an important naval base overseeing Indian Ocean trade, and establishing a plantation economy of sugar cane. The British captured the island in 1810, during the Napoleonic Wars. Mauritius remained a strategically important British naval base, and later an air station, playing an important role during World War II for anti-submarine and convoy operations, as well as the collection of signals intelligence. Independence from the UK was attained in 1968. A stable democracy with regular free elections and a positive human rights record, the country has attracted considerable foreign investment and has earned one of Africa's highest per capita incomes. Recent poor weather, declining sugar prices, and declining textile and apparel production, have slowed economic growth, leading to some protests over standards of living in the Creole community.
Map
References
Mauritius - Wikipedia
Mauritius - CIA World Fact Book
Mauritius - BBC
Mauritius - Timeline - BBC
Cities
Links
News Headlines
Google News
This RSS feed URL is deprecatedThis RSS feed URL is deprecated, please update. New URLs can be found in the footers at https://news.google.com/news

---
Angolan asset manager threatens claim against Mauritius - GAR

GAR



Angolan asset manager threatens claim against MauritiusGAR

A Swiss investment firm that manages assets for Angola's sovereign wealth fund has threatened an investment treaty claim against

Mauritius

over the suspension of the business licences of its seven private equity funds in the Indian Ocean state.
---
Mauritius centre unveils new rules - GAR

GAR



Mauritius centre unveils new rulesGAR

The

Mauritius

Chamber of Commerce and Industry Arbitration and Mediation Centre, MARC, has unveiled innovative new rules as the first

Mauritius

Arbitration Week, chaired by Neil Kaplan QC, gets underway.
---
Mauritius Hosts SIDS Global Business Network Partnership Forum ... - AllAfrica.com
---
Never leave home: Finding a slice of India in Mauritius - The Indian Express
---
Thomas Cook's new Mauritius hotel and Delhi for £149 - The Times
---
Seychelles, Mauritius reviewing joint management of Mascarene Plateau Region - Seychelles News Agency
---
Emraan Hashmi and Sobhita Dhulipala's upcoming film to be shot in Mauritius - Free Press Journal
---
Opposition leader in republic of Mauritius : nothing can justify systematic shooting unarmed protesters - Palestine News Network
---
Mauritius: Monday blues - Strategies to cope - AllAfrica.com



Mauritius: Monday blues - Strategies to copeAllAfrica.com

Mahensingh Deonaran, a psychologist in

Mauritius

, agrees and advises employees to take care of the bigger or more difficult tasks toward the end of the week to ensure the workload is lighter on Monday. He also suggests organising the office before

...and more »
---
Road safety in Mauritius - TRL - Independent Transport Research

TRL - Independent Transport Research



Road safety in MauritiusTRL - Independent Transport Research

John Fletcher, Principal International Consultant at TRL delivered a presentation to the Transport Minister for

Mauritius

and the

Mauritius

National Road Safety Council, comprising of high-level stakeholders from multiple agencies. Road safety is an

...and more »
---