Eritrea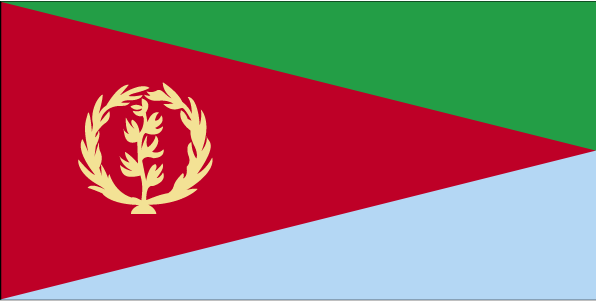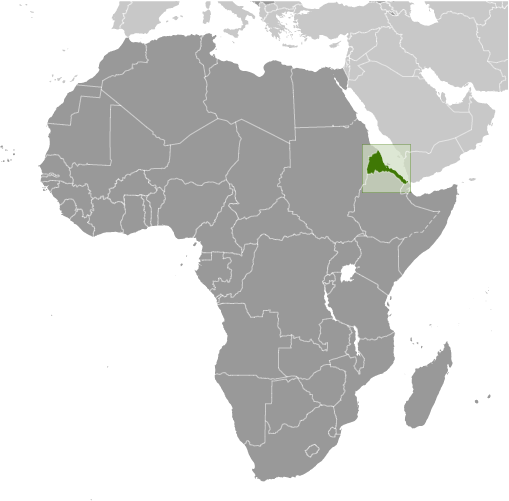 | | |
| --- | --- |
| Country | Eritrea |
| Capital | Asmara |
| Continent | Africa |
| Currency | Nakfa(ERN) |
| Languages | Tigrinya, Arabic & English |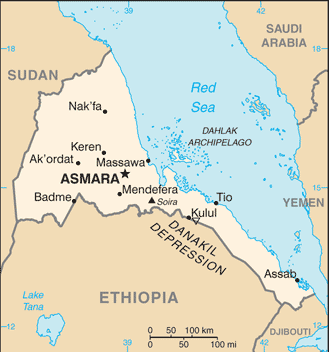 Information
Introduction
The UN awarded Eritrea to Ethiopia in 1952 as part of a federation. Ethiopia's annexation of Eritrea as a province 10 years later sparked a 30-year struggle for independence that ended in 1991 with Eritrean rebels defeating governmental forces; independence was overwhelmingly approved in a 1993 referendum. A two-and-a-half-year border war with Ethiopia that erupted in 1998 ended under UN auspices in December 2000. Eritrea hosted a UN peacekeeping operation that monitored a 25 km-wide Temporary Security Zone (TSZ) on the border with Ethiopia. Eritrea's denial of fuel to the mission caused the UN to withdraw the mission and terminate its mandate 31 July 2008. An international commission, organized to resolve the border dispute, posted its findings in 2002. However, both parties have been unable to reach agreement on implementing the decision. On 30 November 2007, the Eritrea-Ethiopia Boundary Commission remotely demarcated the border by coordinates and dissolved itself, leaving Ethiopia still occupying several tracts of disputed territory, including the town of Badme. Eritrea accepted the EEBC's "virtual demarcation" decision and called on Ethiopia to remove its troops from the TSZ that it states is Eritrean territory. Ethiopia has not accepted the virtual demarcation decision.
Map
References
Eritrea - Wikipedia
Eritrea - CIA World Fact Book
Eritrea - BBC
Eritrea - Timeline - BBC
Cities
Links
News Headlines
Google News
Trapped and bereft in the world's 'fastest emptying country' - The Guardian
---
We were forced to work at Western-run mine, say Eritrean migrants - Reuters
---
Refugee from Eritrea wants to leave his flat in Wales to get away ... - WalesOnline
---
United Nations News Centre - Routinely 'written off,' Eritrea is ... - UN News Centre
---
Eritrea: Meskel Holiday Celebrated - AllAfrica.com



Eritrea: Meskel Holiday CelebratedAllAfrica.com

During the ceremony in which religious leaders, senior Government and PFDJ officials, diplomats as well as thousands of the faithful took part, the Secretary of the Holy Synod, Abune Lucas headed prayers followed by religious hymns around the Damera ...
---
Inside Eritrea's exodus - The Africa Report



Inside Eritrea's exodusThe Africa Report

Migrants, most of them from

Eritrea

, jump into the water from a crowded wooden boat as they are helped by members of an NGO during a rescue operation at the Mediterranean sea, about 13 miles north of Sabratha, Libya. Photo: Emilio Morenatti/AP/SIPA.
---
EU urged to watch Eritrea over regime's right violations - Sudan Tribune



EU urged to watch Eritrea over regime's right violationsSudan Tribune

September 23, 2016 (ADDIS ABABA) – Media rights watchdog Reporters Without Borders (RSF) urged the European Union (EU) to closely watch

Eritrea

over gross human rights violations by the regime which Some of these violations may constitute crimes ...
---
15 Years Behind Bars in Eritrea - Human Rights Watch
---
Eritrea is a prison state – no wonder so many are desperate to ... - The Guardian
---
Eritrea: World Tourism Day Observed - AllAfrica.com



Eritrea: World Tourism Day ObservedAllAfrica.com

In the commemorative event that was held at the Azieb Dairy Products Factory, Mr. Mohamed Idris, Director General of Tourism Services in the Ministry of Tourism, explained that promoting

Eritrea's

tourism potentials and making the country a tourist ...

and more »
---