Eritrea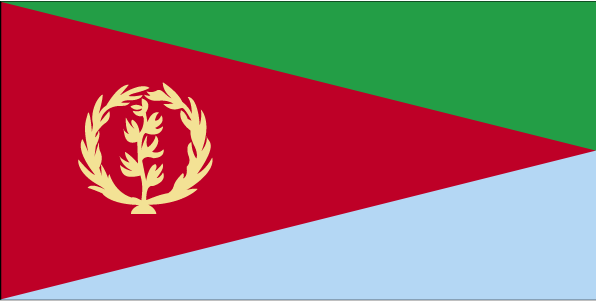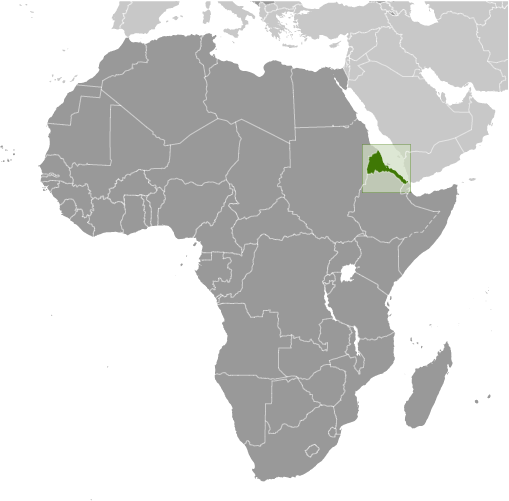 | | |
| --- | --- |
| Country | Eritrea |
| Capital | Asmara |
| Continent | Africa |
| Currency | Nakfa(ERN) |
| Languages | Tigrinya, Arabic & English |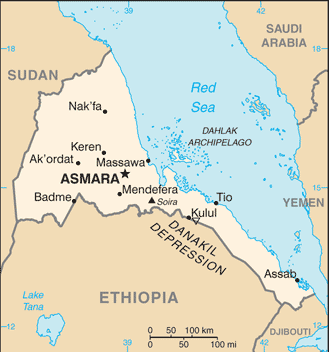 Information
Introduction
The UN awarded Eritrea to Ethiopia in 1952 as part of a federation. Ethiopia's annexation of Eritrea as a province 10 years later sparked a 30-year struggle for independence that ended in 1991 with Eritrean rebels defeating governmental forces; independence was overwhelmingly approved in a 1993 referendum. A two-and-a-half-year border war with Ethiopia that erupted in 1998 ended under UN auspices in December 2000. Eritrea hosted a UN peacekeeping operation that monitored a 25 km-wide Temporary Security Zone (TSZ) on the border with Ethiopia. Eritrea's denial of fuel to the mission caused the UN to withdraw the mission and terminate its mandate 31 July 2008. An international commission, organized to resolve the border dispute, posted its findings in 2002. However, both parties have been unable to reach agreement on implementing the decision. On 30 November 2007, the Eritrea-Ethiopia Boundary Commission remotely demarcated the border by coordinates and dissolved itself, leaving Ethiopia still occupying several tracts of disputed territory, including the town of Badme. Eritrea accepted the EEBC's "virtual demarcation" decision and called on Ethiopia to remove its troops from the TSZ that it states is Eritrean territory. Ethiopia has not accepted the virtual demarcation decision.
Map
References
Eritrea - Wikipedia
Eritrea - CIA World Fact Book
Eritrea - BBC
Eritrea - Timeline - BBC
Cities
Links
News Headlines
Google News
This RSS feed URL is deprecatedThis RSS feed URL is deprecated, please update. New URLs can be found in the footers at https://news.google.com/news

---
At concert, Ethiopia, Eritrea leaders preach peace, love, unity - Reuters
---
'Like a dream': Families separated for decades by Ethiopia-Eritrea conflict celebrate peace deal - Washington Post
---
Ethiopian & Eritrea dialogue a positive news for 'Brand Africa' - Travel News | eTurboNews
---
A legal blow to illegal Eritrean immigrants - Arutz Sheva



A legal blow to illegal Eritrean immigrantsArutz Sheva

The decision was made in response to an

Eritrean's

appeal against the decision to deport him, which was submitted on the grounds that he would be forced to enlist in national service if he was returned to

Eritrea

. It is another legal blow to

Eritreans ...
---
Ethiopia and Eritrea put an end to two decades of conflict - The Economist
---
Eritreans are happy about peace and wary of Isaias' promises - Aljazeera.com
---
Eritrea leader to visit Ethiopia amid historic thaw between former rivals - Toronto Star
---
Swiss court rules Eritreans who face national service can be deported - The Local Switzerland
---
Ethiopia, Eritrea leaders sign peace declaration - The Globe and Mail

The Globe and Mail



Ethiopia, Eritrea leaders sign peace declarationThe Globe and Mail

The leaders of Ethiopia and

Eritrea

signed a "joint declaration of peace and friendship" on Monday,

Eritrea's

information minister said, a day after a historic summit marked a start to normalization of ties between the longtime foes. Matthew Larotonda

...
---
UAE's role in Ethiopia-Eritrea rapprochement draws praise - Khaleej Times
---