Eritrea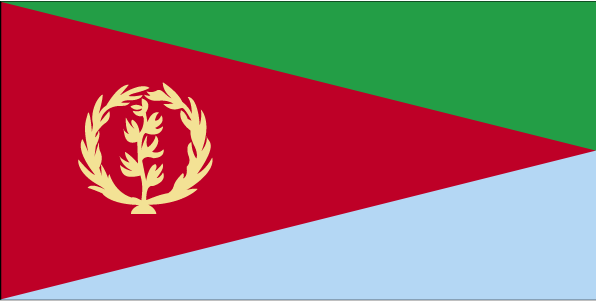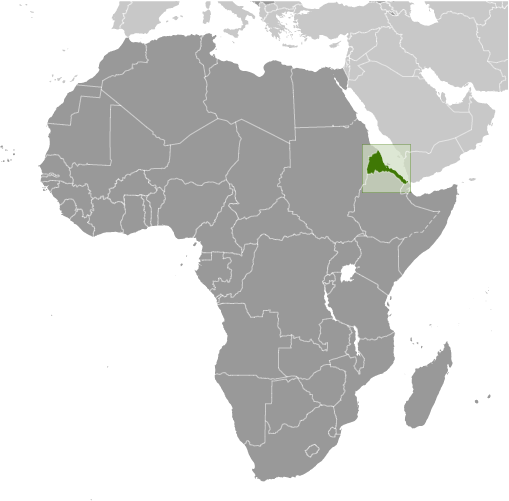 | | |
| --- | --- |
| Country | Eritrea |
| Capital | Asmara |
| Continent | Africa |
| Currency | Nakfa(ERN) |
| Languages | Tigrinya, Arabic & English |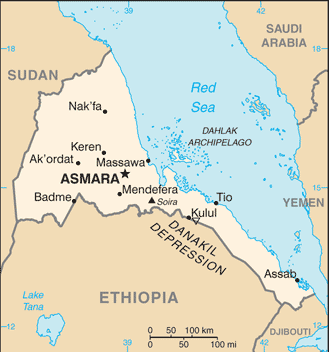 Information
Introduction
The UN awarded Eritrea to Ethiopia in 1952 as part of a federation. Ethiopia's annexation of Eritrea as a province 10 years later sparked a 30-year struggle for independence that ended in 1991 with Eritrean rebels defeating governmental forces; independence was overwhelmingly approved in a 1993 referendum. A two-and-a-half-year border war with Ethiopia that erupted in 1998 ended under UN auspices in December 2000. Eritrea hosted a UN peacekeeping operation that monitored a 25 km-wide Temporary Security Zone (TSZ) on the border with Ethiopia. Eritrea's denial of fuel to the mission caused the UN to withdraw the mission and terminate its mandate 31 July 2008. An international commission, organized to resolve the border dispute, posted its findings in 2002. However, both parties have been unable to reach agreement on implementing the decision. On 30 November 2007, the Eritrea-Ethiopia Boundary Commission remotely demarcated the border by coordinates and dissolved itself, leaving Ethiopia still occupying several tracts of disputed territory, including the town of Badme. Eritrea accepted the EEBC's "virtual demarcation" decision and called on Ethiopia to remove its troops from the TSZ that it states is Eritrean territory. Ethiopia has not accepted the virtual demarcation decision.
Map
References
Eritrea - Wikipedia
Eritrea - CIA World Fact Book
Eritrea - BBC
Eritrea - Timeline - BBC
Cities
Links
News Headlines
Google News
Thousands of Refugees Rescued Off the Coast of Libya - ABC News
---
Eritrea: Foreign Minister Holds Talks With Netherlands Counterpart - AllAfrica.com



Eritrea: Foreign Minister Holds Talks With Netherlands CounterpartAllAfrica.com

Asmara —

Eritrea's

foreign Minister, Mr. Osman Saleh, held talks on August 23 in The Hague with the Netherlands counterpart, Mr. Bert Koenders, regarding the establishment of diplomatic relations and other topics. In the meeting, Mr. Osman underlined

...
---
Eritrea: Sustainable Efforts to Control the Prevalence of HIV/Aids - AllAfrica.com
---
Fleeing Eritreans Unaware Of Perilous Journey - Sky News



Fleeing Eritreans Unaware Of Perilous JourneySky News

Most of the hundreds rescued said they were from

Eritrea

and had boarded the vessel in the Libyan town of Sabrath. It is one of a string of towns along the Libyan coast where people smugglers operate with impunity. In 2015, the going rate for a sub

...and more »
---
Ghebre's Ethiopian and Eritrean Restaurant now open right across the street from Fasika - City Pages
---
Eritrea: News in Briefs - AllAfrica.com



Eritrea: News in BriefsAllAfrica.com

Asmara, 26 August 2016 - The Head of health facilities in Hagaz sub-zone, Mr. Gebremeskel Gebrehiwet, said that comparing to last year, the prevalence of malaria has witnessed 89% reduction. He explained that sustainable awareness-raising campaigns ...
---
Tension high between Ethiopia and Eritrea despite harmony in region - Irish Times
---
Eritrea: Dear Europe, If You Really Must Re-Engage With Eritrea ... - AllAfrica.com
---
Eritrea: Zagir Road Under Renovation - Geeska Afrika

Geeska Afrika



Eritrea: Zagir Road Under RenovationGeeska Afrika

The residents of Zagir, Defere, Dekiseb, Azien-Quazien, Beleza and Adi-Shekha have expressed satisfaction over the renovation task which is being undertaken with help of heavy machineries. At a luncheon the residents of Beleza hosted in honor of the ...
---
Eritrea: Central Region - Call Made for Increased Usage of Smokeless Oven - AllAfrica.com
---