Eritrea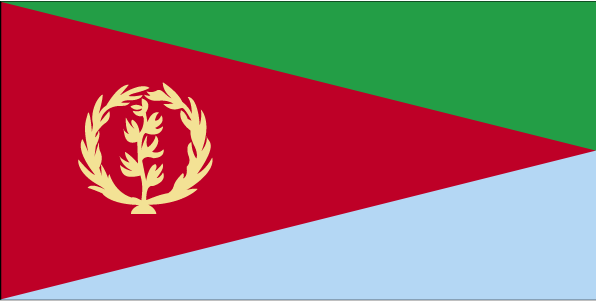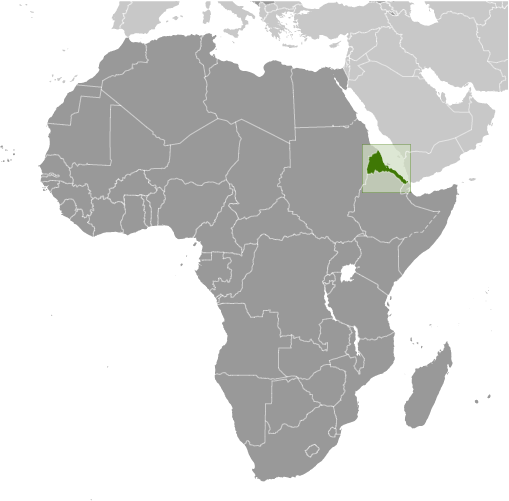 | | |
| --- | --- |
| Country | Eritrea |
| Capital | Asmara |
| Continent | Africa |
| Currency | Nakfa(ERN) |
| Languages | Tigrinya, Arabic & English |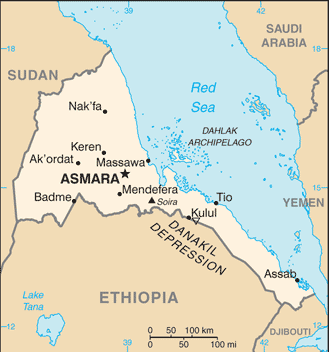 Information
Introduction
The UN awarded Eritrea to Ethiopia in 1952 as part of a federation. Ethiopia's annexation of Eritrea as a province 10 years later sparked a 30-year struggle for independence that ended in 1991 with Eritrean rebels defeating governmental forces; independence was overwhelmingly approved in a 1993 referendum. A two-and-a-half-year border war with Ethiopia that erupted in 1998 ended under UN auspices in December 2000. Eritrea hosted a UN peacekeeping operation that monitored a 25 km-wide Temporary Security Zone (TSZ) on the border with Ethiopia. Eritrea's denial of fuel to the mission caused the UN to withdraw the mission and terminate its mandate 31 July 2008. An international commission, organized to resolve the border dispute, posted its findings in 2002. However, both parties have been unable to reach agreement on implementing the decision. On 30 November 2007, the Eritrea-Ethiopia Boundary Commission remotely demarcated the border by coordinates and dissolved itself, leaving Ethiopia still occupying several tracts of disputed territory, including the town of Badme. Eritrea accepted the EEBC's "virtual demarcation" decision and called on Ethiopia to remove its troops from the TSZ that it states is Eritrean territory. Ethiopia has not accepted the virtual demarcation decision.
Map
References
Eritrea - Wikipedia
Eritrea - CIA World Fact Book
Eritrea - BBC
Eritrea - Timeline - BBC
Cities
Links
News Headlines
Google News
This RSS feed URL is deprecatedThis RSS feed URL is deprecated, please update. New URLs can be found in the footers at https://news.google.com/news

---
Akhriya Steps-Forth: From Akhriya to All of Eritrea - Awate.com



Akhriya Steps-Forth: From Akhriya to All of EritreaAwate.com

???? ????? ?? ???? ?? ?? ?????: Unlike the commonly known Las Vegas slogan, "What happens in Vegas stays in Vegas," our motto is and should be the stark opposite of that: What happened in Akhriya did not, could not, and will not stay in Akhriya. This

...
---
Eritrean referee helps refugees through football - BBC News
---
Eritrea, where the EU is hoodwinked into paying millions to a regime encouraging a mass exodus - Telegraph.co.uk
---
Eritrea capital Asmara is Air Arabia's latest African destination - africanews
---
Meleket in Silver Spring is a sweet taste of Eritrean cooking - Washington Post
---
Canadian firm to face historic legal case over alleged labour abuses in Eritrea - The Guardian
---
SA, Eritrea take up Afreximbank shares - The Herald

The Herald



SA, Eritrea take up Afreximbank sharesThe Herald

JOHANNESBURG. – South Africa and

Eritrea

have taken up shareholding in the African Export-Import Bank (Afreximbank) – the continent's multilateral trade finance institution, in demonstration of their commitments to promoting intra-trade and economic

...and more »
---
Ethiopia likely to mount raids on Eritrea-based Afar militants in retaliation for militant killing of European tourist - IHS Jane's 360
---
Eritrean diaspora stages protest in the Swedish capital - Aljazeera.com
---
Eritrea - Prolonging a Miscarriage of Justice - Asmarino Independent

Asmarino Independent



Eritrea - Prolonging a Miscarriage of JusticeAsmarino Independent

It will soon be a year and a half of unjust imprisonment for Medhanie Tesfamariam Berhe, the man extradited from Sudan in a disturbing case of mistaken identity during a high profile joint investigation by the British National Crime Agency (NCA), and

...
---