South Sudan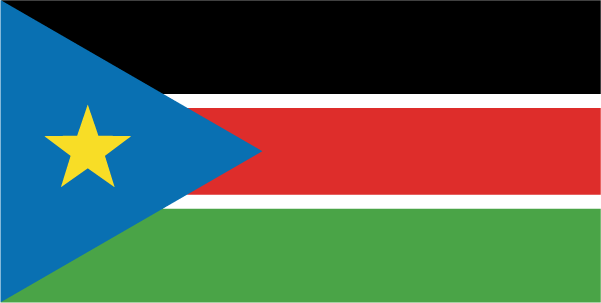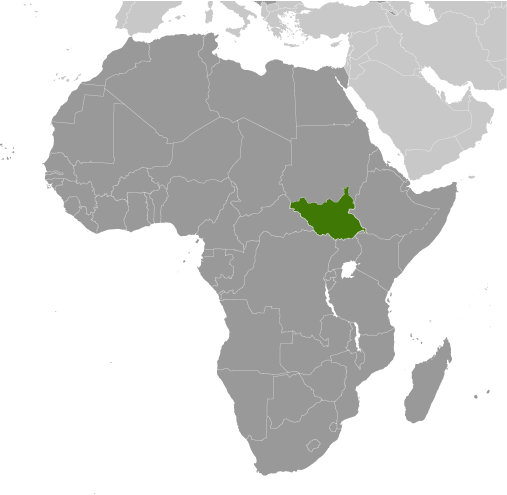 | | |
| --- | --- |
| Country | South Sudan |
| Capital | Juba |
| Continent | Africa |
| Currency | South Sudanese pound(SSP) |
| Languages | English, Bari, Dinka, Murle, Nuer & Zande |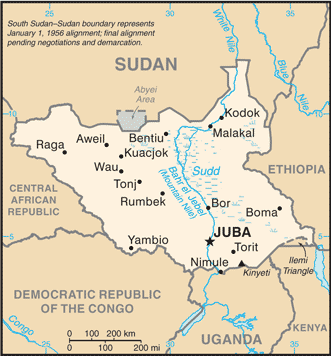 Information
Introduction
Egypt attempted to colonize the region of southern Sudan by establishing the province of Equatoria in the 1870s. Islamic Mahdist revolutionaries overran the region in 1885, but in 1898 a British force was able to overthrow the Mahdist regime. An Anglo-Egyptian Sudan was established the following year with Equatoria being the southernmost of its eight provinces. The isolated region was largely left to itself over the following decades, but Christian missionaries converted much of the population and facilitated the spread of English. When Sudan gained its independence in 1956, it was with the understanding that the southerners would be able to participate fully in the political system. When the Arab Khartoum government reneged on its promises, a mutiny began that led to two prolonged periods of conflict (1955-1972 and 1983-2005) in which perhaps 2.5 million people died - mostly civilians - due to starvation and drought. Ongoing peace talks finally resulted in a Comprehensive Peace Agreement, signed in January 2005. As part of this agreement the south was granted a six-year period of autonomy to be followed by a referendum on final status. The result of this referendum, held in January 2011, was a vote of 98% in favor of secession. Independence was attained on 9 July 2011.
Map
References
South Sudan - Wikipedia
South Sudan - CIA World Fact Book
Cities
Links
News Headlines
Google News
This RSS feed URL is deprecatedThis RSS feed URL is deprecated, please update. New URLs can be found in the footers at https://news.google.com/news

---
South Sudanese peace talks in Ethiopia extended in the hope warring parties can reach agreement - ReliefWeb
---
Delegates Mull Over IGAD Proposal for South Sudan - Voice of America
---
South Sudan Displacement Crisis: Maban Road Monitoring - Doro Camp, Maban County, Upper Nile State, South ... - ReliefWeb
---
Sudan, South Sudan Abyei oversight committees to meet this month - Sudan Tribune



Sudan, South Sudan Abyei oversight committees to meet this monthSudan Tribune

May 22, 2018 (KHARTOUM) - The Sudanese committee for the administration of Abyei area Tuesday said it has received an invitation from the African Union to meet with its

South Sudanese

counterpart on 30 May in Abyei. Ownership of Abyei, a disputed ...
---
Politics, Power and Chiefship in Famine and War: A study of the former Northern Bahr el-Ghazal state, South Sudan - ReliefWeb
---
Logistics Cluster South Sudan - Transport Plan as of 21 May 2018 - ReliefWeb
---
Local School on a mission to help South Sudan - The Post Newspaper (press release)
---
Helping S Sudan move forward - The Daily Star



Helping S Sudan move forwardThe Daily Star

Seven years into its independence, the youngest country in the world still remains one of the most violent.

South Sudan's

civil war, provoked by ethnic divide, has so far killed as many as 300,000 people and displaced almost a quarter of its 12 million

...
---
AfDB's Say No To Famine project extended to South Sudan and Soma - East African Business Week



AfDB's Say No To Famine project extended to South Sudan and SomaEast African Business Week

The African Development Bank (AfDB) has yet gained moved to support hunger stricken countries in East Africa, the Bank has released US$ 34.8m and US$ 43.8m grant for Somalia and

South Sudan

respectively. The African Development Bank (AfDB) has ...
---
Despite corrupt regime, cutting off aid to South Sudan isn't the right move - Devex
---