Liberia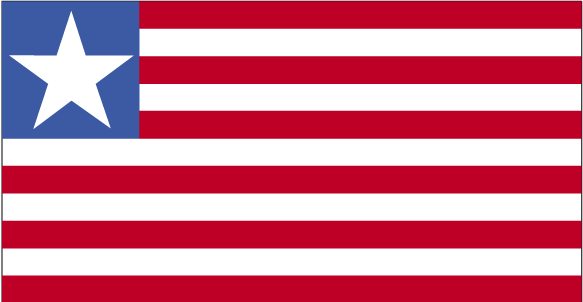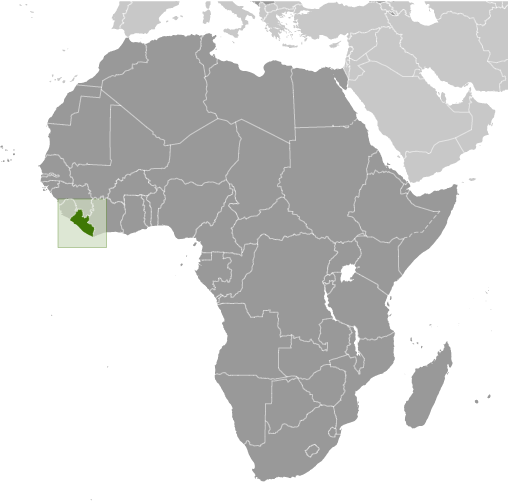 | | |
| --- | --- |
| Country | Liberia |
| Capital | Monrovia |
| Continent | Africa |
| Currency | Liberian dollar(LRD) |
| Languages | English |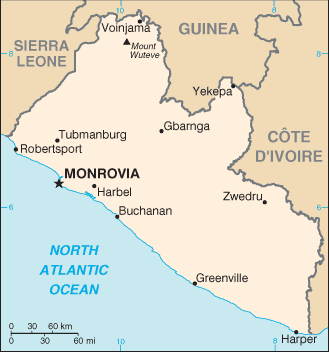 Information
Introduction
Settlement of freed slaves from the US in what is today Liberia began in 1822; by 1847, the Americo-Liberians were able to establish a republic. William TUBMAN, president from 1944-71, did much to promote foreign investment and to bridge the economic, social, and political gaps between the descendents of the original settlers and the inhabitants of the interior. In 1980, a military coup led by Samuel DOE ushered in a decade of authoritarian rule. In December 1989, Charles TAYLOR launched a rebellion against DOE's regime that led to a prolonged civil war in which DOE himself was killed. A period of relative peace in 1997 allowed for elections that brought TAYLOR to power, but major fighting resumed in 2000. An August 2003 peace agreement ended the war and prompted the resignation of former president Charles TAYLOR, who faces war crimes charges in The Hague related to his involvement in Sierra Leone's civil war. After two years of rule by a transitional government, democratic elections in late 2005 brought President Ellen JOHNSON SIRLEAF to power. The UN Mission in Liberia (UNMIL) maintains a strong presence throughout the country, but the security situation is still fragile and the process of rebuilding the social and economic structure of this war-torn country continues.
Map
References
Liberia - Wikipedia
Liberia - CIA World Fact Book
Liberia - BBC
Liberia - Timeline - BBC
Cities
Links
News Headlines
Google News
This RSS feed URL is deprecatedThis RSS feed URL is deprecated, please update. New URLs can be found in the footers at https://news.google.com/news

---
Liberia, EU End Political Dialogue - Liberian Daily Observer

Liberian Daily Observer



Liberia, EU End Political DialogueLiberian Daily Observer

The sixth political dialogue between the Government of

Liberia

(GoL) and the European Union (EU), which was held last Thursday, July 12, at the Ministry of Foreign Affairs (MFA) has ended in Monrovia, highlighting

Liberia's

legislative agenda, human

...
---
Philadelphia is a flashpoint for Liberian human rights advocates - WHYY
---
Liberia : Independent Economist Critiques US$1 Billion Loan - Front Page Africa
---
DEPRECIATION OF THE LIBERIAN FOREIGN EXCHANGE RATE (CURRENCY OF THE LIBERIAN DOLLAR): ONE OF ... - The New Dawn Liberia
---
Over 300 Benefit from Christian Medical Outreach - Liberian Daily Observer
---
Weah plans to shock critics - The New Dawn Liberia



Weah plans to shock criticsThe New Dawn Liberia

Dedicating the King Gray Market at the ELWA Community in Paynesville Friday, 13 July, Mr. Weah said his government is working to change and make

Liberia

a better place to live, but expressed concern that this is a country where politics wants to

...
---
LCC constitutes Economic Policy Committee - The New Dawn Liberia
---
Heavy ERU deployment at Cocopa - The New Dawn Liberia



Heavy ERU deployment at CocopaThe New Dawn Liberia

Armed officers of the Emergency Response Unit (ERU) of the

Liberia

National Police have deployed in the Cocopa Rubber Plantation along the Ganta-Saclepea highway in electoral district#8, Nimba County, as over 500 former employees of the plantation ...
---
Teahjay, Sloh, others join CDC - The New Dawn Liberia
---
Healthpage Liberia Seeks Help for Triplets and Mother - Front Page Africa
---