Mali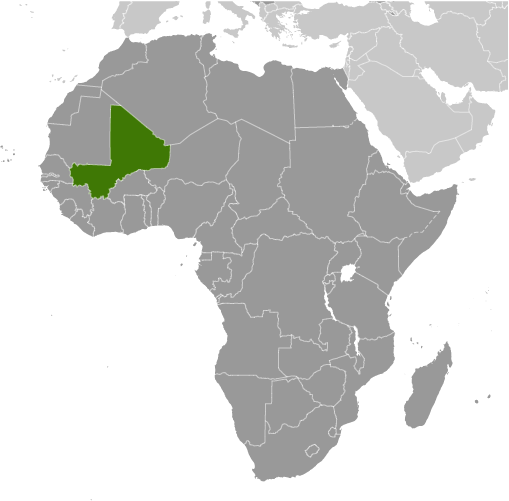 | | |
| --- | --- |
| Country | Mali |
| Capital | Bamako |
| Continent | Africa |
| Currency | West African CFA franc(XOF) |
| Languages | French & Bambara |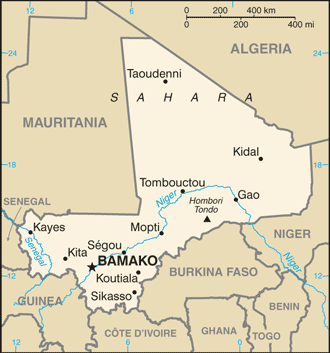 Information
Introduction
The Sudanese Republic and Senegal became independent of France in 1960 as the Mali Federation. When Senegal withdrew after only a few months, what formerly made up the Sudanese Republic was renamed Mali. Rule by dictatorship was brought to a close in 1991 by a military coup - led by the current president Amadou TOURE - enabling Mali's emergence as one of the strongest democracies on the continent. President Alpha KONARE won Mali's first democratic presidential election in 1992 and was reelected in 1997. In keeping with Mali's two-term constitutional limit, KONARE stepped down in 2002 and was succeeded by Amadou TOURE, who was subsequently elected to a second term in 2007. The elections were widely judged to be free and fair.
Map
References
Mali - Wikipedia
Mali - CIA World Fact Book
Mali - BBC
Mali - Timeline - BBC
Cities
Links
News Headlines
Google News
This RSS feed URL is deprecatedThis RSS feed URL is deprecated, please update. New URLs can be found in the footers at https://news.google.com/news

---
Mali delegation taps Canadian expertise documenting human rights abuses - CBC.ca
---
12 civilians killed in Mali market attack - Times LIVE
---
RCAF personnel from Petawawa and Edmonton finish Mali mission prep exercise - Ottawa Citizen
---
SIPRI and European Union convene expert meeting on security in central Mali - ReliefWeb
---
Canadian soldiers heading to Mali take final training exercise - CBC.ca
---
Random: Meet 'Super Mali', The Mario Toy You Always (Never) Wanted - Nintendo Life
---
Birimian continues expansive exploration streak in Mali - Small Caps
---
Sunjata Keita, founder of the Mali Empire - Deutsche Welle

Deutsche Welle



Sunjata Keita, founder of the Mali EmpireDeutsche Welle

Sunjata Keita, also spelled Sundiata or Soundiata, is a heroic figure still praised today in the songs of griots - traditional storytellers and keepers of history in West Africa. According to these epic oral chronicles as a child Sunjata was physically

...
---
Attack on market in Mali kills at least 12 civilians - TRT World

TRT World



Attack on market in Mali kills at least 12 civiliansTRT World

At least 12 civilians were killed in northern

Mali

in an attack on a market that also involved the shooting of a

Malian

soldier, military sources said on Sunday. The attack took place Saturday in the town of Boulekessi near the border with Burkina Faso

...
---
''Friends of the Sea'' Exhibition in Mali Lošinj! - Total Croatia News

Total Croatia News



''Friends of the Sea'' Exhibition in Mali Lošinj!Total Croatia News

The "Friends of the Sea" exhibition, under the title of "As it once was'' (Kao nekad) this year, will be on display until May the 31st, 2018 along

Mali

Lošinj's picturesque waterfront (riva), and the general expectation is that more than one million

...
---