Gambia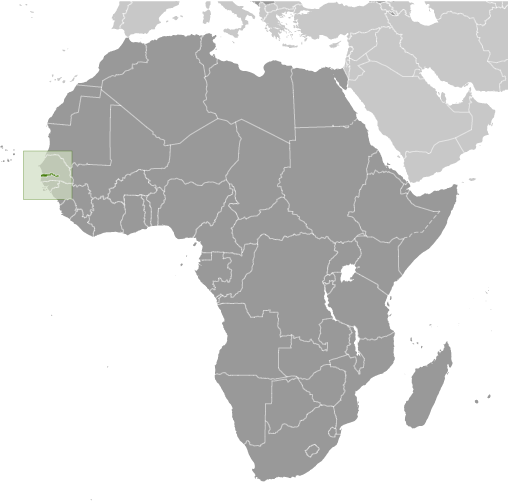 | | |
| --- | --- |
| Country | Gambia |
| Capital | Banjul |
| Continent | Africa |
| Currency | Dalasi(GMD) |
| Languages | English, Mandinka, Fula, Wolof, Serer & Jola |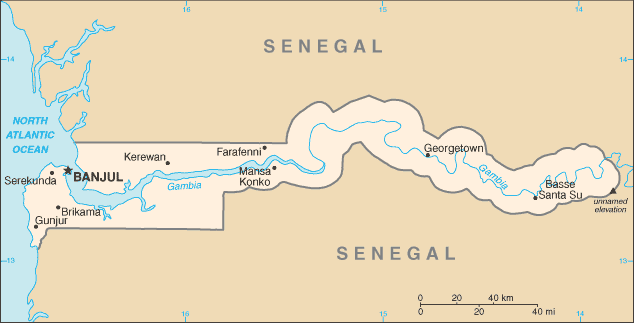 Information
Introduction
The Gambia gained its independence from the UK in 1965. Geographically surrounded by Senegal, it formed a short-lived federation of Senegambia between 1982 and 1989. In 1991 the two nations signed a friendship and cooperation treaty, but tensions have flared up intermittently since then. Yahya A. J. J. JAMMEH led a military coup in 1994 that overthrew the president and banned political activity. A new constitution and presidential elections in 1996, followed by parliamentary balloting in 1997, completed a nominal return to civilian rule. JAMMEH has been elected president in all subsequent elections including most recently in late 2006.
Map
References
Gambia - Wikipedia
Gambia - CIA World Fact Book
Gambia - BBC
Gambia - Timeline - BBC
Cities
Links
News Headlines
Google News
Gambia: Breaking News: Gambia's SG Spends Over D 1 Million Dalasi To Send His Wife, Two Sisters, And A Brufut ... - Freedom Newspaper
---
Gambia: Breaking News: GIA'S Lamin Cham Wants Gambian Pilgrim, Who Exposed The Appalling Conditions Of ... - Freedom Newspaper
---
Gambia: Over 187 Youths Empowered By Prince Sankanu's 5 Film Projects - Jollofnews
---
Gambia: Fatty leads high level delegation to Dakar security cooperation summit - Freedom Newspaper
---
Gambia: Ex Gambian Dictator Wired $38751.67 Stolen Taxpayers Money To Ahmad Gitteh In Toronto, Canada-GTB ... - Freedom Newspaper
---
New York Letter With Alagi Yorro Jallow: The Trans- Gambia Yelli-Tenda- Bamba-Tenda Mega Bridge - Jollofnews
---
Gambia: Tuesday Declared Bank Holiday For Assumption Day Celebrations - Jollofnews
---
Gambia: EU development cooperation with the "New Gambia": Six months later, where do we stand? - Freedom Newspaper
---
Gambia's abandoned villages - Deutsche Welle

Deutsche Welle



Gambia's abandoned villagesDeutsche Welle

The Migration Dilemma.

Gambia's

abandoned villages. In 2016 more than 12,000 Gambians crossed the Mediterranean to get to Europe. In Bambali village there are hardly any young men left – almost all have left for Europe.
---
Gambia, Iran To Rekindle Friendship Again - Jollofnews

Jollofnews



Gambia, Iran To Rekindle Friendship AgainJollofnews

Describing

Gambia

as a rich country in terms of water resources, Hojjati said that in addition to enjoying enough water resources and fertile soil as well as suitable climate to raise tropical crops with high global demand,

Gambia

has the potential for

...and more »
---