Yemen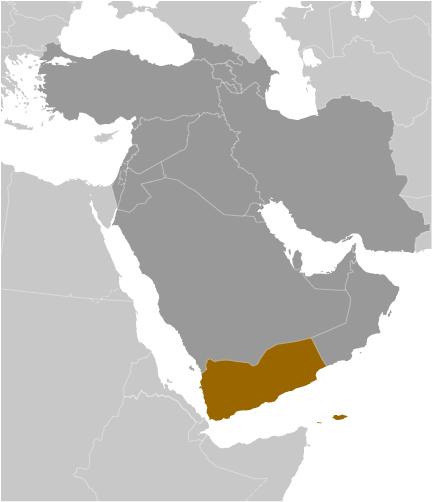 | | |
| --- | --- |
| Country | Yemen |
| Capital | Sana'a |
| Continent | Asia |
| Currency | Yemeni rial(YER) |
| Languages | Arabic |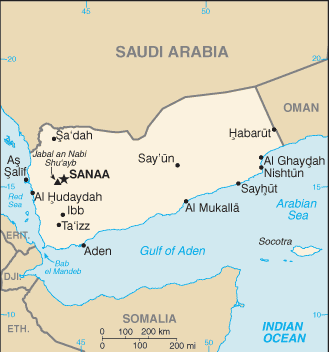 Information
Introduction
North Yemen became independent of the Ottoman Empire in 1918. The British, who had set up a protectorate area around the southern port of Aden in the 19th century, withdrew in 1967 from what became South Yemen. Three years later, the southern government adopted a Marxist orientation. The massive exodus of hundreds of thousands of Yemenis from the south to the north contributed to two decades of hostility between the states. The two countries were formally unified as the Republic of Yemen in 1990. A southern secessionist movement in 1994 was quickly subdued. In 2000, Saudi Arabia and Yemen agreed to a delimitation of their border.
Map
References
Yemen - Wikipedia
Yemen - CIA World Fact Book
Yemen - BBC
Yemen - Timeline - BBC
Cities
Links
News Headlines
Google News
This RSS feed URL is deprecatedThis RSS feed URL is deprecated, please update. New URLs can be found in the footers at https://news.google.com/news

---
Ambassador Defends US Backing Of Saudi War In Yemen - NPR

NPR



Ambassador Defends US Backing Of Saudi War In YemenNPR

The United States is defending its military support for Saudi Arabia in

Yemen's

civil war. NPR's Steve Inskeep speaks with U.S. Ambassador to

Yemen

Matthew Tueller. Facebook; Twitter; Flipboard; Email. Get The Stories That Grabbed Us This Week

...
---
Yemeni rebel leader lashes out at US, blames it for war - Minneapolis Star Tribune
---
UAE-backed militia deports Yemenis from southern Yemen - Aljazeera.com
---
Aircraft Attacked Over Yemen With R-27 Air-to-Air Missile Modified ... - The Drive
---
Yemeni Refugees Cross Gulf Of Aden To Seek Safety In East Africa - NPR
---
Senators Reject Limits on US Support for Saudi-led Fight in Yemen - New York Times
---
Yemen Food Security Outlook Update, February to September 2018 - ReliefWeb
---
Editorial: Ending the carnage in Yemen - Madison.com



Editorial: Ending the carnage in YemenMadison.com

Crown Prince Mohammed bin Salman, the heir to the throne of Saudi Arabia, visited Washington this week and received a rapturous welcome from President Trump, who gushed about the benefits of selling more U.S.-made weapons to the kingdom. But at the

...
---
Yemen Market Watch Report, Issue No. 21, February 2018 - Reliefweb
---
Senate Votes Down Yemen Resolution - Lawfare (blog)



Senate Votes Down Yemen ResolutionLawfare (blog)

Earlier this evening, the U.S. Senate voted to table the motion to discharge S.J. Res. 54, the joint resolution seeking to end U.S. support for the Saudi-led campaign in

Yemen

, making it unlikely that the joint resolution will see further action. As we

...and more »
---