Yemen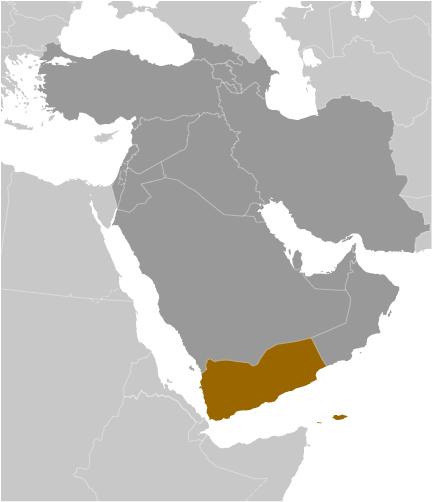 | | |
| --- | --- |
| Country | Yemen |
| Capital | Sana'a |
| Continent | Asia |
| Currency | Yemeni rial(YER) |
| Languages | Arabic |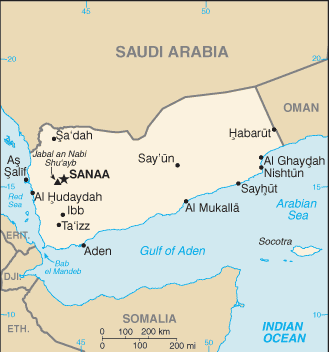 Information
Introduction
North Yemen became independent of the Ottoman Empire in 1918. The British, who had set up a protectorate area around the southern port of Aden in the 19th century, withdrew in 1967 from what became South Yemen. Three years later, the southern government adopted a Marxist orientation. The massive exodus of hundreds of thousands of Yemenis from the south to the north contributed to two decades of hostility between the states. The two countries were formally unified as the Republic of Yemen in 1990. A southern secessionist movement in 1994 was quickly subdued. In 2000, Saudi Arabia and Yemen agreed to a delimitation of their border.
Map
References
Yemen - Wikipedia
Yemen - CIA World Fact Book
Yemen - BBC
Yemen - Timeline - BBC
Cities
Links
News Headlines
Google News
Trump is weighing a major escalation in Yemen's devastating war - Vox
---
Vox Sentences: 20 million in Somalia, South Sudan, Nigeria, and Yemen face starvation - Vox
---
'My wounds still hurt and I am very afraid': Yemen's civil war in the words of its forgotten children - The Independent
---
UN: Child Marriage Soars in Yemen as Famine Looms - Voice of America
---
At least 11 dead in Yemen suicide bombing - SBS
---
Yemen's Ansarullah: Negotiations with Military Steadfastness "Futile Path" - Al-Manar TV
---
US Boosts Military Backing for Saudi-Led Coalition in Yemen - Wall Street Journal (subscription)



US Boosts Military Backing for Saudi-Led Coalition in YemenWall Street Journal (subscription)

WASHINGTON—The Trump administration has significantly increased military support for Sunni Arab states fighting al Qaeda and Iranian-backed militias in

Yemen

, said U.S. and Arab officials, drawing the U.S. deeper into the two-year civil war there.
---
Yemen Factsheet Summary 2016 [EN/AR] - Reliefweb

Reliefweb



Yemen Factsheet Summary 2016 [EN/AR]Reliefweb

Since March 2015, conflict has spread to 21 of

Yemen's

22 governorates, prompting a large scale protection crisis and aggravating an already severe humanitarian situation brought on by years of poverty, poor governance and instability. Today, 18.8

...
---
Rebel supporters flood Yemen streets on conflict anniversary - SBS
---
In South Sudan and Yemen, families struggle to survive as hunger haunts them - Oxfam America (press release) (blog)
---