Kenya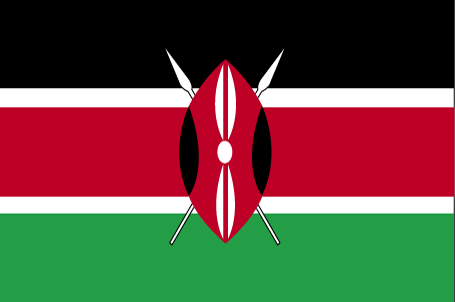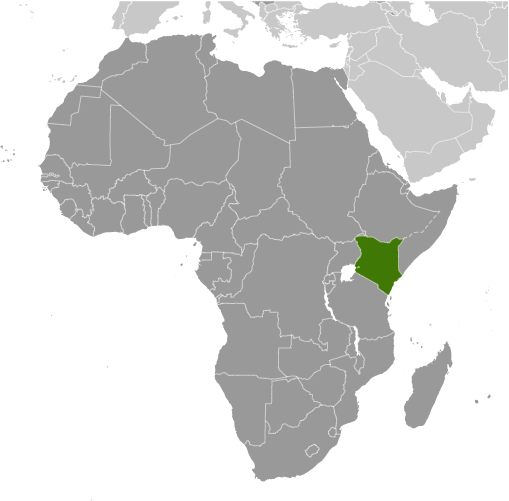 | | |
| --- | --- |
| Country | Kenya |
| Capital | Nairobi |
| Continent | Africa |
| Currency | Kenyan shilling(KES) |
| Languages | Swahili & English |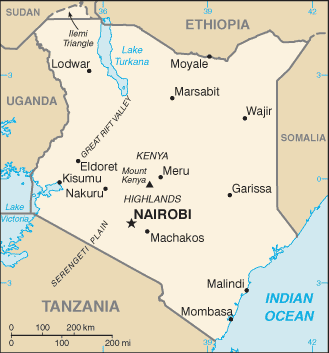 Information
Introduction
Founding president and liberation struggle icon Jomo KENYATTA led Kenya from independence in 1963 until his death in 1978, when President Daniel Toroitich arap MOI took power in a constitutional succession. The country was a de facto one-party state from 1969 until 1982 when the ruling Kenya African National Union (KANU) made itself the sole legal party in Kenya. MOI acceded to internal and external pressure for political liberalization in late 1991. The ethnically fractured opposition failed to dislodge KANU from power in elections in 1992 and 1997, which were marred by violence and fraud, but were viewed as having generally reflected the will of the Kenyan people. President MOI stepped down in December 2002 following fair and peaceful elections. Mwai KIBAKI, running as the candidate of the multiethnic, united opposition group, the National Rainbow Coalition (NARC), defeated KANU candidate Uhuru KENYATTA and assumed the presidency following a campaign centered on an anticorruption platform. KIBAKI's NARC coalition splintered in 2005 over the constitutional review process. Government defectors joined with KANU to form a new opposition coalition, the Orange Democratic Movement, which defeated the government's draft constitution in a popular referendum in November 2005. KIBAKI's reelection in December 2007 brought charges of vote rigging from ODM candidate Raila ODINGA and unleashed two months of violence in which as many as 1,500 people died. UN-sponsored talks in late February produced a powersharing accord bringing ODINGA into the government in the restored position of prime minister.
Map
References
Kenya - Wikipedia
Kenya - CIA World Fact Book
Kenya - BBC
Kenya - National Geographic
Kenya - Timeline - BBC
Cities
Links
News Headlines
Google News
Kenyans speak out against widow-cleansing tradition - Aljazeera.com

Aljazeera.com



Kenyans speak out against widow-cleansing traditionAljazeera.com

Nyanza,

Kenya

- In parts of

Kenya

tradition dictates that a widow is inherited by another man, usually a relative. Before that happens, however, she first has to engage in so-called widow-cleansing rituals which can include a sexual act with another man.
---
Amid violence and fraud, Kenya has hired international auditors to oversee its election - Quartz
---
Kenya Cup champs get bye - The Standard (press release)

The Standard (press release)



Kenya Cup champs get byeThe Standard (press release)Kenya

Cup champions

Kenya

Commercial Bank, Kabras Sugar, Strathmore Leos and Resolution Impala Saracens all got byes to the next round. In the pre-quarterfinal matches, Blak Blad takes on Mwamba at Kenyatta University. The winner of this clash ...
---
New Zealand's response to help drought-stricken Kenya - Scoop.co.nz (press release)
---
With an Eye on Electoral Violence, Kenya Keeps Tight Rein on Media - The Wire
---
Upto 40% of all cars sold in Kenya are now being sold online using online platforms - The Standard (press release)
---
Global print solution provider opens shop in Nairobi - The Standard (press release)



Global print solution provider opens shop in NairobiThe Standard (press release)

US-based leading ink and toner retailer and franchisor Cartridge World has opened a shop in

Kenya

adding to four in East Africa after opening one in Tanzania in 2015. The store, which will be based at Heights Building in Westlands, Nairobi will offer ...

and more »
---
Horny male seeks mate: Kenya's last northern white rhino joins Tinder - Eyewitness News
---
Satellite images trigger payouts for Kenyan farmers in grip of drought - The Guardian
---
Fight for Power Takes New Forms as Kenyan Elections Approach - U.S. News & World Report
---