Kenya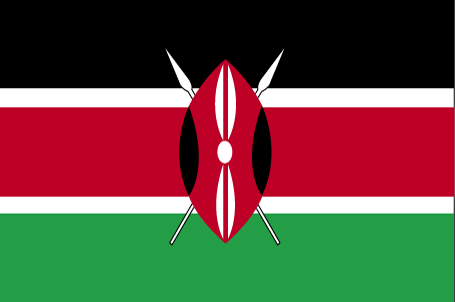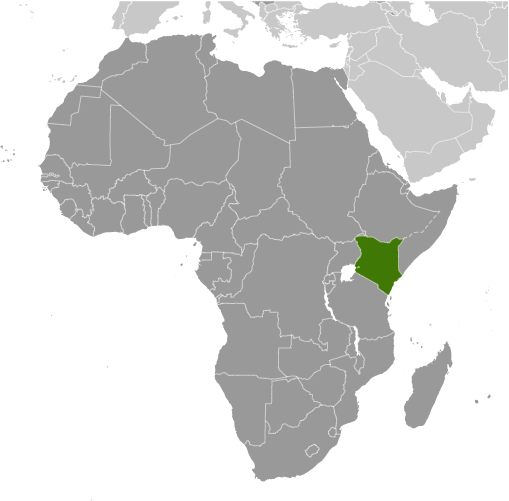 | | |
| --- | --- |
| Country | Kenya |
| Capital | Nairobi |
| Continent | Africa |
| Currency | Kenyan shilling(KES) |
| Languages | Swahili & English |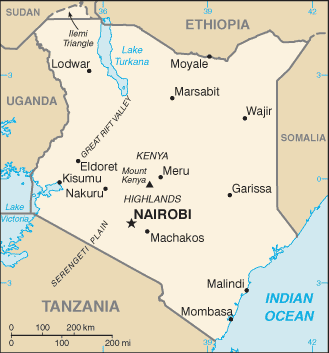 Information
Introduction
Founding president and liberation struggle icon Jomo KENYATTA led Kenya from independence in 1963 until his death in 1978, when President Daniel Toroitich arap MOI took power in a constitutional succession. The country was a de facto one-party state from 1969 until 1982 when the ruling Kenya African National Union (KANU) made itself the sole legal party in Kenya. MOI acceded to internal and external pressure for political liberalization in late 1991. The ethnically fractured opposition failed to dislodge KANU from power in elections in 1992 and 1997, which were marred by violence and fraud, but were viewed as having generally reflected the will of the Kenyan people. President MOI stepped down in December 2002 following fair and peaceful elections. Mwai KIBAKI, running as the candidate of the multiethnic, united opposition group, the National Rainbow Coalition (NARC), defeated KANU candidate Uhuru KENYATTA and assumed the presidency following a campaign centered on an anticorruption platform. KIBAKI's NARC coalition splintered in 2005 over the constitutional review process. Government defectors joined with KANU to form a new opposition coalition, the Orange Democratic Movement, which defeated the government's draft constitution in a popular referendum in November 2005. KIBAKI's reelection in December 2007 brought charges of vote rigging from ODM candidate Raila ODINGA and unleashed two months of violence in which as many as 1,500 people died. UN-sponsored talks in late February produced a powersharing accord bringing ODINGA into the government in the restored position of prime minister.
Map
References
Kenya - Wikipedia
Kenya - CIA World Fact Book
Kenya - BBC
Kenya - National Geographic
Kenya - Timeline - BBC
Cities
Links
News Headlines
Google News
This RSS feed URL is deprecatedThis RSS feed URL is deprecated, please update. New URLs can be found in the footers at https://news.google.com/news

---
British pensioner convicted of sexual abuse in Kenya - The Crown Prosecution Service
---
Kenya Removes Roadblock For Oil Industry Development - OilPrice.com
---
Kenya seeks to raise Sh800m for blue economy meet - Daily Nation - Daily Nation
---
Changing the Way Obstetric Fistula is Treated in Kenya - U.S. News & World Report
---
Kenya–based software firm clinches deal with Zimbabwe bank - Business Daily (press release) (blog)
---
British Gold mining firm to cut Kenyan workers - The Standard

The Standard



British Gold mining firm to cut Kenyan workersThe Standard

British mining firm Goldplat has warned that it will shed some jobs with a planned "restructuring of labour" in its

Kenyan

operations as it seek to lower costs. The company, which operates the Kilimapesa Gold Mine in Narok County, said it had concluded

...
---
Mpala, Kenya: 'Walking where our ancestors walked' - Princeton University
---
Kenya issues 60 day ultimatum to expatriates: 'Get valid permits or be deported' - africanews
---
Kenya to reform laws to enhance biodiversity conservation - Xinhua
---
Kenya: Justice For Ex-Corporal More Than Three Decades Later - AllAfrica.com



Kenya: Justice For Ex-Corporal More Than Three Decades LaterAllAfrica.com

A long, long time ago, in 1976 to be exact, John Muruge Mbogo joined the

Kenya

armed forces and was detailed to serve with the air force. In the next six years, before his life changed forever, he rose to the position of corporal. Then, in 1982, he was

...
---