Ecuador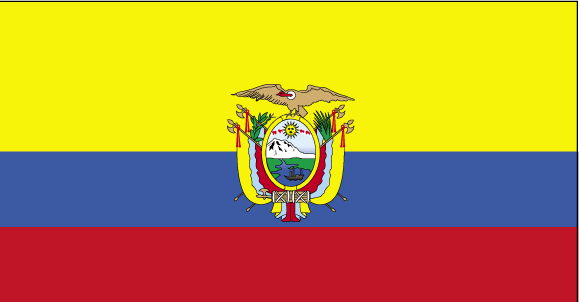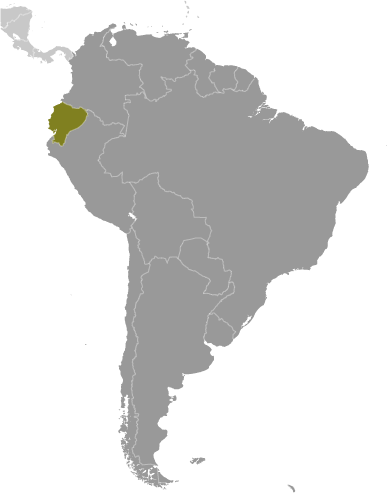 | | |
| --- | --- |
| Country | Ecuador |
| Capital | Quito |
| Continent | South America |
| Currency | United States dollar(USD) |
| Languages | Spanish, Kichwa(Quichua) & Shuar |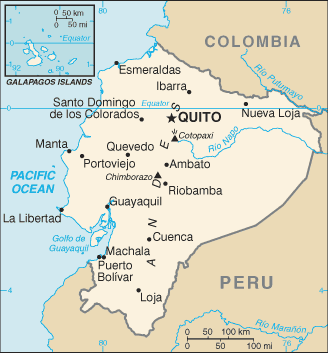 Information
Introduction
What is now Ecuador formed part of the northern Inca Empire until the Spanish conquest in 1533. Quito became a seat of Spanish colonial government in 1563 and part of the Viceroyalty of New Granada in 1717. The territories of the Viceroyalty - New Granada (Colombia), Venezuela, and Quito - gained their independence between 1819 and 1822 and formed a federation known as Gran Colombia. When Quito withdrew in 1830, the traditional name was changed in favor of the "Republic of the Equator." Between 1904 and 1942, Ecuador lost territories in a series of conflicts with its neighbors. A border war with Peru that flared in 1995 was resolved in 1999. Although Ecuador marked 25 years of civilian governance in 2004, the period has been marred by political instability. Protests in Quito have contributed to the mid-term ouster of Ecuador's last three democratically elected Presidents. In September 2008, voters approved a new constitution; Ecuador's twentieth since gaining independence. General elections, under the new constitutional framework, were held in April 2009.
Map
References
Ecuador - Wikipedia
Ecuador - CIA World Fact Book
Ecuador - BBC
Ecuador - Timeline - BBC
Cities
Links
News Headlines
Google News
This RSS feed URL is deprecatedThis RSS feed URL is deprecated, please update. New URLs can be found in the footers at https://news.google.com/news

---
Austin High graduate, 18, on 2-year mission to Ecuador - The Decatur Daily



Austin High graduate, 18, on 2-year mission to EcuadorThe Decatur Daily

A 2017 Austin High graduate will spend two years as a missionary for the Church of Jesus Christ of Latter-day Saints in Quito,

Ecuador

. Jared Brown, who is completing six weeks of missionary and language training in Provo, Utah, will leave for

Ecuador ...
---
Wooden Cars race held in Quito, Ecuador - Xinhua

Xinhua



Wooden Cars race held in Quito, EcuadorXinhua

Video PlayerClose.

ECUADOR

-QUITO-WOODEN CARS RACE. A Competitor (L) gets ready to start during the Wooden Cars race in Quito, capital of

Ecuador

, on Dec. 9, 2017. According to local press, 45 competitors in different categories took part in the final

...
---
Ecuador Earthquake Linked to Zika and Stress: New Study - teleSUR English
---
Ecuador to pay $337 million to ConocoPhillips subsidiary - Seattle Times
---
December's Best Bet: Ecuador and Northern Peru - Surfline.com Surf News
---
6.0 earthquake strikes off coast of Ecuador - The Hindu
---
Isla de la Plata - Atlas Obscura

Atlas Obscura



Isla de la PlataAtlas Obscura

It's about 25 miles off Puerto Lopez,

Ecuador

. The root of its name is uncertain: It may refer to the treasure allegedly buried there by Sir Francis Drake, or it may refer to the reservoir of guano (bird droppings) that glints in the sun from atop the

...
---
Ecuador earthquake: a twin delivered five months later - temblor
---
IMF Statement at the Conclusion of Staff Visit to Ecuador - International Monetary Fund



IMF Statement at the Conclusion of Staff Visit to EcuadorInternational Monetary Fund

An IMF delegation comprised of the IMF's Director of the Western Hemisphere Department, Mr. Alejandro Werner, and the Mission Chief for

Ecuador

, Ms. Anna Ivanova visited Quito to meet with the

Ecuadorian

authorities and hear the views of the new

...and more »
---
Ecuador president: Term limit needed to restore constitution - Washington Post
---