Ecuador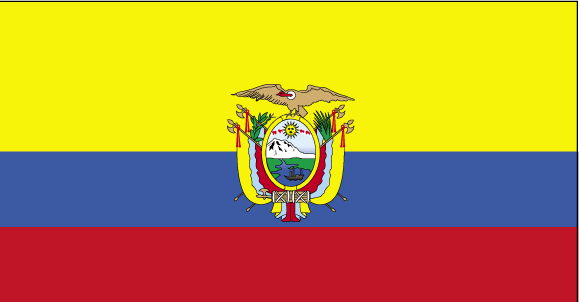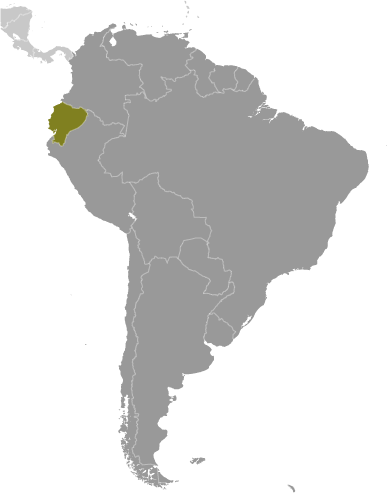 | | |
| --- | --- |
| Country | Ecuador |
| Capital | Quito |
| Continent | South America |
| Currency | United States dollar(USD) |
| Languages | Spanish, Kichwa(Quichua) & Shuar |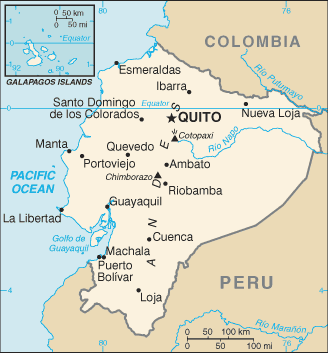 Information
Introduction
What is now Ecuador formed part of the northern Inca Empire until the Spanish conquest in 1533. Quito became a seat of Spanish colonial government in 1563 and part of the Viceroyalty of New Granada in 1717. The territories of the Viceroyalty - New Granada (Colombia), Venezuela, and Quito - gained their independence between 1819 and 1822 and formed a federation known as Gran Colombia. When Quito withdrew in 1830, the traditional name was changed in favor of the "Republic of the Equator." Between 1904 and 1942, Ecuador lost territories in a series of conflicts with its neighbors. A border war with Peru that flared in 1995 was resolved in 1999. Although Ecuador marked 25 years of civilian governance in 2004, the period has been marred by political instability. Protests in Quito have contributed to the mid-term ouster of Ecuador's last three democratically elected Presidents. In September 2008, voters approved a new constitution; Ecuador's twentieth since gaining independence. General elections, under the new constitutional framework, were held in April 2009.
Map
References
Ecuador - Wikipedia
Ecuador - CIA World Fact Book
Ecuador - BBC
Ecuador - Timeline - BBC
Cities
Links
News Headlines
Google News
This RSS feed URL is deprecatedThis RSS feed URL is deprecated, please update. New URLs can be found in the footers at https://news.google.com/news

---
Keep off our land, indigenous women tell Ecuador's president - The Guardian
---
Ecuador's hangover - Columbia Journalism Review

Columbia Journalism Review



Ecuador's hangoverColumbia Journalism ReviewEcuador's

new president, Lenin Moreno, took office in May 2017 with a pledge to uphold press freedom, declaring in his inauguration speech, "There can't be dialogue without freedom of expression." These words would be unremarkable if not for the fact

...
---
This lush mountain retreat in Ecuador's cloud forest is only an hour outside Quito - Washington Post
---
In Canada, Chevron Faces New Risks From $12b Ecuador Pollution Judgment As Shareholders Step up Pressure - CSRwire.com (press release)
---
Core Gold, Currently Largest Gold Producer in Ecuador, Receives Permit and Prepares for Drilling at Copper Duke ... - Stockhouse
---
Ecuador, Colombia Presidents Condemn Deadly Border Attack - teleSUR English
---
Fifth Cycle of Colombian Peace Talks Successfully Advances in Ecuador - Prensa Latina
---
S. Korea, Ecuador to hold joint committee for cooperation next week - Yonhap News
---
Ecuador Gov't Scraps Intel Agency, US-linked Army Man Rejoices - teleSUR English
---
Ecuador pledges to reform repressive media law - CPJ Press Freedom Online



Ecuador pledges to reform repressive media lawCPJ Press Freedom Online

Michelena acknowledged that the government of former President Rafael Correa had severely damaged press freedom in

Ecuador

, and that the 2013 Communications Law, commonly known as the 'ley mordaza' or gag law, had restricted the work of journalists

...
---