Serbia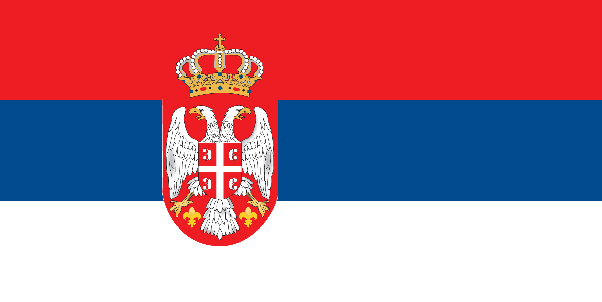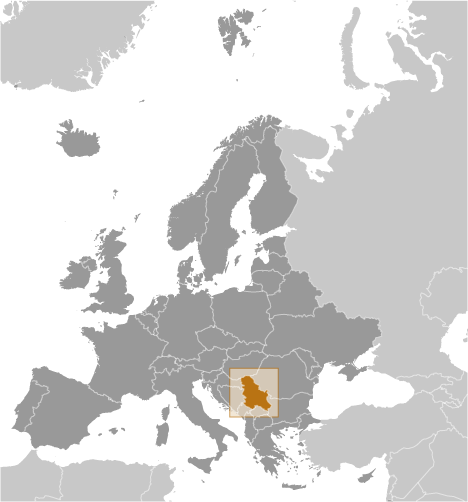 | | |
| --- | --- |
| Country | Serbia |
| Capital | Belgrade |
| Continent | Europe |
| Currency | Serbian dinar(RSD) |
| Languages | Serbian |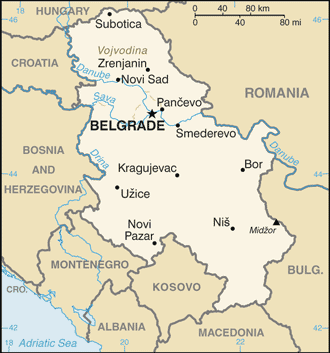 Information
Introduction
The Kingdom of Serbs, Croats, and Slovenes was formed in 1918; its name was changed to Yugoslavia in 1929. Various paramilitary bands resisted Nazi Germany's occupation and division of Yugoslavia from 1941 to 1945, but fought each other and ethnic opponents as much as the invaders. The military and political movement headed by Josip "TITO" Broz (Partisans) took full control of Yugoslavia when German and Croatian separatist forces were defeated in 1945. Although Communist, TITO's new government and his successors (he died in 1980) managed to steer their own path between the Warsaw Pact nations and the West for the next four and a half decades. In 1989, Slobodan MILOSEVIC became president of the Republic of Serbia and his ultranationalist calls for Serbian domination led to the violent breakup of Yugoslavia along ethnic lines. In 1991, Croatia, Slovenia, and Macedonia declared independence, followed by Bosnia in 1992. The remaining republics of Serbia and Montenegro declared a new Federal Republic of Yugoslavia (FRY) in April 1992 and under MILOSEVIC's leadership, Serbia led various military campaigns to unite ethnic Serbs in neighboring republics into a "Greater Serbia." These actions led to Yugoslavia being ousted from the UN in 1992, but Serbia continued its - ultimately unsuccessful - campaign until signing the Dayton Peace Accords in 1995. MILOSEVIC kept tight control over Serbia and eventually became president of the FRY in 1997. In 1998, an ethnic Albanian insurgency in the formerly autonomous Serbian province of Kosovo provoked a Serbian counterinsurgency campaign that resulted in massacres and massive expulsions of ethnic Albanians living in Kosovo. The MILOSEVIC government's rejection of a proposed international settlement led to NATO's bombing of Serbia in the spring of 1999 and to the eventual withdrawal of Serbian military and police forces from Kosovo in June 1999. UNSC Resolution 1244 in June 1999 authorized the stationing of a NATO-led force (KFOR) in Kosovo to provide a safe and secure environment for the region's ethnic communities, created a UN interim Administration Mission in Kosovo (UNMIK) to foster self-governing institutions, and reserved the issue of Kosovo's final status for an unspecified date in the future. FRY elections in September 2000 led to the ouster of MILOSEVIC, and in December 2000 a broad coalition of democratic reformist parties known as DOS (the Democratic Opposition of Serbia) was elected to parliament. DOS arrested MILOSEVIC in 2001 and sent him to be tried in The Hague for crimes against humanity. (MILOSEVIC died in March 2006 before the completion of his trial.) In 2001, the country's suspension from the UN was lifted. In 2003, the FRY became Serbia and Montenegro, a loose federation of the two republics with a federal level parliament. Widespread violence predominantly targeting ethnic Serbs in Kosovo in March 2004 caused the international community to open negotiations on the future status of Kosovo in January 2006. In May 2006, Montenegro invoked its right to secede from the federation and - following a successful referendum - it declared itself an independent nation on 3 June 2006. Two days later, Serbia declared that it was the successor state to the union of Serbia and Montenegro. A new Serbian constitution was approved in October 2006 and adopted the following month. In February 2008, after nearly two years of inconclusive negotiations, the UNMIK-administered province of Kosovo declared itself independent of Serbia - an action Serbia was powerless to stop, but which it refuses to recognize.
Map
References
Serbia - Wikipedia
Serbia - CIA World Fact Book
Serbia - BBC
Serbia - Timeline - BBC
Cities
Links
News Headlines
Google News
This RSS feed URL is deprecatedThis RSS feed URL is deprecated, please update. New URLs can be found in the footers at https://news.google.com/news

---
Thailand go down fighting to strong Serbia | Bangkok Post: news - Bangkok Post
---
Serbia, Turkey, Russia: Alarm bells for Europe - Augusta Free Press

Augusta Free Press



Serbia, Turkey, Russia: Alarm bells for EuropeAugusta Free Press

To demonstrate his commitment to

Serbia

, in a joint news conference held on May 7 in Ankara with

Serbia's

president Aleksandar Vucic, Erdogan said that the target for 2018 is $2 billion, going to $5 billion in the long term. Among the biggest projects

...
---
Serbia World Cup guide: Squad, record, manager, path to final, team news, latest odds and star man - The Sun
---
Serbia to strengthen relations with Russia, China, says president - TASS
---
Serbia's technics fair opens window into future of industrial development - Xinhua
---
Serbia, Thailand compete at FIVB Volleyball Nations League - Xinhua
---
Serbia chooses Kraljevo as the host of the World Group play-off vs India - Tennis World
---
Poland Upsets Top-Seeded China, Serbia Downs Thailand in #VNL Pool 6 - VolleyMob
---
India's Tafe plans to produce 5000 tractors annually in Serbia - govt - SeeNews
---
Serbia World Cup 2018 preview: Lineup, tactics, predictions - Yahoo Sports
---