Haiti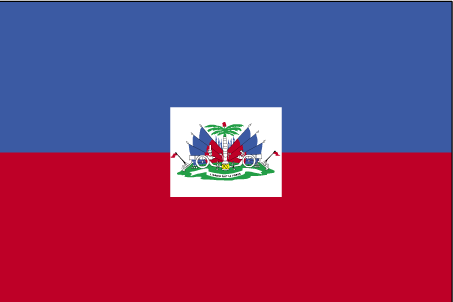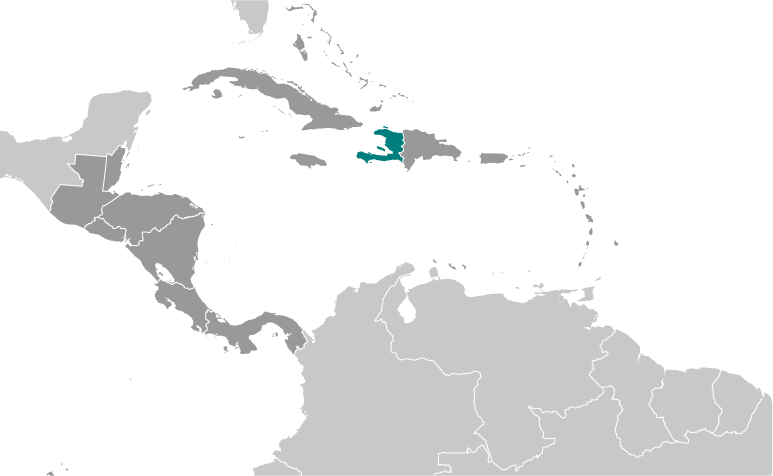 | | |
| --- | --- |
| Country | Haiti |
| Capital | Port-au-Prince |
| Continent | North America(Central America) |
| Currency | Gourde(HTG) |
| Languages | French & Haitian Creole |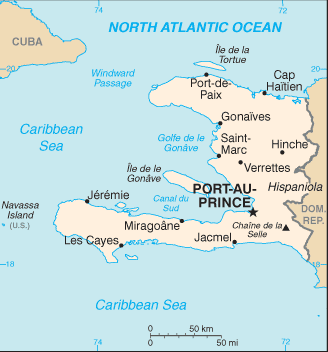 Information
Introduction
The native Taino Amerindians - who inhabited the island of Hispaniola when it was discovered by COLUMBUS in 1492 - were virtually annihilated by Spanish settlers within 25 years. In the early 17th century, the French established a presence on Hispaniola. In 1697, Spain ceded to the French the western third of the island, which later became Haiti. The French colony, based on forestry and sugar-related industries, became one of the wealthiest in the Caribbean but only through the heavy importation of African slaves and considerable environmental degradation. In the late 18th century, Haiti's nearly half million slaves revolted under Toussaint L'OUVERTURE. After a prolonged struggle, Haiti became the first black republic to declare independence in 1804. The poorest country in the Western Hemisphere, Haiti has been plagued by political violence for most of its history. After an armed rebellion led to the forced resignation and exile of President Jean-Bertrand ARISTIDE in February 2004, an interim government took office to organize new elections under the auspices of the United Nations Stabilization Mission in Haiti (MINUSTAH). Continued violence and technical delays prompted repeated postponements, but Haiti finally did inaugurate a democratically elected president and parliament in May of 2006. A massive magnitude 7.0 earthquake struck Haiti in January 2010 with an epicenter about 15 km southwest of the capital, Port-au-Prince. An estimated 2 million people live within the zone of heavy to moderate structural damage. The earthquake is assessed as the worst in this region over the last 200 years and massive international assistance will be required to help the country recover.
Map
References
Haiti - Wikipedia
Haiti - CIA World Fact Book
Haiti - BBC
Haiti - National Geographic
Haiti - Timeline - BBC
Cities
Links
News Headlines
Google News
This RSS feed URL is deprecatedThis RSS feed URL is deprecated, please update. New URLs can be found in the footers at https://news.google.com/news

---
Hurricane Florence blamed for Haitian trash on NC beaches ... - Charlotte Observer
---
Haiti - Security : Earthquakes, 3 departments at risk under high surveillance - Haitilibre.com
---
Haiti - News : Zapping... - Haitilibre.com



Haiti - News : Zapping...Haitilibre.com

More than 10,000 cases of cancer are diagnosed each year in

Haiti

, said oncologist Jean D. Cantave, President of the

Haitian

Oncology Society, which draws the authorities' attention to the need to define a national program to fight against cancer .
---
Haiti - News : Zapping... 24/09/2018 10:03:45 - Haitilibre.com
---
Haiti - Culture : The Haitian singer «Géraldo» finalist of the Prix Découverte RFI 2018 - Haitilibre.com
---
Haiti - Economy : Inflation passes the bar of 14% - Haitilibre.com

Haitilibre.com



Haiti - Economy : Inflation passes the bar of 14%Haitilibre.com

For the month of August 2018, the General Consumer Price Index (base 100 in August 2004) stood at 359.9 against 349.5 in July, showing an increase in inflation in a very slight slowdown of + 1.4% in a monthly rate, compared to 1.5% the previous month ...
---
CDB, Haiti and Trump - Trinidad & Tobago Express

Trinidad & Tobago Express



CDB, Haiti and TrumpTrinidad & Tobago Express

As the Caribbean Community (Caricom) continues to move, regrettably at a slow pace to widen and deepen economic integration within our region, the latest encouraging development is that the Caribbean Development Bank (CDB) has officially established ...
---
New Haitian Tourism Minister Challenged to Reignite Visitor Growth - TravelPulse
---
Man shot in Little Haiti, police say - WPLG Local 10

WPLG Local 10



Man shot in Little Haiti, police sayWPLG Local 10

MIAMI - Police are investigating after a man was shot late Tuesday. Kiara Delva, a spokeswoman for the Miami Police Department, said officers found a man suffering from a gunshot wound around 10 p.m. near Northwest Fifth Court and Northwest 67th Street ...
---
Fête for Haiti celebrates 10th anniversary - Coastal Illustrated

Coastal Illustrated



Fête for Haiti celebrates 10th anniversaryCoastal Illustrated

Helping Hugs Inc. is celebrating its 10-year relationship with St. Joseph Church in Côtes-de-Fer,

Haiti

. The organization's annual fundraiser, Fête for

Haiti

, will begin at 6 p.m. Nov. 9 at Bennie's Red Barn. Thanks to the generosity of people on St

...
---