Slovenia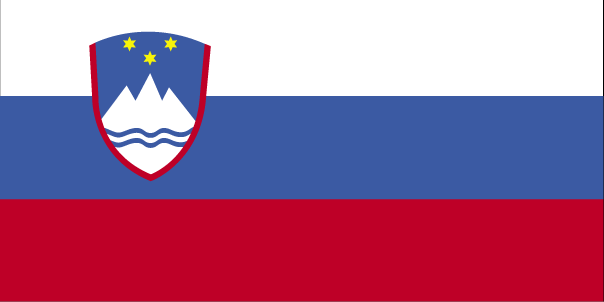 | | |
| --- | --- |
| Country | Slovenia |
| Capital | Ljubljana |
| Continent | Europe |
| Currency | Euro(EUR) |
| Languages | Slovene |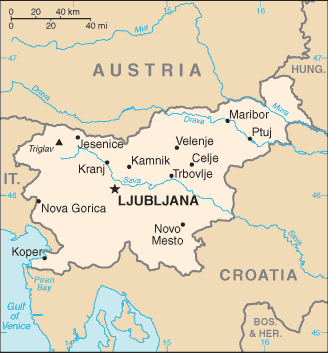 Information
Introduction
The Slovene lands were part of the Austro-Hungarian Empire until the latter's dissolution at the end of World War I. In 1918, the Slovenes joined the Serbs and Croats in forming a new multinational state, which was named Yugoslavia in 1929. After World War II, Slovenia became a republic of the renewed Yugoslavia, which though Communist, distanced itself from Moscow's rule. Dissatisfied with the exercise of power by the majority Serbs, the Slovenes succeeded in establishing their independence in 1991 after a short 10-day war. Historical ties to Western Europe, a strong economy, and a stable democracy have assisted in Slovenia's transformation to a modern state. Slovenia acceded to both NATO and the EU in the spring of 2004.
Map
References
Slovenia - Wikipedia
Slovenia - CIA World Fact Book
Slovenia - BBC
Slovenia - Timeline - BBC
Cities
Links
News Headlines
Google News
VIBERATE JOINS THE BLOCKCHAIN INITIATIVE OF SLOVENIA - newsBTC
---
Slovenia Telecoms, Mobile, Broadband, and Digital Media Statistics and Analyses 2017-2022 - Research and Markets - Business Wire (press release)
---
Slovenia: A bijou Europe in Miniature - The Courier

The Courier



Slovenia: A bijou Europe in MiniatureThe Courier

As a travel writer there are some countries that I just cannot help going back to. One of my favourites is

Slovenia

, a bijou 'Europe in Miniature' that boasts Alpine peaks and lakes, world class food, superb wines, a slice of Mediterranean coastline

...
---
Hidden Destinations: Piran, Slovenia - Guardian (blog)

Guardian (blog)



Hidden Destinations: Piran, SloveniaGuardian (blog)

There are incredible places to visit in Europe. There are the common well-known countries such as Amsterdam and its canals, London and its shopping, or Paris the City of Light. Europe also has its hidden gems for example the town Piran,

Slovenia

. Piran

...
---
Slovenia to Hold Presidential Election in October - U.S. News & World Report
---
Fascinating facts about Slovenia - The Telegraph - Telegraph.co.uk
---
Keeping tabs on the birds in Slovenia - Reuters

Reuters



Keeping tabs on the birds in SloveniaReuters

VRHNIKA,

Slovenia

(Reuters) - Scientists in an area of woodland in

Slovenia

are studying the migratory patterns of birds with the aid of a couple of big nets - and a lot of small rings. In Vrhnika, 20 km (12 miles) south of

Slovenia's

capital Ljubljana

...and more »
---
College basketball: Davidson traveling to Italy, Slovenia for some culture and hoops - NCAA.com
---
Where to eat in Ljubljana, Slovenia: The pretty nation becoming a ... - The Australian Financial Review
---
Slovenia approves Magna International project - Reuters



Slovenia approves Magna International projectReuters

SARAJEVO, Aug 11 (Reuters) - Canadian car parts maker Magna International has been given the green light by the

Slovenian

Environment Agency to start building a paint factory, the first phase of a potential 1.24 billion euro ($1.5 billion) investment.

and more »
---