Slovenia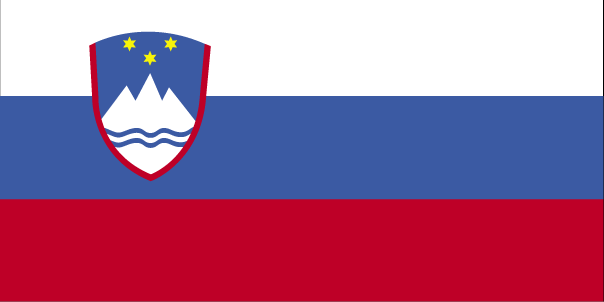 | | |
| --- | --- |
| Country | Slovenia |
| Capital | Ljubljana |
| Continent | Europe |
| Currency | Euro(EUR) |
| Languages | Slovene |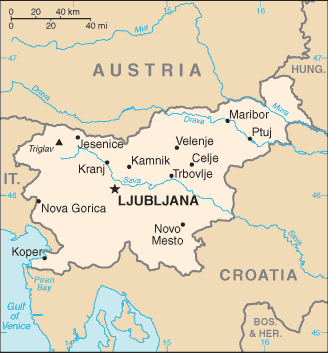 Information
Introduction
The Slovene lands were part of the Austro-Hungarian Empire until the latter's dissolution at the end of World War I. In 1918, the Slovenes joined the Serbs and Croats in forming a new multinational state, which was named Yugoslavia in 1929. After World War II, Slovenia became a republic of the renewed Yugoslavia, which though Communist, distanced itself from Moscow's rule. Dissatisfied with the exercise of power by the majority Serbs, the Slovenes succeeded in establishing their independence in 1991 after a short 10-day war. Historical ties to Western Europe, a strong economy, and a stable democracy have assisted in Slovenia's transformation to a modern state. Slovenia acceded to both NATO and the EU in the spring of 2004.
Map
References
Slovenia - Wikipedia
Slovenia - CIA World Fact Book
Slovenia - BBC
Slovenia - Timeline - BBC
Cities
Links
News Headlines
Google News
Lake Bled: Jewel of Slovenia amid spectacular landscape - Port Huron Times Herald
---
Slovenia's Krka 2014 group net down 4 percent - Reuters



Slovenia's Krka 2014 group net down 4 percentReuters

"Krka's sales in 2015 are planned to amount to 1.26 billion euros, with sales outside

Slovenia

expected to represent 94 percent of total sales. Profit is planned at the level of the profit reported for 2014," the company said in a report filed to the

...and more »
---
President Marie-Louise Coleiro Preca rounds off trip to Slovenia by visiting ... - Malta Independent Online
---
"Justice for Khojaly" alpine skiing marathon held in Slovenia - News.Az
---
Telekom Slovenia 2014 net profit falls to 1.6 mln euros - Reuters



Telekom Slovenia 2014 net profit falls to 1.6 mln eurosReuters

"Telekom

Slovenia

faced harsher economic conditions in the markets where it operates and lower revenue from mobile voice services because of switching to new mobile plans," the company said in a statement. It also said it foresaw a net operating profit

...
---
Slovenia recently reaffirmed its commitment to the privatisation strategy - Balkans.com Business News
---
Moody's: Slovenia, Hungary share similar growth and debt challenges, but ... - portfolio.hu
---
Slovenia 2015: interview with Jana Šušteršic - oikotimes.com

oikotimes.com



Slovenia 2015: interview with Jana Šušteršicoikotimes.com

My name is Jana, I'm a singer and a pianist, born in

Slovenia

, grew up in Belgrade, Serbia. The stages of my music life would look something like this: 1. Piano – Since I was 7 years old I had numerous appearances as a soloist and with orchestras, I

...
---
French Finance Minister Visits Slovenia - STA - Slovenska Tiskovna Agencija (subscription)
---
MARKETS: Slovenia, Hungary share growth and debt challenges - Financial Mirror
---