Slovenia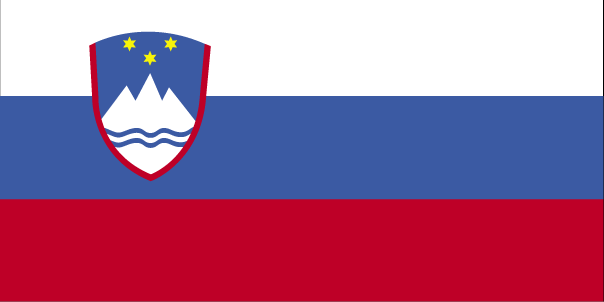 | | |
| --- | --- |
| Country | Slovenia |
| Capital | Ljubljana |
| Continent | Europe |
| Currency | Euro(EUR) |
| Languages | Slovene |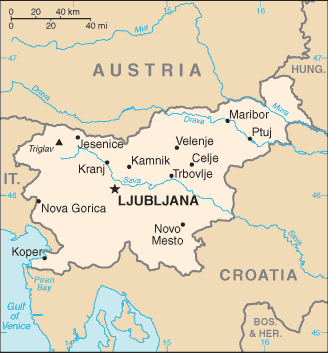 Information
Introduction
The Slovene lands were part of the Austro-Hungarian Empire until the latter's dissolution at the end of World War I. In 1918, the Slovenes joined the Serbs and Croats in forming a new multinational state, which was named Yugoslavia in 1929. After World War II, Slovenia became a republic of the renewed Yugoslavia, which though Communist, distanced itself from Moscow's rule. Dissatisfied with the exercise of power by the majority Serbs, the Slovenes succeeded in establishing their independence in 1991 after a short 10-day war. Historical ties to Western Europe, a strong economy, and a stable democracy have assisted in Slovenia's transformation to a modern state. Slovenia acceded to both NATO and the EU in the spring of 2004.
Map
References
Slovenia - Wikipedia
Slovenia - CIA World Fact Book
Slovenia - BBC
Slovenia - Timeline - BBC
Cities
Links
News Headlines
Google News
Slovenia's Ana Ros named world's best female chef of 2017 - CTV News
---
Poland, Slovenia agree on approach to migration crisis: PM - Radio ... - thenews.pl
---
In Slovenia, Melania Trump–Themed Merchandise Sells - Vogue.com
---
Dreamy Slovenia's beauty, fun, history a delightful escape - Lansing State Journal
---
Slovenia a 'perfect mix of landscape and culture' - Wicked Local Swampscott
---
Czech, Slovenian PMs talk about renewal of port of Koper - Prague Daily Monitor



Czech, Slovenian PMs talk about renewal of port of KoperPrague Daily Monitor

Prague, Jan 23 (CTK) - Czech and

Slovenian

prime ministers, Bohuslav Sobotka and Miro Cerar, talked about the modernisation of the

Slovenian

port of Koper, which might open new opportunities for Czech exporters, Sobotka said after their meeting ...

and more »
---
Slovenia eyes pay-DTT - Broadband TV News

Broadband TV News



Slovenia eyes pay-DTTBroadband TV NewsSlovenia

currently has two national (A and C) and five local multiplexes that all use the DVB-T standard and H.264 codec to distribute FTA channels. AKOS says that pay-DTT is now "in full swing" in all neighbouring countries and elsewhere in Europe.
---
STA: Slovenia argues Teran case has broader implications - STA - Slovenska Tiskovna Agencija (subscription)
---
Scotland to play Canada in warm-up for crunch Slovenia clash - Times of India



Scotland to play Canada in warm-up for crunch Slovenia clashTimes of India

"We know that a win against

Slovenia

at Hampden will take us to just one point behind them in second place and put us right back in contention, so the players involved in the Canada game can take this opportunity to show they should be involved," said ...
---
Overview of Croatia's Border Disputes with BiH, Montenegro, Serbia ... - Total Croatia News
---