Slovenia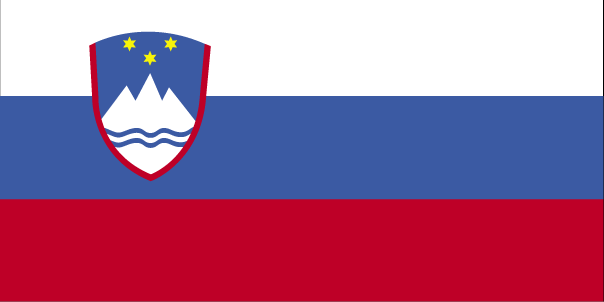 | | |
| --- | --- |
| Country | Slovenia |
| Capital | Ljubljana |
| Continent | Europe |
| Currency | Euro(EUR) |
| Languages | Slovene |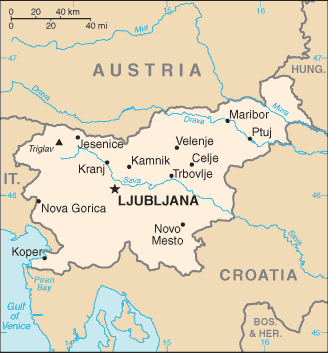 Information
Introduction
The Slovene lands were part of the Austro-Hungarian Empire until the latter's dissolution at the end of World War I. In 1918, the Slovenes joined the Serbs and Croats in forming a new multinational state, which was named Yugoslavia in 1929. After World War II, Slovenia became a republic of the renewed Yugoslavia, which though Communist, distanced itself from Moscow's rule. Dissatisfied with the exercise of power by the majority Serbs, the Slovenes succeeded in establishing their independence in 1991 after a short 10-day war. Historical ties to Western Europe, a strong economy, and a stable democracy have assisted in Slovenia's transformation to a modern state. Slovenia acceded to both NATO and the EU in the spring of 2004.
Map
References
Slovenia - Wikipedia
Slovenia - CIA World Fact Book
Slovenia - BBC
Slovenia - Timeline - BBC
Cities
Links
News Headlines
Google News
A free Croatia and Slovenia and a broken Yugoslavia - Deutsche Welle

Deutsche Welle



A free Croatia and Slovenia and a broken YugoslaviaDeutsche Welle

Hans-Dietrich Genscher (pictured), Germany's foreign minister at the time, wanted to avoid forcing

Slovenia

and Croatia to stay in the federation against their will. His was a highly controversial opinion at the time. Since World War II, German foreign

...
---
Slovenia book first ticket to Group 3 Final Four - FIVB.com (press release) (registration)
---
Gasparini shut out Qatar and close in on Slovenia Final Four berth - FIVB.com (press release) (registration)
---
Bangladesh, Slovenia agree to cooperate - The Daily Star



Bangladesh, Slovenia agree to cooperateThe Daily Star

Bangladesh and

Slovenia

yesterday agreed to cooperate in areas of trade, energy, science and technology, agriculture and light industries. Praising Bangladesh's spectacular growth in agriculture, textiles, pharmaceuticals and energy,

Slovenian

leaders ...

and more »
---
Slovenia to improve public administration, pursue privatisation - deputy PM - Reuters
---
Serbia, Canada, Turkey, Greece, Slovenia stay on strong pace in World League - FIVB.com (press release) (registration)
---
Rouhani congratulates Slovenia on anniversary of independence - Tehran Times
---
Presidents from neighbours congratulate Slovenia, regret Brexit - STA - Slovenska Tiskovna Agencija (subscription)



Presidents from neighbours congratulate Slovenia, regret BrexitSTA - Slovenska Tiskovna Agencija (subscription)

Ljubljana, 24 June - The foreign heads of state who will attend tonight's 25th National Day ceremony in Ljubljana congratulated

Slovenia

on the jubilee as they arrived at a reception at the Presidential Palace before the ceremony. They also expressed

...and more »
---
Inside Europe: Croatia, Slovenia mark 25 years of independence - Deutsche Welle
---
From 100% recycled steel to eco-nylon, meet Slovenia's circular changemakers - The Guardian
---