Slovenia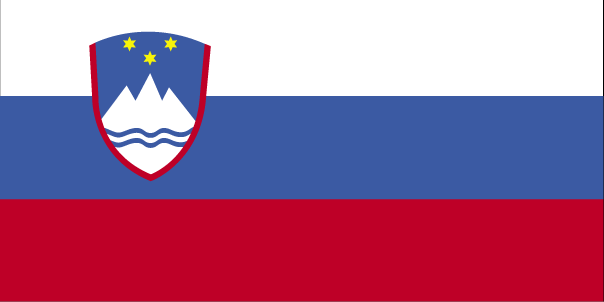 | | |
| --- | --- |
| Country | Slovenia |
| Capital | Ljubljana |
| Continent | Europe |
| Currency | Euro(EUR) |
| Languages | Slovene |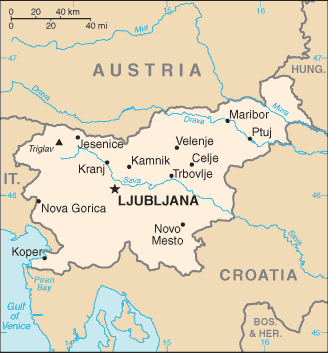 Information
Introduction
The Slovene lands were part of the Austro-Hungarian Empire until the latter's dissolution at the end of World War I. In 1918, the Slovenes joined the Serbs and Croats in forming a new multinational state, which was named Yugoslavia in 1929. After World War II, Slovenia became a republic of the renewed Yugoslavia, which though Communist, distanced itself from Moscow's rule. Dissatisfied with the exercise of power by the majority Serbs, the Slovenes succeeded in establishing their independence in 1991 after a short 10-day war. Historical ties to Western Europe, a strong economy, and a stable democracy have assisted in Slovenia's transformation to a modern state. Slovenia acceded to both NATO and the EU in the spring of 2004.
Map
References
Slovenia - Wikipedia
Slovenia - CIA World Fact Book
Slovenia - BBC
Slovenia - Timeline - BBC
Cities
Links
News Headlines
Google News
Tottenham's Kyle Walker in the England frame for November games against ... - Mirror.co.uk
---
UPDATE 2-Slovenia aims to sell Telekom, cut deficit -finance ministry - Reuters
---
Lithuania 0-2 Slovenia: Milivoje Novakovic scores twice to earn win - Daily Mail
---
Slovenia Lawmakers Strip Former Premier Jansa of Parliament Seat - Wall Street Journal
---
Colombia line up friendlies in Europe with Slovenia, US - Times of India



Colombia line up friendlies in Europe with Slovenia, USTimes of India

BOGOTA: Colombia will follow up their friendly against the United States in November with a match against

Slovenia

, the Colombian Football Federation (FCF) said on Friday. World Cup quarterfinalists Colombia, who are third in the FIFA rankings, will

...
---
Switzerland remain pointless after surprise defeat in Slovenia - The Guardian
---
International Business|Slovenia Leader Withdraws From Bid for EU Energy Post - New York Times
---
Football - Colombia line up friendlies in Europe with Slovenia, US - Yahoo Eurosport UK
---
England v Slovenia - The FA



England v SloveniaThe FA

So as the Three Lions attempt to end the calendar year on a high, why not head to Wembley Stadium to see them in action. Full details and prices are listed below. Ticket prices: £35, £45, £55, £65. A £10 discount is available for OAPSs, Students and

...
---
Kupchina in Slovenia on a visit - Belarus News (BelTA)

Belarus News (BelTA)



Kupchina in Slovenia on a visitBelarus News (BelTA)

LJUBLJANA, 20 October (BelTA) – Deputy Foreign Minister of Belarus Yelena Kupchina is leading a Belarusian delegation on a working visit to

Slovenia

. Yelena Kupchina is expected to take part in the Belarusian-

Slovenian

business forum on 20 October.
---