Zambia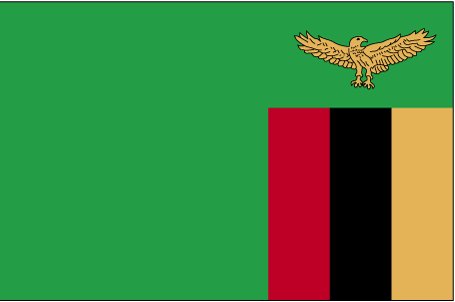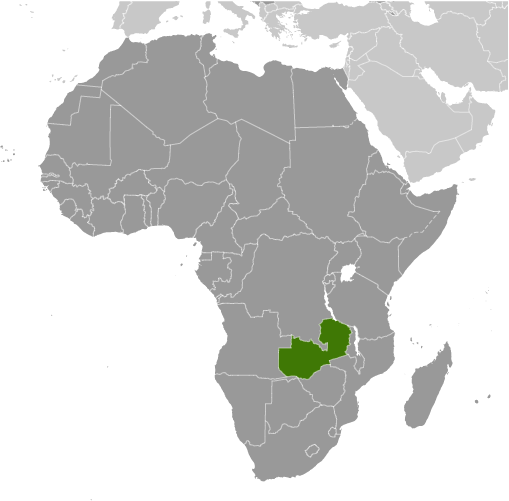 | | |
| --- | --- |
| Country | Zambia |
| Capital | Lusaka |
| Continent | Africa |
| Currency | Zambian kwacha(ZMW) |
| Languages | English, Bemba, Tonga, Lozi, Lunda, Luvale, Kaonde, Nyanja & Chewa |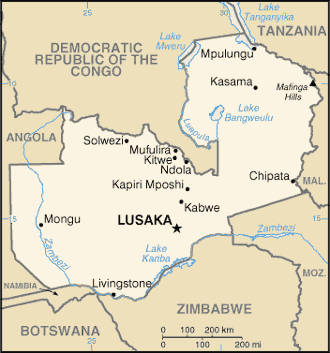 Information
Introduction
The territory of Northern Rhodesia was administered by the [British] South Africa Company from 1891 until it was taken over by the UK in 1923. During the 1920s and 1930s, advances in mining spurred development and immigration. The name was changed to Zambia upon independence in 1964. In the 1980s and 1990s, declining copper prices and a prolonged drought hurt the economy. Elections in 1991 brought an end to one-party rule, but the subsequent vote in 1996 saw blatant harassment of opposition parties. The election in 2001 was marked by administrative problems with three parties filing a legal petition challenging the election of ruling party candidate Levy MWANAWASA. The new president launched an anticorruption investigation in 2002 to probe high-level corruption during the previous administration. In 2006-07, this task force successfully prosecuted four cases, including a landmark civil case in the UK in which former President CHILUBA and numerous others were found liable for USD 41 million. MWANAWASA was reelected in 2006 in an election that was deemed free and fair. Upon his abrupt death in August 2008, he was succeeded by his Vice President Rupiah BANDA, who subsequently won a special presidential election in October 2008.
Map
References
Zambia - Wikipedia
Zambia - CIA World Fact Book
Zambia - BBC
Zambia - Timeline - BBC
Cities
Links
News Headlines
Google News
Hippos, Anthrax And Hunger Make A Deadly Mix - NPR

NPR



Hippos, Anthrax And Hunger Make A Deadly MixNPR

A few years ago in

Zambia

, hippos were dropping dead by the dozens. Soon after the hippos fell ill, people started getting sick, too. Between August and September of 2011, at least 85 hippos died in a game management area along the South Luangwa River ...

and more »
---
Zambia frees opposition leader Hakainde Hichilema - Aljazeera.com
---
Senong to lead Bafana in Zambia - Sport24



Senong to lead Bafana in ZambiaSport24

Cape Town - Bafana Bafana coach Stuart Baxter will not travel to

Zambia

with the squad for the second leg of the 2018 CHAN qualifiers, which will be played on Saturday, August 19 at the Levy Mwanawasa Stadium in Ndola,

Zambia

. Assistant coach Thabo ...
---
First Quantum had agreed to conditional Zambia power tariff hike - Mining MX
---
Zambia power spat hits First Quantum - Mining Journal (subscription)
---
Zambia: Another opposition leader set free - Anadolu Agency - Anadolu Agency
---
Government makes tremendous efforts in fulfilling globalization goals – Hamukale - Lusaka Times
---
No Baxter For Bafana Vs Zambia, Senong Takes Bench - Soccer Laduma
---
Wada targets first win at Levy - Zambia Daily Mail

Zambia Daily Mail



Wada targets first win at LevyZambia Daily Mail

COACH Wedson Nyirenda is targeting getting the first win at Ndola's Levy Mwanawasa Stadium on Saturday when

Zambia

face South Africa in the 2018 Kenya African Nations Championship (CHAN) second round return leg. Nyirenda said in an interview in ...

and more »
---
Charity worker died in Zambia crash 'accident', inquest hears - BBC ... - BBC News
---