Zambia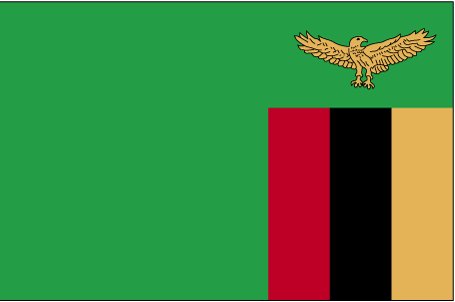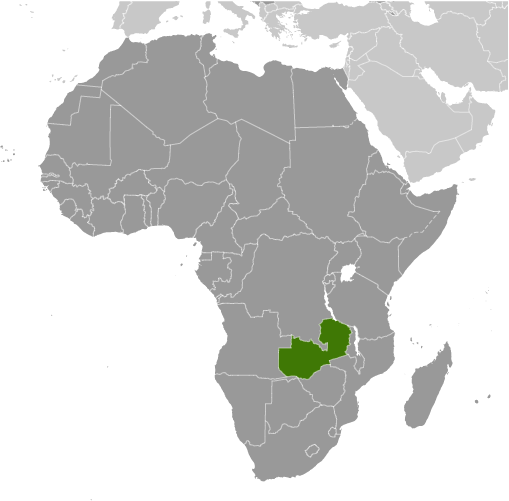 | | |
| --- | --- |
| Country | Zambia |
| Capital | Lusaka |
| Continent | Africa |
| Currency | Zambian kwacha(ZMW) |
| Languages | English, Bemba, Tonga, Lozi, Lunda, Luvale, Kaonde, Nyanja & Chewa |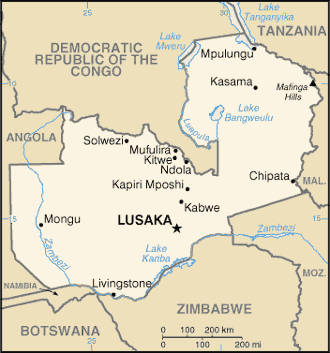 Information
Introduction
The territory of Northern Rhodesia was administered by the [British] South Africa Company from 1891 until it was taken over by the UK in 1923. During the 1920s and 1930s, advances in mining spurred development and immigration. The name was changed to Zambia upon independence in 1964. In the 1980s and 1990s, declining copper prices and a prolonged drought hurt the economy. Elections in 1991 brought an end to one-party rule, but the subsequent vote in 1996 saw blatant harassment of opposition parties. The election in 2001 was marked by administrative problems with three parties filing a legal petition challenging the election of ruling party candidate Levy MWANAWASA. The new president launched an anticorruption investigation in 2002 to probe high-level corruption during the previous administration. In 2006-07, this task force successfully prosecuted four cases, including a landmark civil case in the UK in which former President CHILUBA and numerous others were found liable for USD 41 million. MWANAWASA was reelected in 2006 in an election that was deemed free and fair. Upon his abrupt death in August 2008, he was succeeded by his Vice President Rupiah BANDA, who subsequently won a special presidential election in October 2008.
Map
References
Zambia - Wikipedia
Zambia - CIA World Fact Book
Zambia - BBC
Zambia - Timeline - BBC
Cities
Links
News Headlines
Google News
This RSS feed URL is deprecatedThis RSS feed URL is deprecated, please update. New URLs can be found in the footers at https://news.google.com/news

---
President Kenyatta hold talks with his Zambian counterpart Lungu - Capital FM Kenya
---
FIFA WORLD CUP CORNER - Zambia Reports

Zambia Reports



FIFA WORLD CUP CORNERZambia ReportsZambian

referee Janny Sikazwe will officiate today's FIFA World Cup match involving Belgium and Panama. Full Results of games played so far: Russia 5-0 Saudi Arabia. Egypt 0-1 Uruguay. Morocco 0-1 Iran. Portugal 3-3 Spain. France 2-1 Australia.
---
60% of Zambian girls below 19 are bearing children – report - diggers.news
---
Zambian runners impress - Zambia Daily Mail

Zambia Daily Mail



Zambian runners impressZambia Daily Mail

CECILIA ZULU, Lusaka RUNNERS Suwilanji Mpondela and Quincy Malekani began their preparations for their various international competitions on a bright note recording impressive results at the International Meet competition in Germany last Saturday.
---
How President Lungu's loan ban and fiscal measures has averted a crisis and led Zambia to economic recovery - Lusaka Times
---
WFP Zambia Country Brief, May 2018 - Reliefweb

Reliefweb



WFP Zambia Country Brief, May 2018Reliefweb

The Country Office in liaison with the Regional Bureau, through the WFP and Sodexo global partnership to end hunger and malnutrition, are planning a mission to

Zambia

in June to assess the status of food safety, handling, cooking practices and mass ...

and more »
---
Govt Hails Rotarians - Zambia Reports

Zambia Reports



Govt Hails RotariansZambia Reports

Rotarians were in eminent company when Works and Supply Minister Felix Mutati officiated at induction new Rotary Club of Maluba president Charles Sichangwa. Mutati hailed the role Rotarians play in uplifting the living standards of the communities in ...
---
Zambia delays borrowing plans indefinitely - africanews

africanews



Zambia delays borrowing plans indefinitelyafricanews

The International Monetary Fund rejected

Zambia's

borrowing plans in February, saying they risked making its debt load harder to sustain. The new debt management plan could now clear the way for

Zambia

to agree a $1.3 billion loan agreement with the ...

and more »
---
Zambians have the right to hold judges accountable, says ZCSD ... - themastonline.com
---
Zambia yet again robbed of seasoned politician - Zambia Daily Mail



Zambia yet again robbed of seasoned politicianZambia Daily Mail

Dear editor,

ZAMBIA

has in the recent past continued losing seasoned politicians through untimely deaths.The death of Daniel Munkombwe in the early hours of Friday June 15, 2018 makes sad reading to the family and indeed the nation at large.
---