Afghanistan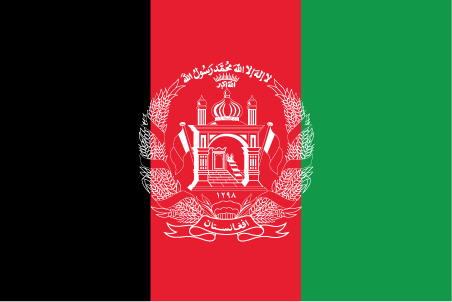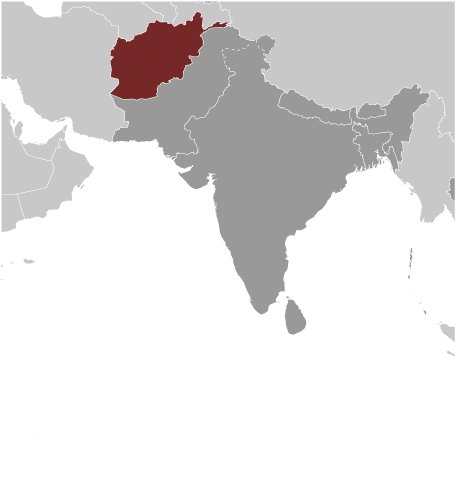 | | |
| --- | --- |
| Country | Afghanistan |
| Capital | Kabul |
| Continent | Asia(South Asia) |
| Currency | Afghani(AFN) |
| Languages | Pashto & Dari |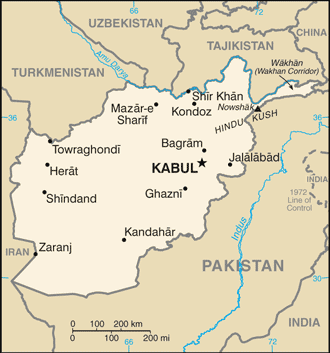 Information
Introduction
Ahmad Shah DURRANI unified the Pashtun tribes and founded Afghanistan in 1747. The country served as a buffer between the British and Russian Empires until it won independence from notional British control in 1919. A brief experiment in democracy ended in a 1973 coup and a 1978 Communist counter-coup. The Soviet Union invaded in 1979 to support the tottering Afghan Communist regime, touching off a long and destructive war. The USSR withdrew in 1989 under relentless pressure by internationally supported anti-Communist mujahedin rebels. A series of subsequent civil wars saw Kabul finally fall in 1996 to the Taliban, a hardline Pakistani-sponsored movement that emerged in 1994 to end the country's civil war and anarchy. Following the 11 September 2001 terrorist attacks in New York City and Washington, D.C., a U.S., Allied, and anti-Taliban Northern Alliance military action toppled the Taliban for sheltering Osama BIN LADIN. The UN-sponsored Bonn Conference in 2001 established a process for political reconstruction that included the adoption of a new constitution, a presidential election in 2004, and National Assembly elections in 2005. In December 2004, Hamid KARZAI became the first democratically elected president of Afghanistan and the National Assembly was inaugurated the following December. Karzai was re-elected in November 2009 for a second term. Despite gains toward building a stable central government, a resurgent Taliban and continuing provincial instability - particularly in the south and the east - remain serious challenges for the Afghan Government.
Map
References
Afghanistan - Wikipedia
Afghanistan - CIA World Fact Book
Afghanistan - BBC
Afghanistan - National Geographic
Afghanistan - Timeline - BBC
Cities
Links
News Headlines
Google News
This RSS feed URL is deprecatedThis RSS feed URL is deprecated, please update. New URLs can be found in the footers at https://news.google.com/news

---
The Latest: Afghanistan deploys 20k more troops to polls - Washington Post
---
'It is time': Afghanistan's female candidates promise change - Aljazeera.com
---
Attack in Afghanistan is a reminder of formidable task - WIS10

WIS10



Attack in Afghanistan is a reminder of formidable taskWIS10

There are about 14,000 U.S. troops in

Afghanistan

on a mission to train and assist Afghan government forces in taking the fight to the Taliban, which controls or contests close to half the districts in the country. Violence is rising, claiming the

...
---
Afghanistan election: Female MP refutes 'heavy' make-up news report - BBC News
---
Saudi Arabia, Afghanistan, Banksy: Your Friday Briefing - New York Times
---
Ben Roberts-Smith rejects Afghanistan allegations and 'gossip' detailed in court document - ABC Local
---
Polls open in Afghanistan's parliamentary elections, protected by thousands of Afghan forces - New Zealand Herald
---
Afghanistan, Boston Red Sox, 'Halloween': Your Friday Briefing - New York Times
---
Afghanistan On Edge Ahead Of Parliamentary Vote - WBUR



Afghanistan On Edge Ahead Of Parliamentary VoteWBURAfghanistan

is on edge ahead of Saturday's parliamentary elections. Some candidates have been targeted by the Taliban in the run-up to the vote. Here & Now's Peter O'Dowd speaks with the BBC's chief international correspondent Lyse Doucet ...
---
Khashoggi, Afghanistan, Abuse: Your Thursday Evening Briefing - New York Times
---