Algeria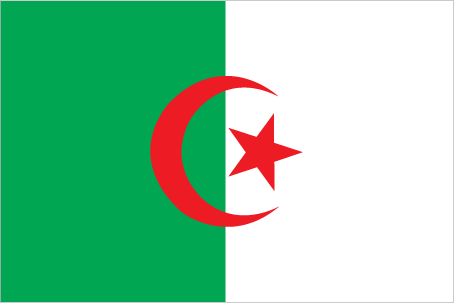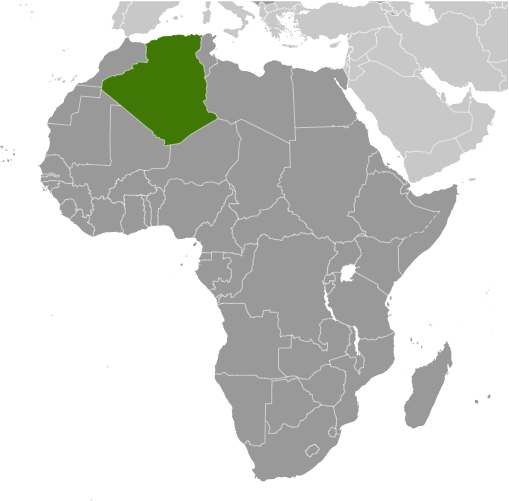 | | |
| --- | --- |
| Country | Algeria |
| Capital | Algiers |
| Continent | Africa |
| Currency | Algerian dinar(DZD) |
| Languages | Arabic |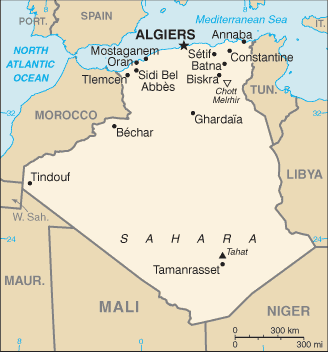 Information
Introduction
After more than a century of rule by France, Algerians fought through much of the 1950s to achieve independence in 1962. Algeria's primary political party, the National Liberation Front (FLN), has dominated politics ever since. Many Algerians in the subsequent generation were not satisfied, however, and moved to counter the FLN's centrality in Algerian politics. The surprising first round success of the Islamic Salvation Front (FIS) in the December 1991 balloting spurred the Algerian army to intervene and postpone the second round of elections to prevent what the secular elite feared would be an extremist-led government from assuming power. The army began a crackdown on the FIS that spurred FIS supporters to begin attacking government targets. The government later allowed elections featuring pro-government and moderate religious-based parties, but this did not appease the activists who progressively widened their attacks. The fighting escalated into an insurgency, which saw intense fighting between 1992-98 resulting in over 100,000 deaths - many attributed to indiscriminate massacres of villagers by extremists. The government gained the upper hand by the late-1990s and FIS's armed wing, the Islamic Salvation Army, disbanded in January 2000. Abdelaziz BOUTEFLIKA, with the backing of the military, won the presidency in 1999 in an election widely viewed as fraudulent and was reelected in a landslide victory in 2004. BOUTEFLIKA was overwhelmingly reelected to a third term in 2009 after the government amended the constitution in 2008 to remove presidential term limits. Longstanding problems continue to face BOUTEFLIKA, including large-scale unemployment, a shortage of housing, unreliable electrical and water supplies, government inefficiencies and corruption, and the continuing activities of extremist militants. The Salafist Group for Preaching and Combat (GSPC) in 2006 merged with al-Qai'da to form al-Qai'da in the Lands of the Islamic Maghreb, which has launched an ongoing series of kidnappings and bombings - including high-profile, mass-casualty suicide attacks targeting the Algerian Government and Western interests.
Map
References
Algeria - Wikipedia
Algeria - CIA World Fact Book
Algeria - BBC
Algeria - Timeline - BBC
Cities
Links
News Headlines
Google News
Algeria arrests those 'peacefully criticising the government', Amnesty - Middle East Monitor
---
Merkel's Algeria visit canceled because president falls ill - Washington Post
---
France's Macron Seeks to End Controversy Over Algeria Comments - U.S. News & World Report
---
Algeria arrests 12 Ahmadis for "promoting their faith" - Rabwah Times (press release) (blog)
---
Kia Motors wants to set up car assembly unit in Algeria - Ecofin Agency: Economic information from Africa



Kia Motors wants to set up car assembly unit in AlgeriaEcofin Agency: Economic information from Africa

(Ecofin Agency) - South Korean car maker Kia Moors plans to build in Batna,

Algeria

, a car assembly unit, reported

Algerian

radio station Chaine III on Feb 15, 2017, citing the region's governor, Mohamed Salamani. "Three files are being examined by the ...
---
Algeria, Egypt and Tunisia hold talks on Libyan crisis - africanews
---
Algeria cancels Angela Merkel's state visit due to president's ill health - Ventures Africa
---
Algeria's Trade Deficit Falls Sharply - Financial Tribune

Financial Tribune



Algeria's Trade Deficit Falls SharplyFinancial Tribune

Algeria's trade deficit fell sharply to $585 million in January this year, a drop of 68% from the deficit of $1.82 billion recorded in January last year, according to the latest statistics from

Algerian

Customs. The drop resulted mainly from the rise

...
---
Macron causes uproar by saying France's colonisation of Algeria was 'crime against humanity' - The Local France
---
Algeria kills 14 in crackdown on suspected militants - ?????? ??????
---