Algeria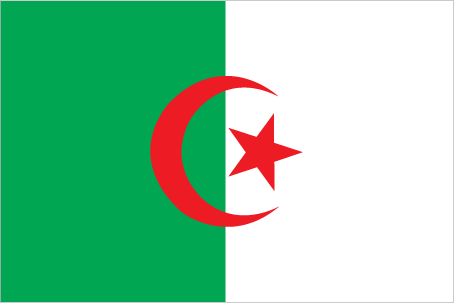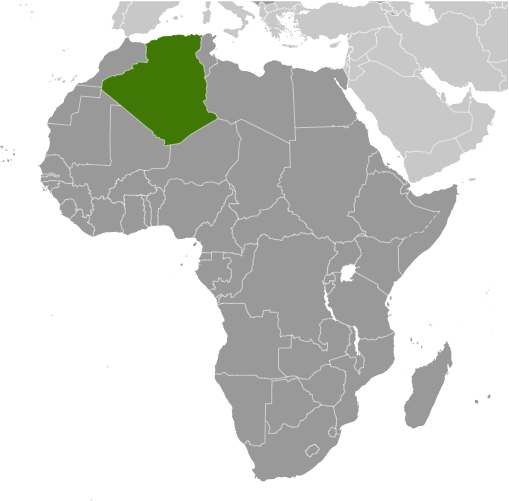 | | |
| --- | --- |
| Country | Algeria |
| Capital | Algiers |
| Continent | Africa |
| Currency | Algerian dinar(DZD) |
| Languages | Arabic |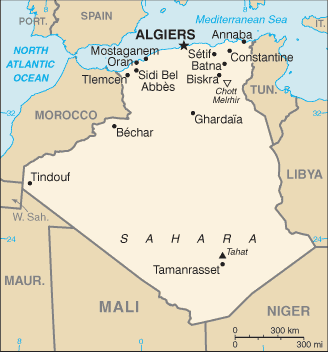 Information
Introduction
After more than a century of rule by France, Algerians fought through much of the 1950s to achieve independence in 1962. Algeria's primary political party, the National Liberation Front (FLN), has dominated politics ever since. Many Algerians in the subsequent generation were not satisfied, however, and moved to counter the FLN's centrality in Algerian politics. The surprising first round success of the Islamic Salvation Front (FIS) in the December 1991 balloting spurred the Algerian army to intervene and postpone the second round of elections to prevent what the secular elite feared would be an extremist-led government from assuming power. The army began a crackdown on the FIS that spurred FIS supporters to begin attacking government targets. The government later allowed elections featuring pro-government and moderate religious-based parties, but this did not appease the activists who progressively widened their attacks. The fighting escalated into an insurgency, which saw intense fighting between 1992-98 resulting in over 100,000 deaths - many attributed to indiscriminate massacres of villagers by extremists. The government gained the upper hand by the late-1990s and FIS's armed wing, the Islamic Salvation Army, disbanded in January 2000. Abdelaziz BOUTEFLIKA, with the backing of the military, won the presidency in 1999 in an election widely viewed as fraudulent and was reelected in a landslide victory in 2004. BOUTEFLIKA was overwhelmingly reelected to a third term in 2009 after the government amended the constitution in 2008 to remove presidential term limits. Longstanding problems continue to face BOUTEFLIKA, including large-scale unemployment, a shortage of housing, unreliable electrical and water supplies, government inefficiencies and corruption, and the continuing activities of extremist militants. The Salafist Group for Preaching and Combat (GSPC) in 2006 merged with al-Qai'da to form al-Qai'da in the Lands of the Islamic Maghreb, which has launched an ongoing series of kidnappings and bombings - including high-profile, mass-casualty suicide attacks targeting the Algerian Government and Western interests.
Map
References
Algeria - Wikipedia
Algeria - CIA World Fact Book
Algeria - BBC
Algeria - Timeline - BBC
Cities
Links
News Headlines
Google News
NAAZ optimistic ahead of Algeria tourney - Chronicle

Chronicle



NAAZ optimistic ahead of Algeria tourneyChronicle

NATIONAL Athletics Association of Zimbabwe president Tendai Tagara says they are looking for an improved performance at the African Junior championships which start tomorrow in

Algeria

. Zimbabwe will field a team of 20 athletes and the first batch of

...and more »
---
Beekeeping in Algeria - The Hindu

The Hindu



Beekeeping in AlgeriaThe Hindu

The region is rich not only in cork oak, whose bark makes it possible to build artisan hives, but also in local flowers and plants that produce high-quality honey. To preserve the landand provide an economic alternative for local communities, UNDP, ...
---
Dubai's Dodsal wins deal for $1.1bn Algeria gas project - ArabianBusiness.com
---
Spain's April crude oil imports rise led by Saudi, Iraq, Algeria - Hellenic Shipping News Worldwide
---
Man jailed in Algeria for dangling baby from window to get 'likes' on Facebook - The Straits Times
---
Algeria: Wave of arrests and prosecutions of hundreds of Ahmadis - Amnesty International
---
Kenya News - Goal.com

Goal.com



Kenya NewsGoal.com

Abdelmoumene Djabou | The

Algerian

Messi - Djabou is a real fantasy player, capable of lifting supporters out of their seats with a flying dribble, a turn of pace or an eye-catching shimmy past a defender or two. He's never moved away from North Africa

...
---
Amid Calls to Kick out Sub-Saharan Migrants, Algerian PM Says ... - Morocco World News
---
Eid Moon Sighted in Egypt, Libya, Lebanon, Algeria and Morocco; Eid-al-Fitr 2017 to be celebrated on Sunday - India.com
---
Cimcorp to automate new Algerian tire plant - European Rubber Journal (subscription)



Cimcorp to automate new Algerian tire plantEuropean Rubber Journal (subscription)

Ulvila, Finland – Finnish manufacturer and integrator of robotic handling systems Cimcorp Oy has won a contract to supply automated logistics systems to a new greenfield tire plant in

Algeria

. The Ulvila-based company announced 27 June that it had ...
---