Latvia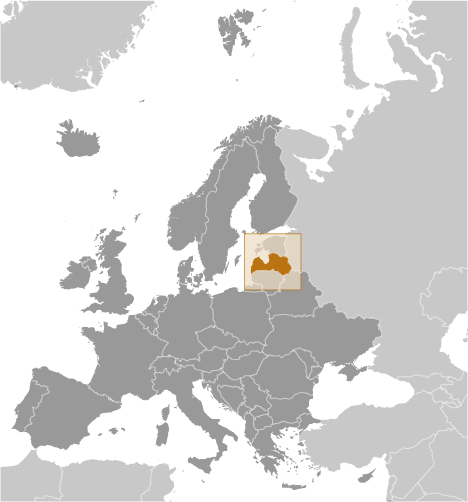 | | |
| --- | --- |
| Country | Latvia |
| Capital | Riga |
| Continent | Europe |
| Currency | Lats(LVL) |
| Languages | Latvian |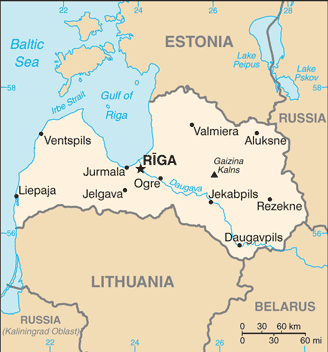 Information
Introduction
The name "Latvia" originates from the ancient Latgalians, one of four eastern Baltic tribes that formed the ethnic core of the Latvian people (ca. 8th-12th centuries A.D.). The region subsequently came under the control of Germans, Poles, Swedes, and finally, Russians. A Latvian republic emerged following World War I, but it was annexed by the USSR in 1940 - an action never recognized by the US and many other countries. Latvia reestablished its independence in 1991 following the breakup of the Soviet Union. Although the last Russian troops left in 1994, the status of the Russian minority (some 30% of the population) remains of concern to Moscow. Latvia joined both NATO and the EU in the spring of 2004.
Map
References
Latvia - Wikipedia
Latvia - CIA World Fact Book
Latvia - BBC
Latvia - Timeline - BBC
Cities
Links
News Headlines
Google News
This RSS feed URL is deprecatedThis RSS feed URL is deprecated, please update. New URLs can be found in the footers at https://news.google.com/news

---
Latvia fines LPB Bank 2.2 mln euros over anti-money laundering breaches - Reuters
---
Latvia's general budget deficit estimated around EUR 155.7 million - bnn-news.com
---
Latvia's demographic trend continues to be negative - Eng.Lsm.lv
---
Liepaja is Latvia's underwear capital - Eng.Lsm.lv

Eng.Lsm.lv



Liepaja is Latvia's underwear capitalEng.Lsm.lv

"The most remarkable lingerie labels from

Latvia

will be presenting their latest collections during the fashion show at the event.

Latvian

lingerie manufacturers have positioned themselves as one of the market leaders when it comes to export, with

...
---
Latvia repulsed election day cyber-attack - Eng.Lsm.lv

Eng.Lsm.lv



Latvia repulsed election day cyber-attackEng.Lsm.lv

While the hacking of a social media site in

Latvia

on Saeima election day, October 6, made headlines, in fact the country was subjected to - and successfully repulsed - a wider cyber attack, reports Olga Dragileva of LTV's De Facto weekly investigative

...
---
Did a 'pro-Russian' party win big in Latvia? - StopFake.org

StopFake.org



Did a 'pro-Russian' party win big in Latvia?StopFake.org

One of the most alarmist headlines came from the The Daily Express: "

Latvia

election result sparks EU crisis warning as pro-Russia party sweeps to success." The British tabloid claimed that the results "set alarm bells ringing throughout the European

...
---
What will €270000 buy in France, Italy, Spain, Latvia and Co Laois? - Irish Times
---
No People ,Big Problem': Democracy And Its Discontents In Latvia's National Elections - Social Europe
---
Latvia Probes Multiple Unnamed Banks Over North Korea Ties - Bloomberg
---
State Audit finds it difficult to follow use of funding for Latvia's Centenary events - bnn-news.com
---