Lithuania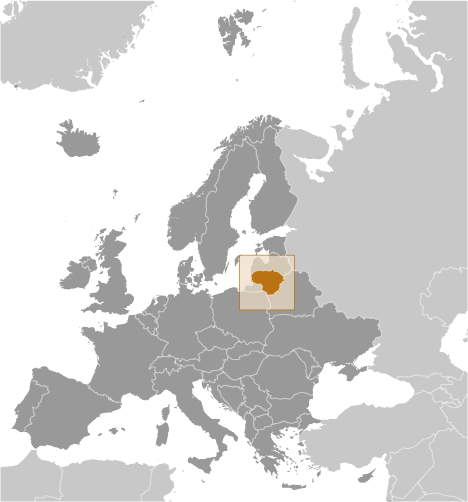 | | |
| --- | --- |
| Country | Lithuania |
| Capital | Vilnius |
| Continent | Europe |
| Currency | Lithuanian litas(LTL) |
| Languages | Lithuanian |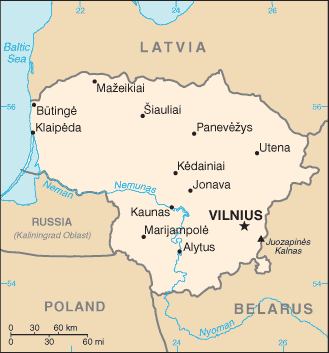 Information
Introduction
Lithuanian lands were united under MINDAUGAS in 1236; over the next century, through alliances and conquest, Lithuania extended its territory to include most of present-day Belarus and Ukraine. By the end of the 14th century Lithuania was the largest state in Europe. An alliance with Poland in 1386 led the two countries into a union through the person of a common ruler. In 1569, Lithuania and Poland formally united into a single dual state, the Polish-Lithuanian Commonwealth. This entity survived until 1795 when its remnants were partitioned by surrounding countries. Lithuania regained its independence following World War I but was annexed by the USSR in 1940 - an action never recognized by the US and many other countries. On 11 March 1990, Lithuania became the first of the Soviet republics to declare its independence, but Moscow did not recognize this proclamation until September of 1991 (following the abortive coup in Moscow). The last Russian troops withdrew in 1993. Lithuania subsequently restructured its economy for integration into Western European institutions; it joined both NATO and the EU in the spring of 2004.
Map
References
Lithuania - Wikipedia
Lithuania - CIA World Fact Book
Lithuania - BBC
Lithuania - Timeline - BBC
Cities
Links
News Headlines
Google News
This RSS feed URL is deprecatedThis RSS feed URL is deprecated, please update. New URLs can be found in the footers at https://news.google.com/news

---
Watch: Potato Pancakes and Dumplings at California's Only Lithuanian Restaurant - Eater
---
Lithuania - The Best Employee in the World - The Drum
---
EuroChem opens new production plant in Lithuania - Emerging Europe

Emerging Europe



EuroChem opens new production plant in LithuaniaEmerging Europe

Swiss company EuroChem, a leading global fertiliser producer, has opened a new production plant for highly efficient, water-soluble fertilisers at its Lifosa subsidiary in

Lithuania

. Lifosa has been part of the EuroChem group since 2002. Over 14

...
---
Excavation Of Lithuania's Great Synagogue Highlights A 'Painful ... - NPR
---
Major sandbox for energy infrastructure and data launched in Lithuania - Baltic Times
---
Now Is the Time to Visit Vilnius, Lithuania's Sophisticated Capital ... - Architectural Digest
---
Lithuania buys more G36 assault rifles - IHS Jane's 360



Lithuania buys more G36 assault riflesIHS Jane's 360

The

Lithuanian

Ministry of Defence (MoD) placed a follow-on order for G36 assault rifles from Heckler & Koch, the company announced on 16 October. The order is for a modified version of the rifle, designated G36 KA4M1 by the

Lithuanians

, with an HK269 ...
---
Telia Lithuania revenue rises 7% in Q3 - Telecompaper



Telia Lithuania revenue rises 7% in Q3Telecompaper

Revenue at Telia

Lithuania

totaled EUR 96.4 million in the third quarter, up by 6.7 percent year-on-year. EBITDA increased by 3.2 percent to EUR 33.9 million. Net profit reached EUR 16 million, up by 10.9 percent. This has been the company's best

...
---
Interview: Lithuania eyes CIIE as chance to boost presence in Chinese food, textile markets - Xinhua
---
POLITICO Pro Morning Mobility: Poland's Deutsches Diesel problem — Lithuania's Rokas Masiulis — Heathrow's ... - POLITICO.eu
---