Lebanon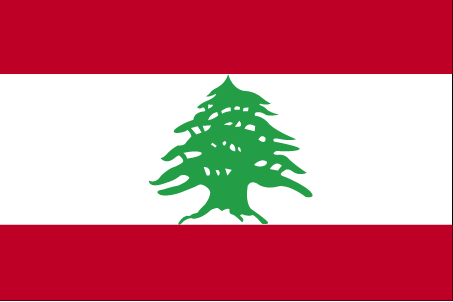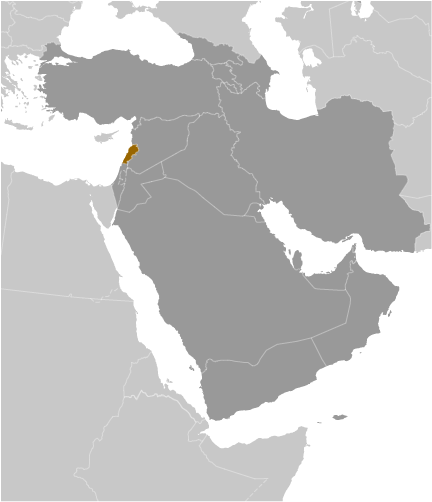 | | |
| --- | --- |
| Country | Lebanon |
| Capital | Beirut |
| Continent | Asia |
| Currency | Lebanese pound(LBP) |
| Languages | Arabic, French & English |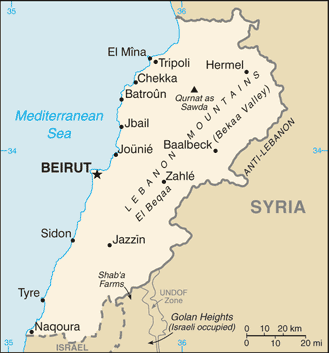 Information
Introduction
Following World War I, France acquired a mandate over the northern portion of the former Ottoman Empire province of Syria. The French separated out the region of Lebanon in 1920, and granted this area independence in 1943. A lengthy civil war (1975-1990) devastated the country, but Lebanon has since made progress toward rebuilding its political institutions. Under the Ta'if Accord - the blueprint for national reconciliation - the Lebanese established a more equitable political system, particularly by giving Muslims a greater voice in the political process while institutionalizing sectarian divisions in the government. Since the end of the war, Lebanon has conducted several successful elections. Most militias have been reduced or disbanded, with the exception of Hizballah, designated by the US State Department as a Foreign Terrorist Organization, and Palestinian militant groups. During Lebanon's civil war, the Arab League legitimized in the Ta'if Accord Syria's troop deployment, numbering about 16,000 based mainly east of Beirut and in the Bekaa Valley. Israel's withdrawal from southern Lebanon in May 2000 and the passage in September 2004 of UNSCR 1559 - a resolution calling for Syria to withdraw from Lebanon and end its interference in Lebanese affairs - encouraged some Lebanese groups to demand that Syria withdraw its forces as well. The assassination of former Prime Minister Rafiq HARIRI and 22 others in February 2005 led to massive demonstrations in Beirut against the Syrian presence ("the Cedar Revolution"), and Syria withdrew the remainder of its military forces in April 2005. In May-June 2005, Lebanon held its first legislative elections since the end of the civil war free of foreign interference, handing a majority to the bloc led by Sa'ad HARIRI, the slain prime minister's son. In July 2006, Hizballah kidnapped two Israeli soldiers leading to a 34-day conflict with Israel in which approximately 1,200 Lebanese civilians were killed. UNSCR 1701 ended the war in August 2006, and Lebanese Armed Forces (LAF) deployed throughout the country for the first time in decades, charged with securing Lebanon's borders against weapons smuggling and maintaining a weapons-free zone in south Lebanon with the help of the UN Interim Force in Lebanon (UNIFIL). The LAF in May-September 2007 battled Sunni extremist group Fatah al-Islam in the Nahr al-Barid Palestinian refugee camp, winning a decisive victory, but destroying the camp and displacing 30,000 Palestinian residents. Lebanese politicians in November 2007 were unable to agree on a successor to Emile LAHUD when he stepped down as president, creating a political vacuum until the election of LAF Commander Gen. Michel SULAYMAN in May 2008 and the formation of a new unity government in July 2008. Legislative elections in June 2009 again produced victory for the bloc led by Sa'ad HARIRI, but a period of prolonged negotiation over the composition of the cabinet ensued. A national unity government was finally formed in November 2009 and approved by the National Assembly the following month. In January 2010, Lebanon assumed a nonpermanent seat on the UN Security Council for the 2010-11 term.
Map
References
Lebanon - Wikipedia
Lebanon - CIA World Fact Book
Lebanon - BBC
Lebanon - Timeline - BBC
Cities
Links
News Headlines
Google News
This RSS feed URL is deprecatedThis RSS feed URL is deprecated, please update. New URLs can be found in the footers at https://news.google.com/news

---
Lebanon to form body to probe civil war disappearances - ABC News



Lebanon to form body to probe civil war disappearancesABC NewsLebanon's

parliament on Monday approved the formation of an independent commission to help determine the fate of thousands of people who went missing during the country's civil war, which ended nearly three decades ago. The long-awaited law would ...

and more »
---
Lebanon approves extra-budgetary fuel spending to avert blackouts - Channel NewsAsia
---
Lebanon police charge two armed robbery suspects, one remains at large - Lebanon Democrat
---
Israel and US Set Eyes on Lebanon as Iran-Saudi Proxy Clash Heats Up - Haaretz
---
Lebanon brings up strong emotions for Nabbout - beIN SPORTS AUSTRALIA

beIN SPORTS AUSTRALIA



Lebanon brings up strong emotions for NabboutbeIN SPORTS AUSTRALIA

Australia striker Andrew Nabbout said the Socceroos' upcoming friendly against

Lebanon

, his family's country of origin, will be a big game for him. Video cannot be played. Please enable JavaScript if it is disabled in your browser. Video cannot be played.
---
2018-19 Winter Preview: Lebanon Girls Basketball - Ozarks Sports Zone

Ozarks Sports Zone



2018-19 Winter Preview: Lebanon Girls BasketballOzarks Sports Zone

Former

Lebanon

boys basketball coach and 2009 Missouri Sports Hall of Fame inductee Jacky Payne takes over the Yellowjackets girls program this season after 569 wins as a head coach and 35 years of coaching experience. Payne began his coaching ...
---
Pressing issue: Lebanon's print media is dying - Middle East Eye

Middle East Eye



Pressing issue: Lebanon's print media is dyingMiddle East Eye

On 11 October, the renowned Lebanese Arabic-language daily An-Nahar created a surprise by publishing an empty eight-page edition. The newspaper aimed to raise the alarm about the press situation in

Lebanon

. "An-Nahar's blank pages are a form of ...
---
Rahi: Lebanon Can't Be Ruled by Mentality of Political Militia - Naharnet
---
Task Force Seeks Arts Commission for Lebanon - Valley News



Task Force Seeks Arts Commission for LebanonValley NewsLebanon

— Officials hoping to expand the city's arts economy plan to form a commission responsible for promoting the city's cultural institutions and devising new to increase public art. By working together, municipal staff and art groups believe they

...
---
Artisanal cheesemaker sets up shop in Lebanon - Hamilton Journal News



Artisanal cheesemaker sets up shop in LebanonHamilton Journal News

After traveling from Spain to Seattle to southwest Ohio, artisanal cheesemaker and Madrid native Cecilia Garmendia is finally home. Lamp Post Cheese, a business she co-owns with her husband, Ryan Tasseff, opened its first shop on Oct. 24 in downtown ...
---