Kyrgyzstan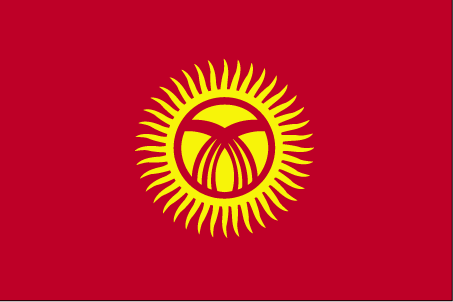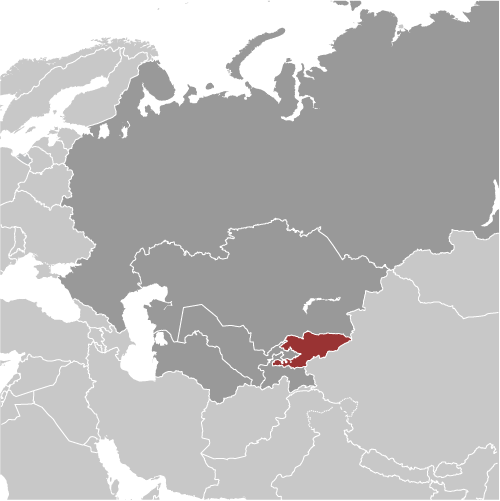 | | |
| --- | --- |
| Country | Kyrgyzstan |
| Capital | Bishkek |
| Continent | Asia |
| Currency | Som(KGS) |
| Languages | Kyrgyz & Russian |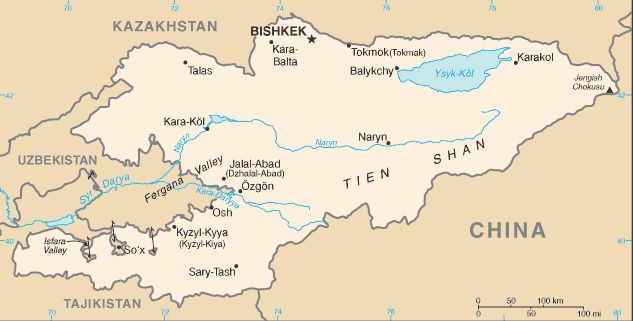 Information
Introduction
A Central Asian country of incredible natural beauty and proud nomadic traditions, most of Kyrgyzstan was formally annexed to Russia in 1876. The Kyrgyz staged a major revolt against the Tsarist Empire in 1916 in which almost one-sixth of the Kyrgyz population was killed. Kyrgyzstan became a Soviet republic in 1936 and achieved independence in 1991 when the USSR dissolved. Nationwide demonstrations in the spring of 2005 resulted in the ouster of President Askar AKAEV, who had run the country since 1990. Subsequent presidential elections in July 2005 were won overwhelmingly by former prime minister Kurmanbek BAKIEV. Over the next few years, the new president manipulated the parliament to accrue new powers for himself. In July 2009, after months of harassment against his opponents and media critics, BAKIEV won re-election in a presidential campaign that the international community deemed flawed. In April 2010, nationwide protests led to the resignation and expulsion of BAKIEV. He was replaced by Acting President Roza OTUNBAYEVA who called for new elections in six months time. Continuing concerns include: endemic corruption, poor interethnic relations, and terrorism.
Map
References
kyrgyzstan - Wikipedia
kyrgyzstan - CIA World Fact Book
kyrgyzstan - BBC
kyrgyzstan - Timeline - BBC
Cities
Links
News Headlines
Google News
This RSS feed URL is deprecatedThis RSS feed URL is deprecated, please update. New URLs can be found in the footers at https://news.google.com/news

---
Bishkek Circus - Atlas Obscura

Atlas Obscura



Bishkek CircusAtlas Obscura

Designed in 1976, this UFO-shaped structure was built to welcome circus acts from around the world—or, more likely, from around the USSR. Unlike many structures of its kind, the Bishkek Circus still functions as an actual circus to this day. In fact

...
---
Kyrgyzstan: Supreme Court upholds ex-prosecutor-general's sentence - Times of Central Asia



Kyrgyzstan: Supreme Court upholds ex-prosecutor-general's sentenceTimes of Central Asia

BISHKEK (TCA) —

Kyrgyzstan's

Supreme Court has upheld a suspended prison sentence against opposition politician and the country's former Prosecutor-General Aida Salyanova, RFE/RL's Kyrgyz Service reported. The Supreme Court heard Salyanova's ...
---
Ambassador of Kyrgyzstan discusses bilateral ties with Ambassadors of Korea, Sweden in Moscow - AKIpress (press release)
---
Kyrgyzstan Wants UN Action On Uranium Tailings - OOSKA News

OOSKA News



Kyrgyzstan Wants UN Action On Uranium TailingsOOSKA News

"Understanding the consequences of the risk, we should make all efforts together and prevent such a development of events. Addressing this problem is one of the most important long-term priorities for

Kyrgyzstan

. The ecological problem of uranium

...
---
Kyrgyzstan to conduct certification of roads - Trend News Agency

Trend News Agency



Kyrgyzstan to conduct certification of roadsTrend News Agency

Baku, Azerbaijan, May 22. Trend: Certification of roads will be introduced in

Kyrgyzstan

in 2018, the Minister of Transport and Roads Zhamshitbek Kalilov said, Kyrgyz media reported May 22. "For this purpose, a mobile laboratory has been purchased, and

...
---
Sanjay Dutt and Nargis Fakhri PARTY with Torbaaz team in Kyrgyzstan - Free Press Journal
---
CPJ welcomes positive development in Kyrgyzstan, calls for Askarov's release - CPJ Press Freedom Online
---
Kyrgyz Republic: Safety Nets Alert Platform (SNAP) Country Dashboard - April 2018 - ReliefWeb
---
Government of Kyrgyzstan to allocate 50000 som for transportation of cargo 200 - AKIpress (press release)
---
Representatives of Kyrgyzstan and Mordovia discuss important issues in Russia ahead of 2018 FIFA World Cup - AKIpress (press release)
---