Armenia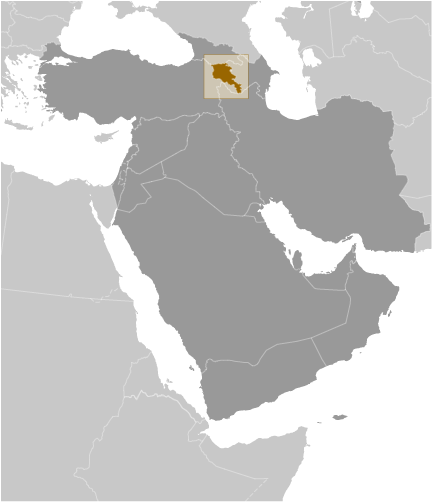 | | |
| --- | --- |
| Country | Armenia |
| Capital | Yerevan |
| Continent | Asia |
| Currency | Dram(AMD) |
| Languages | Armenian |
Information
Introduction
Armenia prides itself on being the first nation to formally adopt Christianity (early 4th century). Despite periods of autonomy, over the centuries Armenia came under the sway of various empires including the Roman, Byzantine, Arab, Persian, and Ottoman. During World War I in the western portion of Armenia, Ottoman Turkey instituted a policy of forced resettlement coupled with other harsh practices that resulted in an estimated 1 million Armenian deaths. The eastern area of Armenia was ceded by the Ottomans to Russia in 1828; this portion declared its independence in 1918, but was conquered by the Soviet Red Army in 1920. Armenian leaders remain preoccupied by the long conflict with Azerbaijan over Nagorno-Karabakh, a primarily Armenian-populated region, assigned to Soviet Azerbaijan in the 1920s by Moscow. Armenia and Azerbaijan began fighting over the area in 1988; the struggle escalated after both countries attained independence from the Soviet Union in 1991. By May 1994, when a cease-fire took hold, ethnic Armenian forces held not only Nagorno-Karabakh but also a significant portion of Azerbaijan proper. The economies of both sides have been hurt by their inability to make substantial progress toward a peaceful resolution. Turkey closed the common border with Armenia in 1994 because of the Armenian separatists' control of Nagorno-Karabakh and surrounding areas, further hampering Armenian economic growth. However, in 2009 senior Armenian leaders began pursuing rapprochement with Turkey, which could result in the border reopening.
Map
References
Armenia - Wikipedia
Armenia - CIA World Fact Book
Armenia - BBC
Armenia - Timeline - BBC
Cities
Links
News Headlines
Google News
Armenia: Pope Francis Impacts Politics - EurasiaNet
---
Strange Bedfellows: Clooney And Armenia Versus Azerbaijan - Daily Caller



Strange Bedfellows: Clooney And Armenia Versus AzerbaijanDaily Caller

Supporters wave

Armenian

and German flags in front of the Reichstag, the seat of the lower house of parliament Bundestag in Berlin, Germany, June 2, 2016, as they protest in favour of approval of a symbolic resolution by Germany's parliament that

...
---
From Armenia, Pope Francis urges regional reconciliation - EurActiv
---
Armenia expects wider recognition of 'genocide' - Reuters

Reuters



Armenia expects wider recognition of 'genocide'Reuters

The

Armenian

president says he expects more countries to recognize the 1915 massacre of

Armenians

in the Ottoman Empire a century ago as a ''genocide'' after high profile remarks made in the global community. Nathan Frandino reports.
---
US Appreciates Partnership with Armenia, Eyes Further Cooperation - Asbarez Armenian News
---
EBRD supports innovation in Armenia's dairy sector - DairyReporter.com
---
Pope Francis Speaks Of 'Genocide' In Armenia Visit - NPR



Pope Francis Speaks Of 'Genocide' In Armenia VisitNPR

Pope Francis is in

Armenia

, a country with ancient roots to Christianity and the Pope seeks to encourage as it's buffeted by its huge neighbors, Turkey and Russia. AUDIE CORNISH, HOST: Pope Francis is in

Armenia

, a Christian country with ancient roots

...
---
Pope travels to Armenia after genocide flap - USA TODAY
---
Woman from town of Armenia reported missing - Channel3000.com - WISC-TV3
---
Friendly football match between VTB Bank (Armenia) and Armenian journalists ended 6-2 - Arka News Agency (press release)
---