Armenia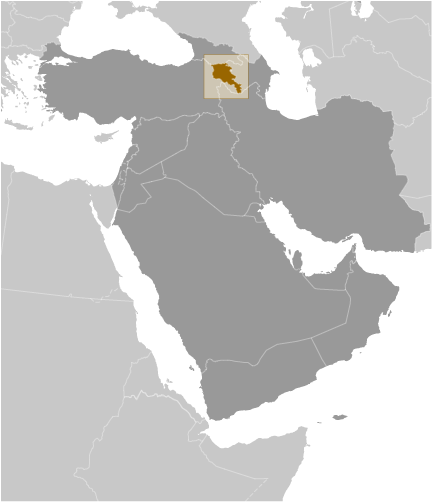 | | |
| --- | --- |
| Country | Armenia |
| Capital | Yerevan |
| Continent | Asia |
| Currency | Dram(AMD) |
| Languages | Armenian |
Information
Introduction
Armenia prides itself on being the first nation to formally adopt Christianity (early 4th century). Despite periods of autonomy, over the centuries Armenia came under the sway of various empires including the Roman, Byzantine, Arab, Persian, and Ottoman. During World War I in the western portion of Armenia, Ottoman Turkey instituted a policy of forced resettlement coupled with other harsh practices that resulted in an estimated 1 million Armenian deaths. The eastern area of Armenia was ceded by the Ottomans to Russia in 1828; this portion declared its independence in 1918, but was conquered by the Soviet Red Army in 1920. Armenian leaders remain preoccupied by the long conflict with Azerbaijan over Nagorno-Karabakh, a primarily Armenian-populated region, assigned to Soviet Azerbaijan in the 1920s by Moscow. Armenia and Azerbaijan began fighting over the area in 1988; the struggle escalated after both countries attained independence from the Soviet Union in 1991. By May 1994, when a cease-fire took hold, ethnic Armenian forces held not only Nagorno-Karabakh but also a significant portion of Azerbaijan proper. The economies of both sides have been hurt by their inability to make substantial progress toward a peaceful resolution. Turkey closed the common border with Armenia in 1994 because of the Armenian separatists' control of Nagorno-Karabakh and surrounding areas, further hampering Armenian economic growth. However, in 2009 senior Armenian leaders began pursuing rapprochement with Turkey, which could result in the border reopening.
Map
References
Armenia - Wikipedia
Armenia - CIA World Fact Book
Armenia - BBC
Armenia - Timeline - BBC
Cities
Links
News Headlines
Google News
This RSS feed URL is deprecatedThis RSS feed URL is deprecated, please update. New URLs can be found in the footers at https://news.google.com/news

---
A Woodcarver From Armenia Brings Ancient Traditions Into The 21st ... - NPR
---
Raising a Glass to Armenia's Elaborate Toasting Tradition | Travel ... - Smithsonian
---
Armenian PM urges NATO to send message to Azerbaijan ... - euronews
---
Armenia's "Tree of Life" Tradition Took Root Thousands of Years Ago, and Has Only Grown Since - Smithsonian
---
The provocation of the reconnaissance-sabotage group of Armenia was suppressed on the state border (PHOTO) - AzerNews
---
Armenia's old regime fights legal onslaught - EurasiaNet

EurasiaNet



Armenia's old regime fights legal onslaughtEurasiaNet

The government of

Armenian

Prime Minister Nikol Pashinyan is undertaking a wide-ranging legal assault against members of the administration he toppled, with a number of high profile arrests in recent weeks. Members of the old guard, meanwhile, have ...

and more »
---
Armenian Ex-President's Nephew Charged With Attempted Murder - RadioFreeEurope/RadioLiberty
---
Intellectual property may be pledged in Armenia - Information-Analytic Agency NEWS.am
---
Armenia begins reconnecting with its diaspora, starting in Glendale - Los Angeles Times
---
EU HR Mogherini meets Prime Minister of Armenia - EU News

EU News



EU HR Mogherini meets Prime Minister of ArmeniaEU News

Federica MOGHERINI, EU High Representative for Foreign Affairs and Security Policy, meets Nikol PASHINYAN, Prime Minister of

Armenia

, on 11 July 2018, in Brussels. Video details. Duration: 00:01:00; Shoot date: 11/07/2018; Reference: 120012.
---