Armenia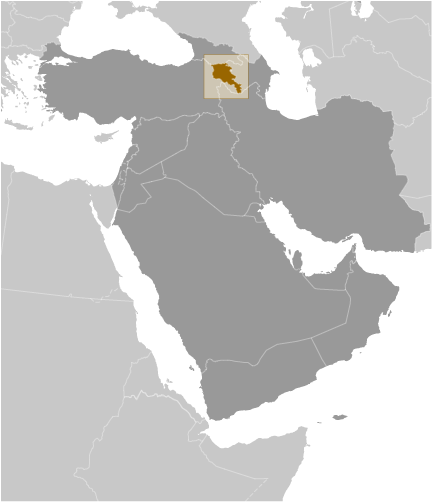 | | |
| --- | --- |
| Country | Armenia |
| Capital | Yerevan |
| Continent | Asia |
| Currency | Dram(AMD) |
| Languages | Armenian |
Information
Introduction
Armenia prides itself on being the first nation to formally adopt Christianity (early 4th century). Despite periods of autonomy, over the centuries Armenia came under the sway of various empires including the Roman, Byzantine, Arab, Persian, and Ottoman. During World War I in the western portion of Armenia, Ottoman Turkey instituted a policy of forced resettlement coupled with other harsh practices that resulted in an estimated 1 million Armenian deaths. The eastern area of Armenia was ceded by the Ottomans to Russia in 1828; this portion declared its independence in 1918, but was conquered by the Soviet Red Army in 1920. Armenian leaders remain preoccupied by the long conflict with Azerbaijan over Nagorno-Karabakh, a primarily Armenian-populated region, assigned to Soviet Azerbaijan in the 1920s by Moscow. Armenia and Azerbaijan began fighting over the area in 1988; the struggle escalated after both countries attained independence from the Soviet Union in 1991. By May 1994, when a cease-fire took hold, ethnic Armenian forces held not only Nagorno-Karabakh but also a significant portion of Azerbaijan proper. The economies of both sides have been hurt by their inability to make substantial progress toward a peaceful resolution. Turkey closed the common border with Armenia in 1994 because of the Armenian separatists' control of Nagorno-Karabakh and surrounding areas, further hampering Armenian economic growth. However, in 2009 senior Armenian leaders began pursuing rapprochement with Turkey, which could result in the border reopening.
Map
References
Armenia - Wikipedia
Armenia - CIA World Fact Book
Armenia - BBC
Armenia - Timeline - BBC
Cities
Links
News Headlines
Google News
April 22, 2014 in Featured // Armenia as a Technology Hub? - Armenian Weekly
---
Azeri Journalist Jailed For 'Spying For Armenia' - Asbarez Armenian News
---
April 22, 2014 in Armenia // VivaCell-MTS and Fuller Center Bring Housing to ... - Armenian Weekly
---
Armenia implements roadmap for joining Customs Union - ITAR-TASS
---
April 22, 2014 in Armenia // Angeghakot and its Poet - Armenian Weekly

Armenian Weekly



April 22, 2014 in Armenia // Angeghakot and its PoetArmenian Weekly

Angeghakot, a village of about 2,000-3,000 people (figures vary) is in southern

Armenia

, about 10 km. from Sisian, the regional capital of Syunik province. Travelers from Yerevan on the way to Karabagh pass by Angeghakot, then Sisian and Goris, before ...
---
Congressional Delegation to Arrive in Armenia Wednesday - Asbarez Armenian News
---
Alumni evening of Armenia's Diplomatic School held - Armenpress.am



Alumni evening of Armenia's Diplomatic School heldArmenpress.am

The Diplomatic School graduates' evening, which took place on April 22, was attended by all the graduates of the Diplomatic School of the previous years, the heads of various departments of the Ministry of Foreign Affairs of the Republic of

Armenia ...
---
Hraparak: Tigran Sargsyan to become Ambassador of Armenia to US - Panorama.am
---
US hopes presidents of Azerbaijan and Armenia meet soon - AzerNews
---
Armenia's PM introduces newly appointed Minister of Economy to ministry's staff - Armenpress.am
---