Armenia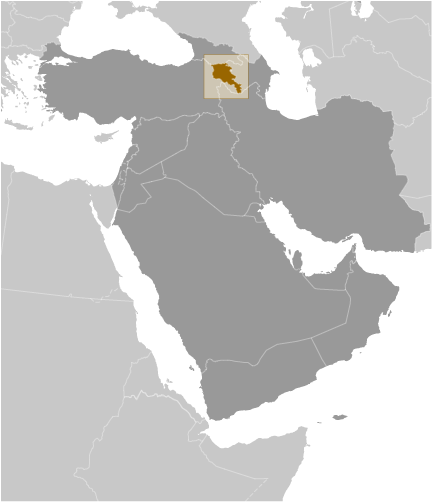 | | |
| --- | --- |
| Country | Armenia |
| Capital | Yerevan |
| Continent | Asia |
| Currency | Dram(AMD) |
| Languages | Armenian |
Information
Introduction
Armenia prides itself on being the first nation to formally adopt Christianity (early 4th century). Despite periods of autonomy, over the centuries Armenia came under the sway of various empires including the Roman, Byzantine, Arab, Persian, and Ottoman. During World War I in the western portion of Armenia, Ottoman Turkey instituted a policy of forced resettlement coupled with other harsh practices that resulted in an estimated 1 million Armenian deaths. The eastern area of Armenia was ceded by the Ottomans to Russia in 1828; this portion declared its independence in 1918, but was conquered by the Soviet Red Army in 1920. Armenian leaders remain preoccupied by the long conflict with Azerbaijan over Nagorno-Karabakh, a primarily Armenian-populated region, assigned to Soviet Azerbaijan in the 1920s by Moscow. Armenia and Azerbaijan began fighting over the area in 1988; the struggle escalated after both countries attained independence from the Soviet Union in 1991. By May 1994, when a cease-fire took hold, ethnic Armenian forces held not only Nagorno-Karabakh but also a significant portion of Azerbaijan proper. The economies of both sides have been hurt by their inability to make substantial progress toward a peaceful resolution. Turkey closed the common border with Armenia in 1994 because of the Armenian separatists' control of Nagorno-Karabakh and surrounding areas, further hampering Armenian economic growth. However, in 2009 senior Armenian leaders began pursuing rapprochement with Turkey, which could result in the border reopening.
Map
References
Armenia - Wikipedia
Armenia - CIA World Fact Book
Armenia - BBC
Armenia - Timeline - BBC
Cities
Links
News Headlines
Google News
Don't adopt Armenia genocide bill, Turkey warns Berlin - The Local.de
---
Watch Borussia Dortmund's Henrikh Mkhitaryan score a wonder goal for Armenia against Guatemala - Mirror.co.uk
---
Ag Expert: Armenia needs Turkish imports to meet domestic demand - ArmeniaNow.com
---
Armenia continues to violate ceasefire with Azerbaijan - Trend News Agency
---
Allure of Armenia - The Standard Digital News (press release) (blog)

The Standard Digital News (press release) (blog)



Allure of ArmeniaThe Standard Digital News (press release) (blog)Armenia

boasts history which is longer than other European countries even though it gained its independence from the Soviet Union only in 1991 after the Russians had colonised it in the 1920s. It has one of the earliest Christian civilisations with

...
---
Deputy FM of Armenia says civil society vital for Armenia-EU cooperation - Armenpress.am
---
Russian Factor: Claims against Russia made in two criminal proceedings in Armenia - ArmeniaNow.com
---
Armenia key recipient of Iranian jet fuel exports - PanARMENIAN.Net

PanARMENIAN.Net



Armenia key recipient of Iranian jet fuel exportsPanARMENIAN.Net

Net - Iran exported jet fuel to

Armenia

, Afghanistan and Iraqi Kurdistan in 2015, while Tajikistan joined the list this year, IRNA cited the Director of Exports and Imports of the National Iranian Oil Products Distribution Company (NIOPDC) Esmaeil

...
---
Armenia violates ceasefire again - News.Az



Armenia violates ceasefire againNews.Az

Oxu.az reports citing Defense Ministry that Azerbaijani Armed Forces were fired by the Armed Forces of

Armenia

from the positions located near Geyarkh, Chilabyurt villages of Terter district, Kuropatkino village of Khojavend district, Javahirli

...
---
World Bank Pushing for 'War on Water' in Armenia - Hetq Online

Hetq Online



World Bank Pushing for 'War on Water' in ArmeniaHetq Online

The loan was provided under the condition to repay it within 30 years. The

Armenian

government, in turn, plans to contribute with 7.5 million USD. The project is scheduled to be realized within 4 years in 4 locations (Meghri, Geghardalich, ...
---