Armenia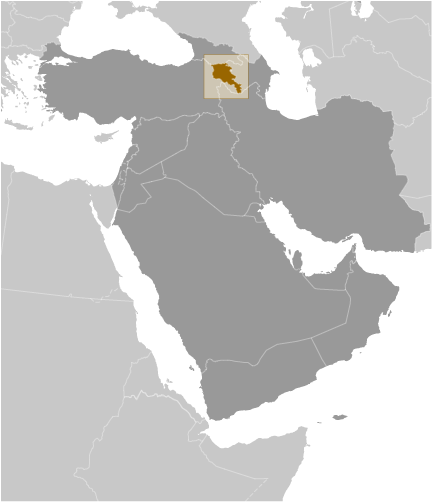 | | |
| --- | --- |
| Country | Armenia |
| Capital | Yerevan |
| Continent | Asia |
| Currency | Dram(AMD) |
| Languages | Armenian |
Information
Introduction
Armenia prides itself on being the first nation to formally adopt Christianity (early 4th century). Despite periods of autonomy, over the centuries Armenia came under the sway of various empires including the Roman, Byzantine, Arab, Persian, and Ottoman. During World War I in the western portion of Armenia, Ottoman Turkey instituted a policy of forced resettlement coupled with other harsh practices that resulted in an estimated 1 million Armenian deaths. The eastern area of Armenia was ceded by the Ottomans to Russia in 1828; this portion declared its independence in 1918, but was conquered by the Soviet Red Army in 1920. Armenian leaders remain preoccupied by the long conflict with Azerbaijan over Nagorno-Karabakh, a primarily Armenian-populated region, assigned to Soviet Azerbaijan in the 1920s by Moscow. Armenia and Azerbaijan began fighting over the area in 1988; the struggle escalated after both countries attained independence from the Soviet Union in 1991. By May 1994, when a cease-fire took hold, ethnic Armenian forces held not only Nagorno-Karabakh but also a significant portion of Azerbaijan proper. The economies of both sides have been hurt by their inability to make substantial progress toward a peaceful resolution. Turkey closed the common border with Armenia in 1994 because of the Armenian separatists' control of Nagorno-Karabakh and surrounding areas, further hampering Armenian economic growth. However, in 2009 senior Armenian leaders began pursuing rapprochement with Turkey, which could result in the border reopening.
Map
References
Armenia - Wikipedia
Armenia - CIA World Fact Book
Armenia - BBC
Armenia - Timeline - BBC
Cities
Links
News Headlines
Google News
Military Sperm Bank Proposed in Armenia - EurasiaNet
---
Armenia to Weigh Breakaway Region's Recognition, Raising Tension - Bloomberg
---
Armenia Looks To IT To Lift Economy - RadioFreeEurope/RadioLiberty

RadioFreeEurope/RadioLiberty



Armenia Looks To IT To Lift EconomyRadioFreeEurope/RadioLiberty

Largely agricultural

Armenia

suffers from double-digit unemployment and nearly one-third of the population lives below the poverty line. But a burgeoning IT sector is giving hope that this landlocked land in the heart of the Caucasus could play a

...
---
ALEXANDER MURINSON: Armenia's nuclear threat - Washington Times

Washington Times



ALEXANDER MURINSON: Armenia's nuclear threatWashington Times

Mere days ago, Georgian authorities reported the arrest of an elderly Georgian man and several

Armenian

nationals — alarmingly suspected of being current or former members of the

Armenian

Security Service — who were attempting to smuggle and ...
---
Grand Bazaar jewelries avoid Russian customs by shifting production to Armenia: Report - Hurriyet Daily News
---
"Visit Armenia, It Is Beautiful" Essay Contest Held in Hollywood - Asbarez Armenian News
---
George Clooney, The Aurora Prize And Hope In Armenia - Forbes

Forbes



George Clooney, The Aurora Prize And Hope In ArmeniaForbes

One hundred and one years ago, 1.5 million

Armenians

were killed. Unlike the small bruise my mother may have received on her arm from this drunk middle-aged man at the gas station,

Armenian

sons saw their mothers murdered in front of their eyes.
---
Armenia to nullify OSCE MG proposals - News.Az
---
"Hello Armenia": Story of Repatriation - Armenpress.am

Armenpress.am



"Hello Armenia": Story of RepatriationArmenpress.am

YEREVAN, MAY 4, ARMENPRESS. Around 16 years ago Syrian-

Armenian

Artsiv Kirazyan was a successful photographer in Aleppo; however after visiting

Armenia

in 2000, he immediately decided to relocate. He was very famous in both Syria and Lebanon, ...

and more »
---
Khmer Rouge Documentarian Calls for Armenia to Lead Global Genocide Education - VOA Khmer (English)
---