Greece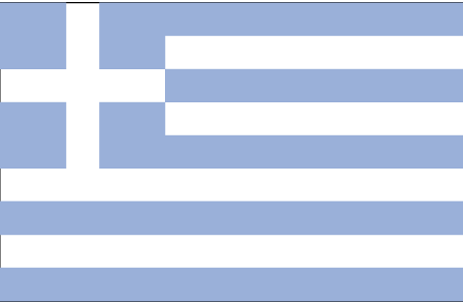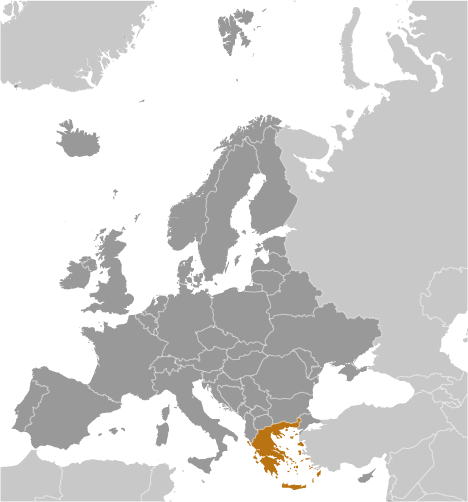 | | |
| --- | --- |
| Country | Greece |
| Capital | Athens |
| Continent | Europe |
| Currency | Euro(EUR) |
| Languages | Greek |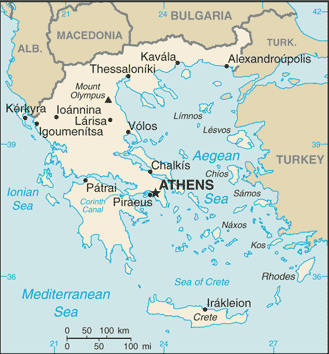 Information
Introduction
Greece achieved independence from the Ottoman Empire in 1829. During the second half of the 19th century and the first half of the 20th century, it gradually added neighboring islands and territories, most with Greek-speaking populations. In World War II, Greece was first invaded by Italy (1940) and subsequently occupied by Germany (1941-44); fighting endured in a protracted civil war between supporters of the king and Communist rebels. Following the latter's defeat in 1949, Greece joined NATO in 1952. In 1967, a group of military officers seized power, establishing a military dictatorship that suspended many political liberties and forced the king to flee the country. In 1974, democratic elections and a referendum created a parliamentary republic and abolished the monarchy. In 1981, Greece joined the EC (now the EU); it became the 12th member of the European Economic and Monetary Union in 2001. In 2010, the prospect of a Greek default on its euro-denominated debt created severe strains within the EMU and raised the question of whether a member country might voluntarily leave the common currency or be removed.
Map
References
Greece - Wikipedia
Greece - CIA World Fact Book
Greece - BBC
Greece - National Geographic
Greece - Timeline - BBC
Cities
Links
News Headlines
Google News
This RSS feed URL is deprecatedThis RSS feed URL is deprecated, please update. New URLs can be found in the footers at https://news.google.com/news

---
Has Greece finally escaped the grip of catastrophe? - The Guardian

The Guardian



Has Greece finally escaped the grip of catastrophe?The GuardianGreece

is approaching the end of an odyssey. After eight drama-filled years, it is now barely six weeks until the debt-burdened country exits its third and final international bailout programme. Renaissance, rebirth, recovery are mots du jour as the

...
---
Lack of trees in Greece raising concerns in the community - WHEC

WHEC



Lack of trees in Greece raising concerns in the communityWHEC

July 15, 2018 06:15 PM. New developments in

Greece

are creating a debate over its cost to the trees. As some wooded lots are being flattened, some neighbors say they're all for growth but they're raising the alarm over what's happening to their green ...
---
Sears at the Mall at Greece Ridge has final day of business after more than 50 years - Rochester Democrat and Chronicle
---
Greece detains Turkish public broadcaster TRT's crew for no reason - Daily Sabah
---
India's rising soft power in Greece, Suriname & Cuba - Economic Times

Economic Times



India's rising soft power in Greece, Suriname & CubaEconomic Times

NEW DELHI: India is seeking to conquer

Greece

, Suriname and Cuba using soft power. Yoga, Bollywood and New Delhi's storied cultural heritage are bringing India closer to these countries as India pushes to expand its partnerships across Europe and Latin ...
---
Greece & Macedonia: negotiating history doesn't make it true - Open Democracy
---
Turkish ambassador urges Greece not to give impunity to 'coup plotters' - www.ekathimerini.com
---
Taste of Greece Festival Starts in Duluth - FOX 21 Online

FOX 21 Online



Taste of Greece Festival Starts in DuluthFOX 21 Online

DULUTH, Minn.- Just follow the smells of the grilled Soulvaki and flaky Baklava and you'll find

Greece

in the gym at Marshall College Prep. The gym is filled with Mediterranean sounds, smells, outfits, and folk dances. Out of all the preparation that

...
---
Earliest Known Written Record of Homer's Odyssey Found in Greece - History
---
Greece takes part in United Nations Forum on sustainable development - Tornos News International Edition (press release)
---