Poland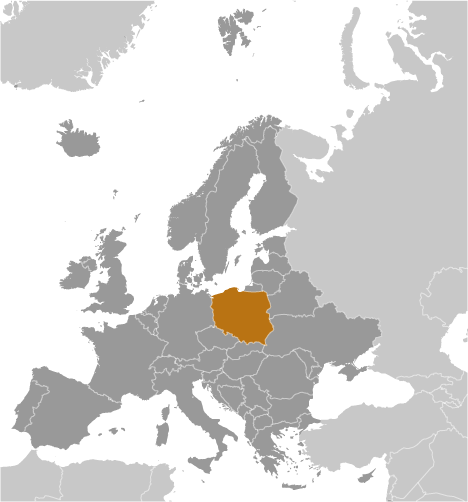 | | |
| --- | --- |
| Country | Poland |
| Capital | Warsaw |
| Continent | Europe |
| Currency | ZĹ'oty(PLN) |
| Languages | Polish & Kashubian |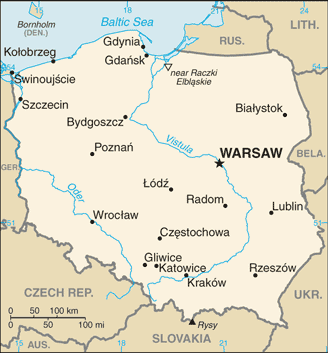 Information
Introduction
Poland is an ancient nation that was conceived near the middle of the 10th century. Its golden age occurred in the 16th century. During the following century, the strengthening of the gentry and internal disorders weakened the nation. In a series of agreements between 1772 and 1795, Russia, Prussia, and Austria partitioned Poland amongst themselves. Poland regained its independence in 1918 only to be overrun by Germany and the Soviet Union in World War II. It became a Soviet satellite state following the war, but its government was comparatively tolerant and progressive. Labor turmoil in 1980 led to the formation of the independent trade union "Solidarity" that over time became a political force and by 1990 had swept parliamentary elections and the presidency. A "shock therapy" program during the early 1990s enabled the country to transform its economy into one of the most robust in Central Europe, but Poland still faces the lingering challenges of high unemployment, underdeveloped and dilapidated infrastructure, and a poor rural underclass. Solidarity suffered a major defeat in the 2001 parliamentary elections when it failed to elect a single deputy to the lower house of Parliament, and the new leaders of the Solidarity Trade Union subsequently pledged to reduce the Trade Union's political role. Poland joined NATO in 1999 and the European Union in 2004. With its transformation to a democratic, market-oriented country largely completed, Poland is an increasingly active member of Euro-Atlantic organizations.
Map
References
Poland - Wikipedia
Poland - CIA World Fact Book
Poland - BBC
Poland - National Geographic
Poland - Timeline - BBC
Cities
Links
News Headlines
Google News
This RSS feed URL is deprecatedThis RSS feed URL is deprecated, please update. New URLs can be found in the footers at https://news.google.com/news

---
Poland breaks with EU, voices empathy with US stance on Iran - Washington Post
---
Poland plans to build 22 new bridges - thenews.pl

thenews.pl



Poland plans to build 22 new bridgesthenews.pl

The bridges will cost PLN 2.3 billion (EUR 536m, USD 633m) in total, state broadcaster Polish Radio's IAR news agency reported. Morawiecki said that for the last 25 years

Poland

had not had balanced development, with large urban areas growing faster ...
---
Olga Tokarczuk of Poland Wins Man Booker International Prize ... - New York Times
---
Poland issues new coin to mark centenary of independence - thenews.pl

thenews.pl



Poland issues new coin to mark centenary of independencethenews.pl

The country this year marks the centenary of re-emerging as an independent state. Up to 38.42 million new coins are being put into circulation, a number reflecting the size of

Poland's

population. Barbara Jaroszek, the head of the issuing department at

...
---
Poland backs Trump on Iran - Arutz Sheva

Arutz Sheva



Poland backs Trump on IranArutz Sheva

Polish Prime Minister Mateusz Morawiecki said, according to the report, that

Poland

wants to be an "informal go-between" and to explain to EU members and U.S. officials the positions of the other. The Polish government's mediation offer departs

...and more »
---
Poland World Cup guide: Squad, record, path to final,manager, team news, latest odds and star man - The Sun
---
Video Campaign Aims To Unify Poland Through The Power Of Bread - NPR
---
Poland lifts the taxes on cryptocurrencies! - AMBCrypto - AMBCrypto
---
Airbus withdraws treaty claim against Poland - GAR

GAR



Airbus withdraws treaty claim against PolandGAR

Dutch aerospace company Airbus has withdrawn an intra-EU investment treaty claim against

Poland

over a cancelled US$3.5 billion helicopter deal, reportedly citing the recent ruling of the European Court of Justice in Achmea v Slovakia.
---
Poland, China compete at FIVB Volleyball Nations League - Xinhua
---