Poland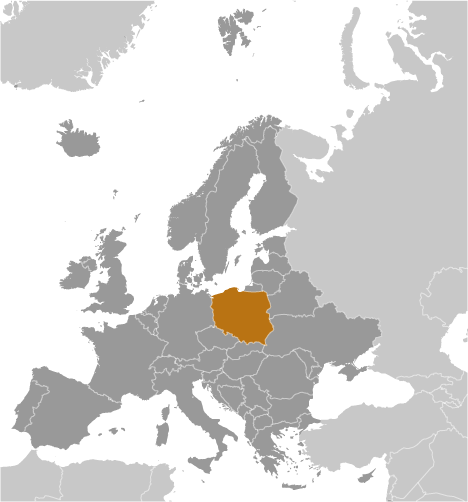 | | |
| --- | --- |
| Country | Poland |
| Capital | Warsaw |
| Continent | Europe |
| Currency | ZÅ'oty(PLN) |
| Languages | Polish & Kashubian |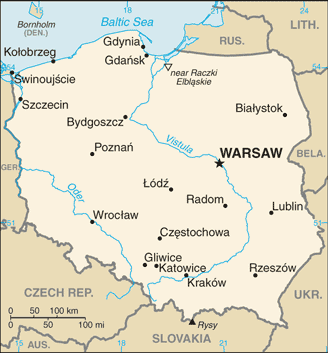 Information
Introduction
Poland is an ancient nation that was conceived near the middle of the 10th century. Its golden age occurred in the 16th century. During the following century, the strengthening of the gentry and internal disorders weakened the nation. In a series of agreements between 1772 and 1795, Russia, Prussia, and Austria partitioned Poland amongst themselves. Poland regained its independence in 1918 only to be overrun by Germany and the Soviet Union in World War II. It became a Soviet satellite state following the war, but its government was comparatively tolerant and progressive. Labor turmoil in 1980 led to the formation of the independent trade union "Solidarity" that over time became a political force and by 1990 had swept parliamentary elections and the presidency. A "shock therapy" program during the early 1990s enabled the country to transform its economy into one of the most robust in Central Europe, but Poland still faces the lingering challenges of high unemployment, underdeveloped and dilapidated infrastructure, and a poor rural underclass. Solidarity suffered a major defeat in the 2001 parliamentary elections when it failed to elect a single deputy to the lower house of Parliament, and the new leaders of the Solidarity Trade Union subsequently pledged to reduce the Trade Union's political role. Poland joined NATO in 1999 and the European Union in 2004. With its transformation to a democratic, market-oriented country largely completed, Poland is an increasingly active member of Euro-Atlantic organizations.
Map
References
Poland - Wikipedia
Poland - CIA World Fact Book
Poland - BBC
Poland - National Geographic
Poland - Timeline - BBC
Cities
Links
News Headlines
Google News
Poland's plan to buy Patriot headed toward derailment? - DefenseNews.com
---
Poland - Factors to Watch June 28 - Daily Mail



Poland - Factors to Watch June 28Daily Mail

Following are news stories, press reports and events to watch that may affect

Poland's

financial markets on Wednesday. ALL TIMES GMT (

Poland

: GMT + 2 hours):. DEBT. A pilot issue of treasury bonds for

Poland's

Bank Guarantee Fund will help cover ...
---
Poland to receive less funds from EU? - Radio Poland :: News from ... - thenews.pl
---
Schutz Opens New Factory in Poland - FoodIngredientsFirst

FoodIngredientsFirst



Schutz Opens New Factory in PolandFoodIngredientsFirst

Roland Straßburger, Schütz CEO, and Zbigniew Zietkowski, General Manager Schütz Polska Sp. z o.o., welcomed guests from

Poland

, Slovakia, Hungary, Romania, Ukraine, Czech Republic, Russia, Austria and Germany. In their speeches, representatives of ...
---
Why DMACK won't repeat its 2016 Rally Poland shock - WRC ... - autosport.com
---
Mayer, Poland Junction under evacuation as Goodwin Fire grows to 4400 acres - KPNX 12 News TV
---
Poland graduates told to be themselves - The Times Telegram

The Times Telegram



Poland graduates told to be themselvesThe Times TelegramPOLAND

—

Poland

Central School District Class of 2017 valedictorian Sarah Braunlich began her graduation speech by highlighting the progress the graduates made from when they started school to now. She said graduates will take

Poland

with them as ...
---
Muslim girls complain of Polish racism on Holocaust study trip - BBC News
---
Wolf Theiss supports women's entrepreneurs in Poland - The Lawyer (registration)



Wolf Theiss supports women's entrepreneurs in PolandThe Lawyer (registration)

Wolf Theiss has partnered with the Women's Entrepreneurship Foundation in

Poland

, as part of its long-term commitment to support professional development and social capital among women. The new collaborative effort was launched on 21 June with a ...
---
Poland's Immoral Refugee Policy by Slawomir Sierakowski - Project ... - Project Syndicate
---