Hungary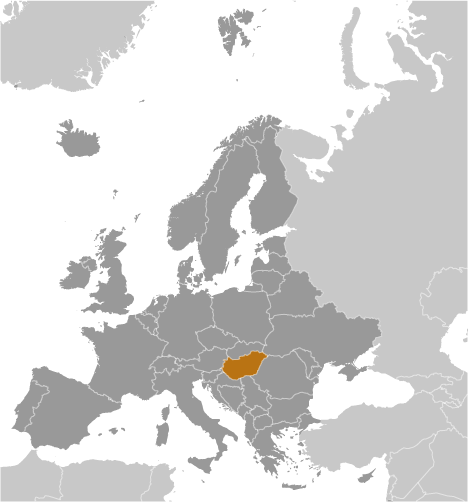 | | |
| --- | --- |
| Country | Hungary |
| Capital | Budapest |
| Continent | Europe |
| Currency | Forint(HUF) |
| Languages | Hungarian |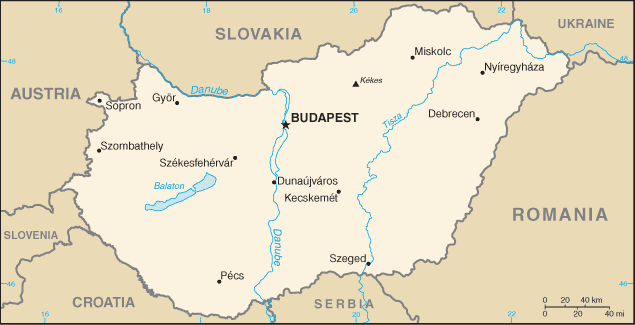 Information
Introduction
Hungary became a Christian kingdom in A.D. 1000 and for many centuries served as a bulwark against Ottoman Turkish expansion in Europe. The kingdom eventually became part of the polyglot Austro-Hungarian Empire, which collapsed during World War I. The country fell under Communist rule following World War II. In 1956, a revolt and an announced withdrawal from the Warsaw Pact were met with a massive military intervention by Moscow. Under the leadership of Janos KADAR in 1968, Hungary began liberalizing its economy, introducing so-called "Goulash Communism." Hungary held its first multiparty elections in 1990 and initiated a free market economy. It joined NATO in 1999 and the EU in 2004.
Map
References
Hungary - Wikipedia
Hungary - CIA World Fact Book
Hungary - BBC
Hungary - Timeline - BBC
Cities
Links
News Headlines
Google News
Council of Europe calls on Hungary to redraw higher education law ... - Times Higher Education (THE)
---
Hungary, Factors to watch, Aug 17 - Times of India



Hungary, Factors to watch, Aug 17Times of India

The crown jumped and the forint eased on Wednesday after the Czech Republic reported a surprise surge in second-quarter economic output, while

Hungary's

growth slowed down slightly. Second-quarter economic output data released by several Central ...
---
Budapest's Margaret Island, a green haven in Hungary's capital - The Guardian
---
Netanyahu's Israel Is Looking a Lot Like Orban's Hungary - and It Could Spell Its Demise - Haaretz
---
Mila Kunis Celebrates Her 34th Birthday With Ashton Kutcher in Hungary: Pic! - 9NEWS.com
---
Hungary pulls tainted egg products from shelves, Europe News ... - The Straits Times
---
At Swimming Worlds, Hungary Deserves Biggest Gold Of All - SwimSwam

SwimSwam



At Swimming Worlds, Hungary Deserves Biggest Gold Of AllSwimSwamHungary

took over the hosting duties for these World Championships in February 2015, when Guadalajara, Mexico withdrew as host four years after they were first selected. With just over two years time, the city of Budapest put on quite a show that made

...
---
Hungary Fights Persecution of Christians - Church Militant

Church Militant



Hungary Fights Persecution of ChristiansChurch Militant

BUDAPEST (ChurchMilitant.com) - Catholic

Hungary

is making good on plans to become a leading advocate for persecuted Christians. Over the past few days, the central European nation has made headlines for intervening to save a former Muslim from ...
---
Ghanaian students starving in Hungary | - Citi FM - Citifmonline
---
Hungary's economy expands 3.2 percent in Q2 - Xinhua



Hungary's economy expands 3.2 percent in Q2Xinhua

BUDAPEST, Aug. 16 (Xinhua) --

Hungary's

gross domestic product (GDP) slowed to 3.2 percent year on year in the second quarter of 2017, from 4.2 percent in the first quarter, according to a preliminary estimate released by the

Hungarian

Central

...and more »
---