Bosnia and Herzegovina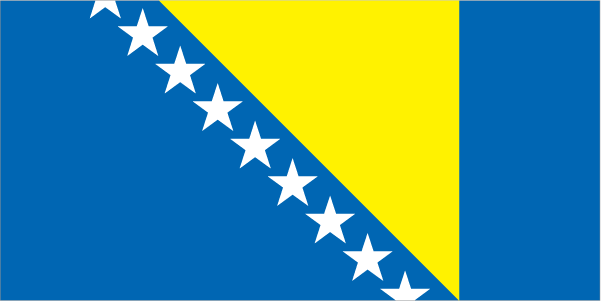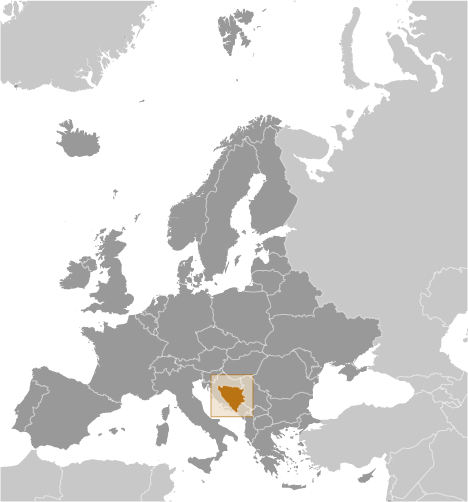 | | |
| --- | --- |
| Country | Bosnia and Herzegovina |
| Capital | Sarajevo |
| Continent | Europe |
| Currency | Convertible Mark(BAM) |
| Languages | Bosnian, Croatian & Serbian |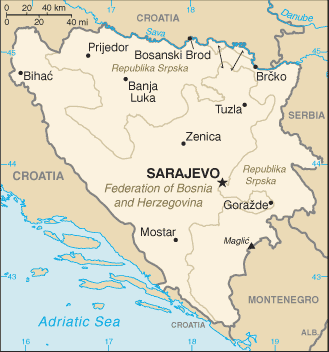 Information
Introduction
Bosnia and Herzegovina's declaration of sovereignty in October 1991 was followed by a declaration of independence from the former Yugoslavia on 3 March 1992 after a referendum boycotted by ethnic Serbs. The Bosnian Serbs - supported by neighboring Serbia and Montenegro - responded with armed resistance aimed at partitioning the republic along ethnic lines and joining Serb-held areas to form a "Greater Serbia." In March 1994, Bosniaks and Croats reduced the number of warring factions from three to two by signing an agreement creating a joint Bosniak/Croat Federation of Bosnia and Herzegovina. On 21 November 1995, in Dayton, Ohio, the warring parties initialed a peace agreement that brought to a halt three years of interethnic civil strife (the final agreement was signed in Paris on 14 December 1995). The Dayton Peace Accords retained Bosnia and Herzegovina's international boundaries and created a multi-ethnic and democratic government charged with conducting foreign, diplomatic, and fiscal policy. Also recognized was a second tier of government composed of two entities roughly equal in size: the Bosniak/Croat Federation of Bosnia and Herzegovina and the Bosnian Serb-led Republika Srpska (RS). The Federation and RS governments were charged with overseeing most government functions. The Dayton Accords also established the Office of the High Representative (OHR) to oversee the implementation of the civilian aspects of the agreement. The Peace Implementation Council (PIC) at its conference in Bonn in 1997 also gave the High Representative the authority to impose legislation and remove officials, the so-called "Bonn Powers." In 1995-96, a NATO-led international peacekeeping force (IFOR) of 60,000 troops served in Bosnia to implement and monitor the military aspects of the agreement. IFOR was succeeded by a smaller, NATO-led Stabilization Force (SFOR) whose mission was to deter renewed hostilities. European Union peacekeeping troops (EUFOR) replaced SFOR in December 2004; their mission is to maintain peace and stability throughout the country. EUFOR's mission changed from peacekeeping to civil policing in October 2007, with its presence reduced from nearly 7,000 to less than 2,500 troops. Troop strength at the end of 2009 stood at roughly 2,000. In January 2010, Bosnia and Herzegovina assumed a nonpermanent seat on the UN Security Council for the 2010-11 term.
Map
References
Bosnia and Herzegovina - Wikipedia
Bosnia and Herzegovina - CIA World Fact Book
Bosnia and Herzegovina - BBC
Bosnia and Herzegovina - Timeline - BBC
Cities
Links
News Headlines
Google News
This RSS feed URL is deprecatedThis RSS feed URL is deprecated, please update. New URLs can be found in the footers at https://news.google.com/news

---
Five days in Bosnia and Herzegovina - The National

The National



Five days in Bosnia and HerzegovinaThe National

These tours also feature a visit to the brewery that used to be one of the main sources of water for

Bosnians

during the 1992-1995 siege by Serbs positioned in the hills surrounding the city. Sarajevo also has a grim history going back to 1914 when a

...
---
Elections in Bosnia and Herzegovina: Who won and what it means for the future? - European Western Balkans (press release)
---
Bosnia and Herzegovina vs Northern Ireland: Live talkSPORT commentary, kick off time and confirmed teams - talkSPORT.com
---
Bosnia-Herzegovina to host national dialogue on landmine clearance - ReliefWeb



Bosnia-Herzegovina to host national dialogue on landmine clearanceReliefWeb

Sarajevo-Geneva –

Bosnia

-

Herzegovina

, a party to the Anti-Personnel Mine Ban Convention (also known as Ottawa Convention), is undertaking a national exercise with relevant stakeholders after determining that it will not be able to meet its 1 March 2019 ...
---
Bosnia and Herzegovina 2-0 N Ireland - Belfast Live

Belfast Live



Bosnia and Herzegovina 2-0 N IrelandBelfast Live

UEFA Nations League, Stadion Grbavica, Sarajevo,

Bosnia & Herzegovina

15/10/2018

Bosnia & Herzegovina

vs Northern Ireland Northern Ireland fans William Montgomery, Alan Graham, Kenneth Robinson and Mark Scott ahead of the game Mandatory ...
---
NSoft launches new mobile app for Bosnia and Herzegovina lottery - Gaming Intelligence
---
FNE at Jihlava IDFF Emerging Producers: Zoran Galic, Bosnia and Herzegovina - Film New Europe
---
Ireland under-19s begin European Championship qualifying campaign with impressive victory over Bosnia and ... - Independent.ie
---
EBRD To Fund Documentation For "South Interconnection Of Bosnia And Herzegovina And Croatia" Project - UrduPoint News
---
NSoft extends agreement with Lottery of Bosnia and Herzegovina - InterGame
---