Bulgaria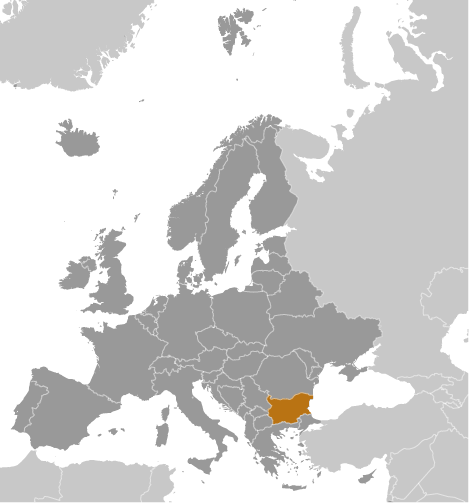 | | |
| --- | --- |
| Country | Bulgaria |
| Capital | Sofia |
| Continent | Europe |
| Currency | Lev(BGN) |
| Languages | Bulgarian |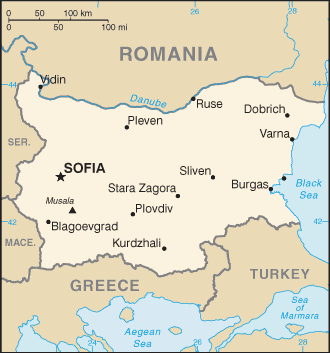 Information
Introduction
The Bulgars, a Central Asian Turkic tribe, merged with the local Slavic inhabitants in the late 7th century to form the first Bulgarian state. In succeeding centuries, Bulgaria struggled with the Byzantine Empire to assert its place in the Balkans, but by the end of the 14th century the country was overrun by the Ottoman Turks. Northern Bulgaria attained autonomy in 1878 and all of Bulgaria became independent from the Ottoman Empire in 1908. Having fought on the losing side in both World Wars, Bulgaria fell within the Soviet sphere of influence and became a People's Republic in 1946. Communist domination ended in 1990, when Bulgaria held its first multiparty election since World War II and began the contentious process of moving toward political democracy and a market economy while combating inflation, unemployment, corruption, and crime. The country joined NATO in 2004 and the EU in 2007.
Map
References
Bulgaria - Wikipedia
Bulgaria - CIA World Fact Book
Bulgaria - BBC
Bulgaria - Timeline - BBC
Cities
Links
News Headlines
Google News
This RSS feed URL is deprecatedThis RSS feed URL is deprecated, please update. New URLs can be found in the footers at https://news.google.com/news

---
Bulgaria: Women's rights at risk - New Eastern Europe - New Eastern Europe
---
Bulgaria? Nobody goes there! - San Diego Reader

San Diego Reader



Bulgaria? Nobody goes there!San Diego Reader

#Admittedly

Bulgaria

had never really been high on my list of places to visit, but fate brought me an opportunity to meet an old friend in the capital, Sofia. Like many Westerners, I imagined a gritty, gray and boring post-Communist, post-Yugoslavia

...
---
Bulgaria expresses interest in Israeli F-16s - IHS Jane's 360



Bulgaria expresses interest in Israeli F-16sIHS Jane's 360

Israel will be invited to offer F-16C/D fighters for the

Bulgarian

tender for a new fighter to replace the

Bulgarian

Air Force's MiG-29s,

Bulgarian

Defence Minister Krasimir Karakachanov said on 19 March. He added that a letter from Boeing offering the

...and more »
---
Bulgarians rush to save a phalanx of distressed, frozen storks ... - The Guardian
---
Bulgarian women's choir among Festival of Voices performers this weekend - LancasterOnline
---
Bulgaria, Israel mull cybersecurity cooperation | The Times of Israel - The Times of Israel
---
Palestine, Bulgaria call for enhancing bilateral cooperation in all fields - WAFA - Palestine News Agency
---
Bulgaria's Sliven has the lowest average age for childbirth in the EU - The Sofia Globe
---
Bulgaria's National Football Team will Face its First Test for 2018 - Novinite.com
---
Bulgaria. Sunseed prices remained unchanged last week - UkrAgroConsult
---