Bulgaria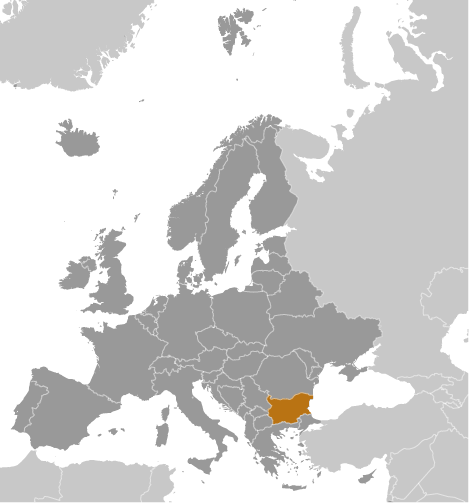 | | |
| --- | --- |
| Country | Bulgaria |
| Capital | Sofia |
| Continent | Europe |
| Currency | Lev(BGN) |
| Languages | Bulgarian |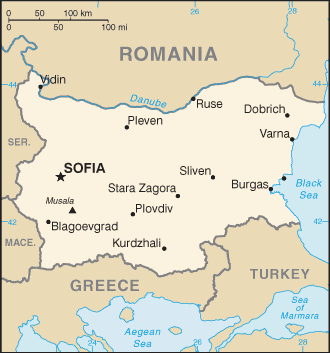 Information
Introduction
The Bulgars, a Central Asian Turkic tribe, merged with the local Slavic inhabitants in the late 7th century to form the first Bulgarian state. In succeeding centuries, Bulgaria struggled with the Byzantine Empire to assert its place in the Balkans, but by the end of the 14th century the country was overrun by the Ottoman Turks. Northern Bulgaria attained autonomy in 1878 and all of Bulgaria became independent from the Ottoman Empire in 1908. Having fought on the losing side in both World Wars, Bulgaria fell within the Soviet sphere of influence and became a People's Republic in 1946. Communist domination ended in 1990, when Bulgaria held its first multiparty election since World War II and began the contentious process of moving toward political democracy and a market economy while combating inflation, unemployment, corruption, and crime. The country joined NATO in 2004 and the EU in 2007.
Map
References
Bulgaria - Wikipedia
Bulgaria - CIA World Fact Book
Bulgaria - BBC
Bulgaria - Timeline - BBC
Cities
Links
News Headlines
Google News
This RSS feed URL is deprecatedThis RSS feed URL is deprecated, please update. New URLs can be found in the footers at https://news.google.com/news

---
Sessions' awkward crime-fighting encounter - Politico

Politico



Sessions' awkward crime-fighting encounterPolitico

On a trip to

Bulgaria

to discuss organized crime and other transnational security issues, Attorney General Jeff Sessions met Tuesday with

Bulgarian

Prime Minister Boyko Borissov, who has himself been dogged for more than a decade by U.S. allegations of ...
---
Bulgaria does not meet all euro entry criteria, Commission to say - Reuters
---
Russia, Bulgaria discuss promoting trade, economic cooperation - Xinhua
---
Cruise line to connect Turkey, Bulgaria - Daily Sabah



Cruise line to connect Turkey, BulgariaDaily Sabah

The first cruise line between Turkey's Istanbul and

Bulgaria's

Burgas will be launched next year, head of the Port of Burgas, Dian Dimov announced yesterday. Three trips will be held every week between the two cities littoral to the Black Sea. Dimov

...
---
Bulgaria: EQUINOX to continue as a band after Eurovision 2018 - esctoday.com
---
Russia's Rosatom ready to pitch for Bulgarian nuclear project - Reuters
---
Bulgarian mobile carrier completes re-branding as A1 Bulgaria | The ... - The Sofia Globe
---
A Car Hit Two Buses with Children Near Anton Village, Western Bulgaria - Novinite.com
---
The 6-year-old Bulgarian Girl, whose Parents were Killed in Cape Town, Returned to Bulgaria - Novinite.com
---
Bulgaria to spend nearly 1 bln USD to improve water, sewerage infrastructure - Xinhua
---