Bulgaria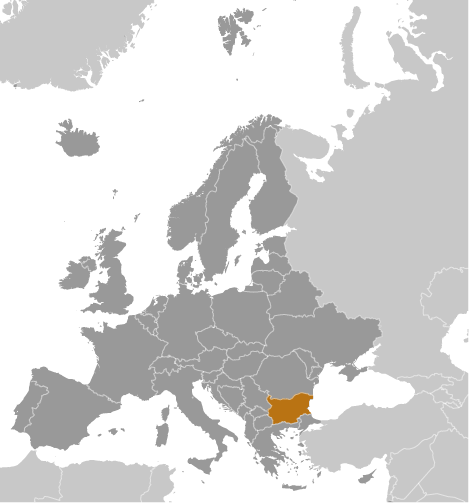 | | |
| --- | --- |
| Country | Bulgaria |
| Capital | Sofia |
| Continent | Europe |
| Currency | Lev(BGN) |
| Languages | Bulgarian |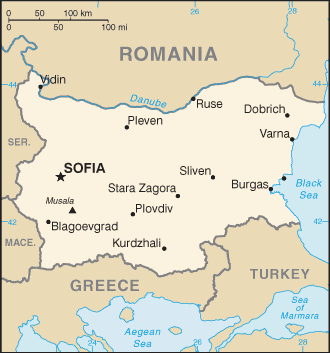 Information
Introduction
The Bulgars, a Central Asian Turkic tribe, merged with the local Slavic inhabitants in the late 7th century to form the first Bulgarian state. In succeeding centuries, Bulgaria struggled with the Byzantine Empire to assert its place in the Balkans, but by the end of the 14th century the country was overrun by the Ottoman Turks. Northern Bulgaria attained autonomy in 1878 and all of Bulgaria became independent from the Ottoman Empire in 1908. Having fought on the losing side in both World Wars, Bulgaria fell within the Soviet sphere of influence and became a People's Republic in 1946. Communist domination ended in 1990, when Bulgaria held its first multiparty election since World War II and began the contentious process of moving toward political democracy and a market economy while combating inflation, unemployment, corruption, and crime. The country joined NATO in 2004 and the EU in 2007.
Map
References
Bulgaria - Wikipedia
Bulgaria - CIA World Fact Book
Bulgaria - BBC
Bulgaria - Timeline - BBC
Cities
Links
News Headlines
Google News
Bad loans remain a risk in Bulgaria - IMF - Times of India
---
Fossils from Greece, Bulgaria cast doubt on human lineage originating in Africa - Livemint
---
Russian PM: Turkish Stream will enter EU via Bulgaria or Greece ... - EURACTIV
---
Petar Ivanov appointed new AmCham Bulgaria executive director - The Sofia Globe
---
From Bulgaria to East Asia, the making of Japan's yogurt culture - HuffPost
---
Bulgaria Imports Cheap Regional Labour to Save Tourism Boom - Balkan Insight
---
Skyscraper Frenzy Divides Locals in Bulgarian Capital - Balkan Insight

Balkan Insight



Skyscraper Frenzy Divides Locals in Bulgarian CapitalBalkan Insight

Those are private investments that function on a market principle – this is why they appear in attractive areas," Angel Zahariev, manager of the AAA bureau, which designed two of the landmark skyscrapers and

Bulgaria's

tallest buildings - Capital Fort

...
---
Bulgaria is the Country with the Most Road Traffic Deaths - Novinite ... - Novinite.com
---
Bulgaria Air launches shiny new website - The Sofia Globe

The Sofia Globe



Bulgaria Air launches shiny new websiteThe Sofia GlobeBulgaria

Air, the flag carrier of

Bulgaria

, just relaunched its website. The nice and shiny looking site contains a lot more information, it is more comprehensive than the old site, and booking flights seems to be easier. In addition,

Bulgaria

Air has

...and more »
---
Bulgaria Will Work to Attract More Italian Investors - Novinite.com

Novinite.com



Bulgaria Will Work to Attract More Italian InvestorsNovinite.com

''We will work to strengthen and develop the trade and economic relations between

Bulgaria

and Italy'', said the

Bulgarian

Minister of Economy Emil Karanikolov during a meeting with the Italian Ambassador to

Bulgaria

Stefano Baldi, BNR reported

...
---