Bulgaria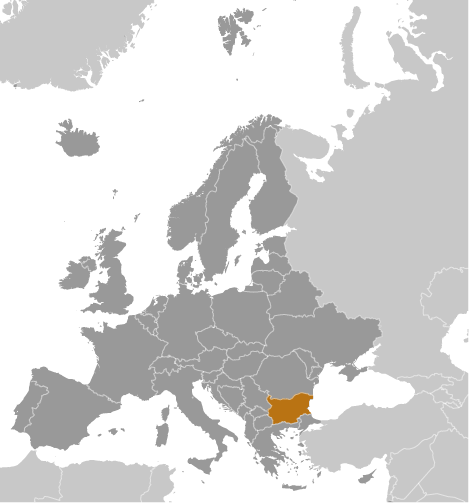 | | |
| --- | --- |
| Country | Bulgaria |
| Capital | Sofia |
| Continent | Europe |
| Currency | Lev(BGN) |
| Languages | Bulgarian |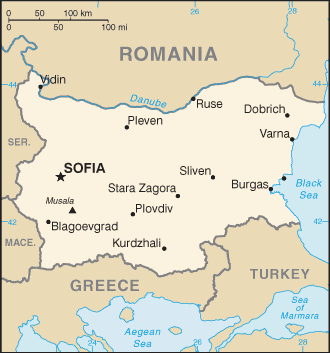 Information
Introduction
The Bulgars, a Central Asian Turkic tribe, merged with the local Slavic inhabitants in the late 7th century to form the first Bulgarian state. In succeeding centuries, Bulgaria struggled with the Byzantine Empire to assert its place in the Balkans, but by the end of the 14th century the country was overrun by the Ottoman Turks. Northern Bulgaria attained autonomy in 1878 and all of Bulgaria became independent from the Ottoman Empire in 1908. Having fought on the losing side in both World Wars, Bulgaria fell within the Soviet sphere of influence and became a People's Republic in 1946. Communist domination ended in 1990, when Bulgaria held its first multiparty election since World War II and began the contentious process of moving toward political democracy and a market economy while combating inflation, unemployment, corruption, and crime. The country joined NATO in 2004 and the EU in 2007.
Map
References
Bulgaria - Wikipedia
Bulgaria - CIA World Fact Book
Bulgaria - BBC
Bulgaria - Timeline - BBC
Cities
Links
News Headlines
Google News
Bulgaria to Seek Proposals on New F-16s, Eurofighter Typhoons - Novinite.com
---
'New frontier' Bulgaria attracts real estate investors - Business Day

Business Day



'New frontier' Bulgaria attracts real estate investorsBusiness DayBulgaria

is a new frontier for real estate investors, with many South African companies already having invested in Poland, the largest economy in eastern Europe. UK-based Hystead, which is co-owned by JSE-listed shopping centre owner Hyprop and PDI ...
---
TASS: Russian Politics & Diplomacy - Moscow says Bulgaria's ... - TASS
---
Bulgaria: Sofia orders Škoda trams for 23 million Euro - The Sofia Globe
---
Competition: Borovets resort, Bulgaria - Architects' Journal

Architects' Journal



Competition: Borovets resort, BulgariaArchitects' Journal

Borovets was founded in 1896 as a hunting place for

Bulgarian

kings and is the country's oldest ski and mountain sports resort. The popular year-round holiday destination is located in the Samokov valley at the foot of the Rila, Verila, Vitosha and

...
---
6 reasons to Explore the Beautiful Bulgaria - Bulgaria Travel News (press release) (blog)



6 reasons to Explore the Beautiful BulgariaBulgaria Travel News (press release) (blog)

If you are thinking to take your clan to the next holidaying destination, add

Bulgaria

to your list. The Eastern European's premier destination,

Bulgaria

has the combination of best of the hotels, resorts and the stunning white stretch of sand. This

...
---
Syrian refugee faces deportation from Cardiff to Bulgaria - BBC News
---
Bulgaria cuts red tape in process of issuing identity cards and passports - The Sofia Globe
---
Bulgaria Pushes for Clearer EU Membership Path for Western ... - Bloomberg
---
20 Arrested in Joint Police-Prosecutor's Office Operation across ... - Novinite.com
---