Netherlands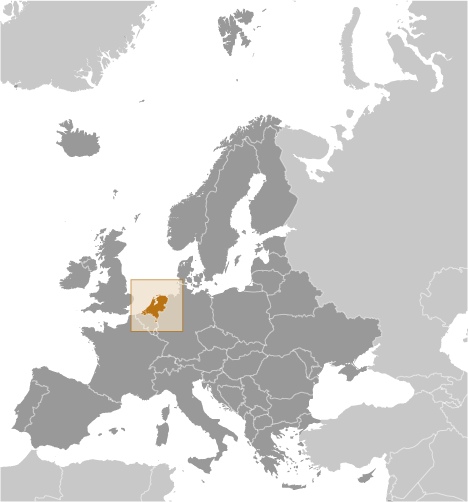 | | |
| --- | --- |
| Country | Netherlands |
| Capital | Amsterdam |
| Continent | Europe |
| Currency | Euro(EUR) & United States dollar(USD) |
| Languages | Dutch, West Frisian, Papiamento & English |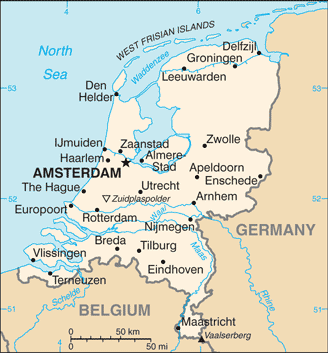 Information
Introduction
The Dutch United Provinces declared their independence from Spain in 1579; during the 17th century, they became a leading seafaring and commercial power, with settlements and colonies around the world. After a 20-year French occupation, a Kingdom of the Netherlands was formed in 1815. In 1830 Belgium seceded and formed a separate kingdom. The Netherlands remained neutral in World War I, but suffered invasion and occupation by Germany in World War II. A modern, industrialized nation, the Netherlands is also a large exporter of agricultural products. The country was a founding member of NATO and the EEC (now the EU), and participated in the introduction of the euro in 1999.
Map
References
Netherlands - Wikipedia
Netherlands - CIA World Fact Book
Netherlands - BBC
Netherlands - Timeline - BBC
Cities
Links
News Headlines
Google News
World's first 3D-printed bridge opens to cyclists in Netherlands ... - The Guardian
---
Apple Pay May Launch in the Netherlands and Poland Later This Year - Mac Rumors
---
Favourites out to extend lead as Netherlands enter the fray - FIFA.com
---
The Netherlands: all the right ingredients - HedgeWeek

HedgeWeek



The Netherlands: all the right ingredientsHedgeWeek

The

Netherlands

is home to Europe's oldest stock exchange, the Amsterdam Stock Exchange, first established back in 1602. According to the latest IMF report, its financial system has assets nearly eight times GDP with the largest three banks accounting

...
---
Netherlands, PNG enter ICC Cricket World Cup Qualifier 2018 ... - Cricbuzz
---
Memphis eyes key role in 'beautiful' Netherlands future despite World Cup failure - Goal.com
---
The Netherlands Will End Coal Power by 2030 - Futurism

Futurism



The Netherlands Will End Coal Power by 2030Futurism

The

Netherlands

' new government has announced plans to close all coal power plants by 2030. Closures will include three of the most efficient plants made in 2015, which should help the country achieve its goal of a 49 percent reduction in emissions.
---
Cuban Delegation Visits Deltares Institute in Netherlands - Prensa Latina



Cuban Delegation Visits Deltares Institute in NetherlandsPrensa Latina

The Hague, Oct 18 (Prensa Latina) The Cuban delegation of the Ministry of Science, Technology and Environment (Citma), which is visiting the

Netherlands

, is visiting the facilities of the Deltares Institute, which specializes in research on water

...
---
Netherlands, PNG secure World Cup Qualifier spots - ESPNcricinfo - ESPNcricinfo.com
---
BUK missile brought to Netherlands in MH17 investigation | NL Times - NL Times
---