Netherlands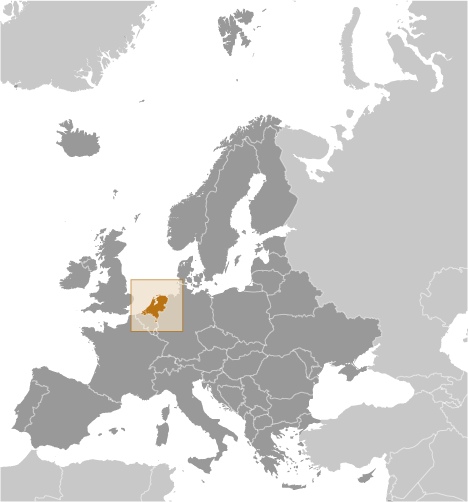 | | |
| --- | --- |
| Country | Netherlands |
| Capital | Amsterdam |
| Continent | Europe |
| Currency | Euro(EUR) & United States dollar(USD) |
| Languages | Dutch, West Frisian, Papiamento & English |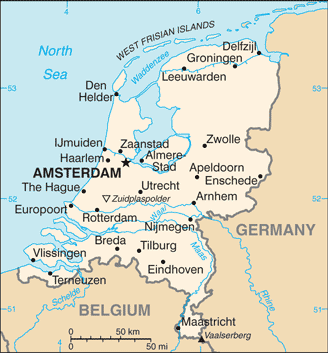 Information
Introduction
The Dutch United Provinces declared their independence from Spain in 1579; during the 17th century, they became a leading seafaring and commercial power, with settlements and colonies around the world. After a 20-year French occupation, a Kingdom of the Netherlands was formed in 1815. In 1830 Belgium seceded and formed a separate kingdom. The Netherlands remained neutral in World War I, but suffered invasion and occupation by Germany in World War II. A modern, industrialized nation, the Netherlands is also a large exporter of agricultural products. The country was a founding member of NATO and the EEC (now the EU), and participated in the introduction of the euro in 1999.
Map
References
Netherlands - Wikipedia
Netherlands - CIA World Fact Book
Netherlands - BBC
Netherlands - Timeline - BBC
Cities
Links
News Headlines
Google News
This RSS feed URL is deprecatedThis RSS feed URL is deprecated, please update. New URLs can be found in the footers at https://news.google.com/news

---
The Netherlands woos Indian start-ups - The Hindu

The Hindu



The Netherlands woos Indian start-upsThe Hindu

The

Netherlands

is looking for Indian start-ups in the fields of ports, logistics, clean tech and medical science to scale up and contribute to its thriving port and port-related sectors as well as to the medical industry. "Besides ports and logistics

...
---
New pensions system is still a long way off for the Netherlands - IPE.com
---
The Netherlands finish in style in final ICC World Cricket League Championship Match - International Cricket Council
---
NLXL – possibly the biggest book about the Netherlands you have ever seen - DutchNews.nl
---
Kingma hat-trick sets up big Netherlands win - International Cricket Council
---
Netherlands Armed Forces Day celebrated - The Sunday Guardian

The Sunday Guardian



Netherlands Armed Forces Day celebratedThe Sunday Guardian

On India-

Netherlands

relations, Ambassador Alphonsus Stoelinga said: "In economic and business relations, we are clearly on the way up, with connectivity between our countries shooting up, within two years, from one to five direct non-stop flights

...
---
Netherlands' WCL triumph paves way for ODI prominence - ESPN
---
Texting whilst cycling to be banned in the Netherlands - IamExpat.nl

IamExpat.nl



Texting whilst cycling to be banned in the NetherlandsIamExpat.nl

In fact, at the start of this year, according to research commissioned by the Ministry of Infrastructure and Water Management, 75 percent of Dutch people condoned a ban on the active use of ones smartphone whilst cycling in the

Netherlands

. Next year

...
---
ExxonMobil Australia 'failed to disclose links to Bahamas and Netherlands' - The Guardian
---
The Netherlands win the ICC World Cricket League Championship - International Cricket Council
---