Ukraine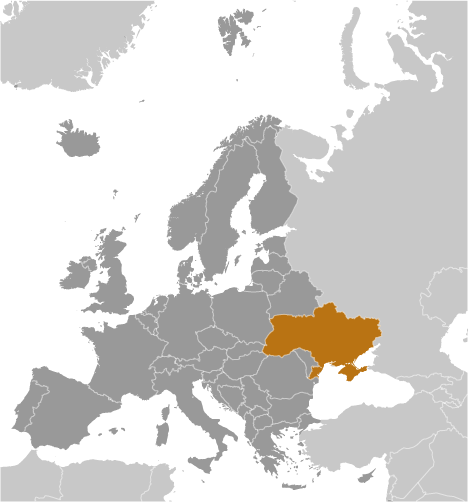 | | |
| --- | --- |
| Country | Ukraine |
| Capital | Kiev |
| Continent | Europe |
| Currency | Hryvnia(UAH) |
| Languages | Ukrainian, Armenian, Belarusian, Bulgarian,Crimean Tatar, Gagauz, German, Greek, Hungarian, Karaim, Krymchak, Moldovan, Polish, Romani, Romanian, Russian, Rusyn, Slovak & Yiddish |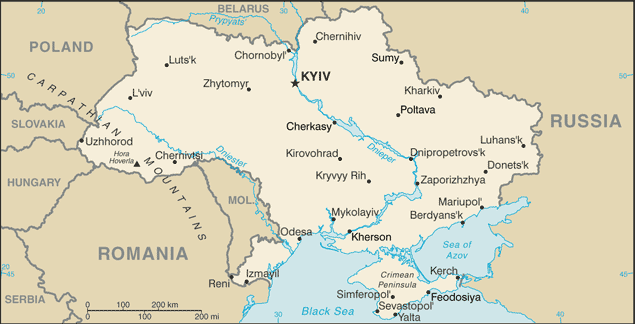 Information
Introduction
Ukraine was the center of the first eastern Slavic state, Kyivan Rus, which during the 10th and 11th centuries was the largest and most powerful state in Europe. Weakened by internecine quarrels and Mongol invasions, Kyivan Rus was incorporated into the Grand Duchy of Lithuania and eventually into the Polish-Lithuanian Commonwealth. The cultural and religious legacy of Kyivan Rus laid the foundation for Ukrainian nationalism through subsequent centuries. A new Ukrainian state, the Cossack Hetmanate, was established during the mid-17th century after an uprising against the Poles. Despite continuous Muscovite pressure, the Hetmanate managed to remain autonomous for well over 100 years. During the latter part of the 18th century, most Ukrainian ethnographic territory was absorbed by the Russian Empire. Following the collapse of czarist Russia in 1917, Ukraine was able to achieve a short-lived period of independence (1917-20), but was reconquered and forced to endure a brutal Soviet rule that engineered two forced famines (1921-22 and 1932-33) in which over 8 million died. In World War II, German and Soviet armies were responsible for some 7 to 8 million more deaths. Although final independence for Ukraine was achieved in 1991 with the dissolution of the USSR, democracy and prosperity remained elusive as the legacy of state control and endemic corruption stalled efforts at economic reform, privatization, and civil liberties. A peaceful mass protest "Orange Revolution" in the closing months of 2004 forced the authorities to overturn a rigged presidential election and to allow a new internationally monitored vote that swept into power a reformist slate under Viktor YUSHCHENKO. Subsequent internal squabbles in the YUSHCHENKO camp allowed his rival Viktor YANUKOVYCH to stage a comeback in parliamentary elections and become prime minister in August of 2006. An early legislative election, brought on by a political crisis in the spring of 2007, saw Yuliya TYMOSHENKO, as head of an "Orange" coalition, installed as a new prime minister in December 2007. Viktor YANUKOVUYCH was elected president in a February 2010 run-off election that observers assessed as meeting most international standards. The following month, the Rada approved a vote of no-confidence prompting Yuliya TYMOSHENKO to resign from her post as prime minister.
Map
References
Ukraine - Wikipedia
Ukraine - CIA World Fact Book
Ukraine - BBC
Ukraine - Timeline - BBC
Cities
Links
News Headlines
Google News
Ukraine's Path to Unrest - New York Times
---
Ukraine crisis: Yanukovych and the tycoons - BBC News

BBC News



Ukraine crisis: Yanukovych and the tycoonsBBC News

Much of the anger behind mass protests in

Ukraine

is fuelled by perceptions of political corruption, and the alleged close links between the government and mega-rich oligarchs. But, as Anders Aslund explains, the murky world of these "grey cardinals

...and more »
---
Kerry's Statement on Ukraine - New York Times



Kerry's Statement on UkraineNew York Times

The United States expresses its disgust with the decision of

Ukrainian

authorities to meet the peaceful protest in Kyiv's Maidan Square with riot police, bulldozers, and batons, rather than with respect for democratic rights and human dignity. This

...
---
Police storm protest camp in Ukraine - Fox News



Police storm protest camp in UkraineFox News

Several thousand police in riot gear stormed a protest camp in the central square of the

Ukrainian

capital on Wednesday, clashing with demonstrators as they dismantled barricades and evicted protesters from tents. Protesters shouted "Shame!" ''We will

...
---
Deep freeze fails to deter pro-Western demonstrators in Kiev, Ukraine - CNN International
---
Ukraine's Eurolution Is a PR Godsend for the Struggling EU - Daily Beast
---
Ukraine crisis grows, police clash with protesters in Kiev - Times of India
---
Ukraine Protest: Police, Demonstrators Clash In Kiev (PHOTOS/VIDEO) - Huffington Post



Ukraine Protest: Police, Demonstrators Clash In Kiev (PHOTOS/VIDEO)Huffington Post

KIEV,

Ukraine

(AP) — Police clashed with protesters and tore down their tents in the main square of the

Ukrainian

capital early Wednesday, in an escalation of a weeks-long standoff threatening the leadership of President Viktor Yanukovych. Hundreds of

...
---
Russia, like Ukraine, will become a real democracy - Financial Times
---
'Ukraine shouldn't be made to choose between Russia and Europe' - RT
---