Ukraine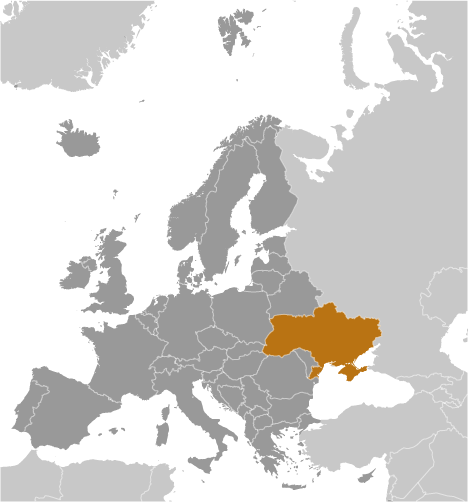 | | |
| --- | --- |
| Country | Ukraine |
| Capital | Kiev |
| Continent | Europe |
| Currency | Hryvnia(UAH) |
| Languages | Ukrainian, Armenian, Belarusian, Bulgarian,Crimean Tatar, Gagauz, German, Greek, Hungarian, Karaim, Krymchak, Moldovan, Polish, Romani, Romanian, Russian, Rusyn, Slovak & Yiddish |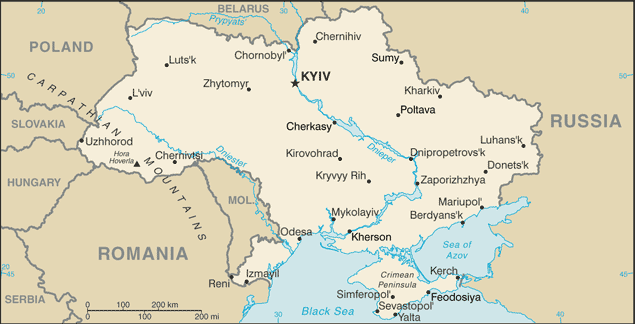 Information
Introduction
Ukraine was the center of the first eastern Slavic state, Kyivan Rus, which during the 10th and 11th centuries was the largest and most powerful state in Europe. Weakened by internecine quarrels and Mongol invasions, Kyivan Rus was incorporated into the Grand Duchy of Lithuania and eventually into the Polish-Lithuanian Commonwealth. The cultural and religious legacy of Kyivan Rus laid the foundation for Ukrainian nationalism through subsequent centuries. A new Ukrainian state, the Cossack Hetmanate, was established during the mid-17th century after an uprising against the Poles. Despite continuous Muscovite pressure, the Hetmanate managed to remain autonomous for well over 100 years. During the latter part of the 18th century, most Ukrainian ethnographic territory was absorbed by the Russian Empire. Following the collapse of czarist Russia in 1917, Ukraine was able to achieve a short-lived period of independence (1917-20), but was reconquered and forced to endure a brutal Soviet rule that engineered two forced famines (1921-22 and 1932-33) in which over 8 million died. In World War II, German and Soviet armies were responsible for some 7 to 8 million more deaths. Although final independence for Ukraine was achieved in 1991 with the dissolution of the USSR, democracy and prosperity remained elusive as the legacy of state control and endemic corruption stalled efforts at economic reform, privatization, and civil liberties. A peaceful mass protest "Orange Revolution" in the closing months of 2004 forced the authorities to overturn a rigged presidential election and to allow a new internationally monitored vote that swept into power a reformist slate under Viktor YUSHCHENKO. Subsequent internal squabbles in the YUSHCHENKO camp allowed his rival Viktor YANUKOVYCH to stage a comeback in parliamentary elections and become prime minister in August of 2006. An early legislative election, brought on by a political crisis in the spring of 2007, saw Yuliya TYMOSHENKO, as head of an "Orange" coalition, installed as a new prime minister in December 2007. Viktor YANUKOVUYCH was elected president in a February 2010 run-off election that observers assessed as meeting most international standards. The following month, the Rada approved a vote of no-confidence prompting Yuliya TYMOSHENKO to resign from her post as prime minister.
Map
References
Ukraine - Wikipedia
Ukraine - CIA World Fact Book
Ukraine - BBC
Ukraine - Timeline - BBC
Cities
Links
News Headlines
Google News
Kiev will not use army to stop Crimea seceding, says Ukraine president - The Guardian
---
Cold War Media Tactics Fuel Ukraine Crisis - New York Times
---
Front and Center in Ukraine Race, a Leader of the Far Right - New York Times
---
Ukraine crisis: EU offers Kiev $700m in trade breaks - BBC News
---
Ukraine crisis: Russians opposed to Putin - BBC News

BBC News



Ukraine crisis: Russians opposed to PutinBBC News

In an emotional speech in Kiev on Sunday, former Russian oil tycoon Mikhail Khodorkovsky - recently released from 10 years in jail - told the Maidan "there is another Russia", one opposed to military action in

Ukraine

. Russian writer and broadcaster

...
---
Kiev's Message to Moscow - New York Times



Kiev's Message to MoscowNew York Times

KIEV,

Ukraine

— AT this very moment, in plain view of the entire world, the final demise of the Soviet empire is unfolding. The plan for its resurrection, long in the works at the Kremlin, has failed:

Ukraine

has proved that it has matured into an

...
---
Ukraine appeals to West as Crimea turns to Russia - Reuters UK



Ukraine appeals to West as Crimea turns to RussiaReuters UK

Voters among the two million population must choose either direct union with Moscow or restoring an old constitution that made Crimea sovereign with ties to

Ukraine

. On Tuesday, the regional assembly passed a resolution that a sovereign Crimea would

...
---
Ukraine's ousted president Viktor Yanukovich vows to return - CBC.ca



Ukraine's ousted president Viktor Yanukovich vows to returnCBC.ca

Ousted leader Viktor Yanukovich insisted on Tuesday that he remained

Ukraine's

legitimate president and commander-in-chief, saying he would return to Kiev and appealing to the armed forces to defy any "criminal orders" handed down by his foes.

Ukraine ...
---
Ukraine's ultra-nationalists present a need for US caution - Washington Post



Ukraine's ultra-nationalists present a need for US cautionWashington Post

When the new

Ukrainian

prime minister visits the White House this week, President Obama should offer continued support — but also ask pointedly why several far-right ultra-nationalists have such prominent roles in

Ukraine's

new government. I don't

...
---
Ousted Ukraine leader: US giving aid to 'bandits' - USA TODAY



Ousted Ukraine leader: US giving aid to 'bandits'USA TODAY

Ousted

Ukrainian

president Viktor Yanukovych warned Tuesday that "dark forces" were creating the conditions for a

Ukrainian

civil war. He made the comments during a news conference in the Russian city of Rostov-on-Don, the second time he has appeared

...
---