Ukraine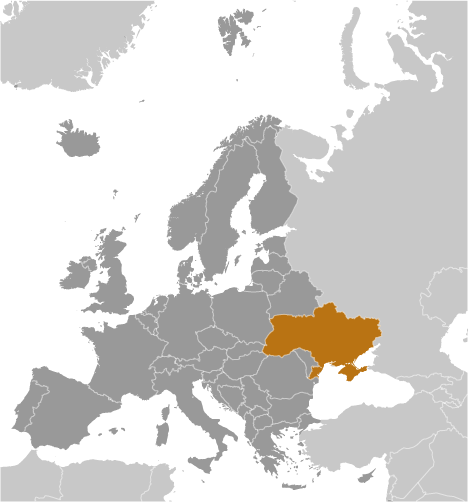 | | |
| --- | --- |
| Country | Ukraine |
| Capital | Kiev |
| Continent | Europe |
| Currency | Hryvnia(UAH) |
| Languages | Ukrainian, Armenian, Belarusian, Bulgarian,Crimean Tatar, Gagauz, German, Greek, Hungarian, Karaim, Krymchak, Moldovan, Polish, Romani, Romanian, Russian, Rusyn, Slovak & Yiddish |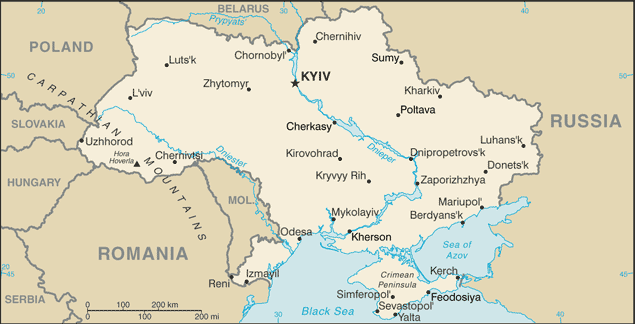 Information
Introduction
Ukraine was the center of the first eastern Slavic state, Kyivan Rus, which during the 10th and 11th centuries was the largest and most powerful state in Europe. Weakened by internecine quarrels and Mongol invasions, Kyivan Rus was incorporated into the Grand Duchy of Lithuania and eventually into the Polish-Lithuanian Commonwealth. The cultural and religious legacy of Kyivan Rus laid the foundation for Ukrainian nationalism through subsequent centuries. A new Ukrainian state, the Cossack Hetmanate, was established during the mid-17th century after an uprising against the Poles. Despite continuous Muscovite pressure, the Hetmanate managed to remain autonomous for well over 100 years. During the latter part of the 18th century, most Ukrainian ethnographic territory was absorbed by the Russian Empire. Following the collapse of czarist Russia in 1917, Ukraine was able to achieve a short-lived period of independence (1917-20), but was reconquered and forced to endure a brutal Soviet rule that engineered two forced famines (1921-22 and 1932-33) in which over 8 million died. In World War II, German and Soviet armies were responsible for some 7 to 8 million more deaths. Although final independence for Ukraine was achieved in 1991 with the dissolution of the USSR, democracy and prosperity remained elusive as the legacy of state control and endemic corruption stalled efforts at economic reform, privatization, and civil liberties. A peaceful mass protest "Orange Revolution" in the closing months of 2004 forced the authorities to overturn a rigged presidential election and to allow a new internationally monitored vote that swept into power a reformist slate under Viktor YUSHCHENKO. Subsequent internal squabbles in the YUSHCHENKO camp allowed his rival Viktor YANUKOVYCH to stage a comeback in parliamentary elections and become prime minister in August of 2006. An early legislative election, brought on by a political crisis in the spring of 2007, saw Yuliya TYMOSHENKO, as head of an "Orange" coalition, installed as a new prime minister in December 2007. Viktor YANUKOVUYCH was elected president in a February 2010 run-off election that observers assessed as meeting most international standards. The following month, the Rada approved a vote of no-confidence prompting Yuliya TYMOSHENKO to resign from her post as prime minister.
Map
References
Ukraine - Wikipedia
Ukraine - CIA World Fact Book
Ukraine - BBC
Ukraine - Timeline - BBC
Cities
Links
News Headlines
Google News
Ukraine crisis: Amnesty deplores abuses by both sides - BBC News
---
Ukraine's politicians face mob attacks - BBC News

BBC News



Ukraine's politicians face mob attacksBBC News

Over the past few weeks,

Ukrainian

political activists have carried out a series of sensational actions, seizing politicians and local officials and throwing them into big bins. The activists, many from far-right groups, accuse the politicians of

...and more »
---
Pro-Russian rebels using seized Ukrainian missile downed MH17 passenger ... - Sydney Morning Herald
---
Russia, Ukraine Edge Closer to Natural-Gas Deal - Wall Street Journal

Wall Street Journal



Russia, Ukraine Edge Closer to Natural-Gas DealWall Street Journal

KIEV,

Ukraine

—Russia and

Ukraine

have reached a preliminary agreement on a price for winter gas supplies, officials from both countries said, moving closer to a deal that would ease concerns that the countries' dispute could disrupt supplies to Europe

...
---
Ukraine parliament says 100s died in battle - U.S. News & World Report
---
Voices: Rescuing a woman stuck in Ukraine war zone - USA TODAY

USA TODAY



Voices: Rescuing a woman stuck in Ukraine war zoneUSA TODAY

DONETSK,

Ukraine

— A visit to the command post of rebels fighting for control of the battered airport Friday turned into a mission to help Nadezda Panasyk, 75, the last civilian living in the same building. Convincing her to leave was one thing

...
---
Russia Won't Accept Terms to End Sanctions Over Ukraine - Bloomberg

Bloomberg



Russia Won't Accept Terms to End Sanctions Over UkraineBloomberg

The U.S. and the European Union imposed restrictions on Russian officials and companies after the March annexation of Crimea and July's downing of a Malaysian passenger plane over eastern

Ukraine

. Russia's partners, including overseas politicians and ...
---
EU Must Help Ukraine Secure Gas Supply, Says UK Foreign Secretary - Wall Street Journal
---
Give Ukraine the weapons it needs for self-defense - Washington Post



Give Ukraine the weapons it needs for self-defenseWashington Post

When

Ukrainian

President Petro Poroshenko spoke to a joint session of Congress last month, he thanked the United States for its assistance in confronting Russian aggression, and indeed, our country, along with our NATO allies, has done much.
---
Ground zero in the battle for Ukraine: Donetsk airport - USA TODAY

USA TODAY



Ground zero in the battle for Ukraine: Donetsk airportUSA TODAY

DONETSK,

Ukraine

— The airport here in this battle-scarred region of eastern

Ukraine

seems oblivious to the cease-fire brokered six weeks ago. The battles between Russian-backed rebels and

Ukrainian

forces rage on at a place that has taken on greater ...
---