Timor-Leste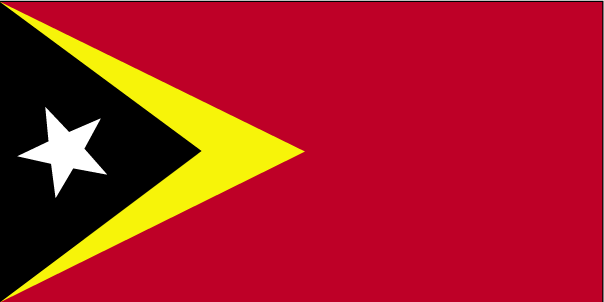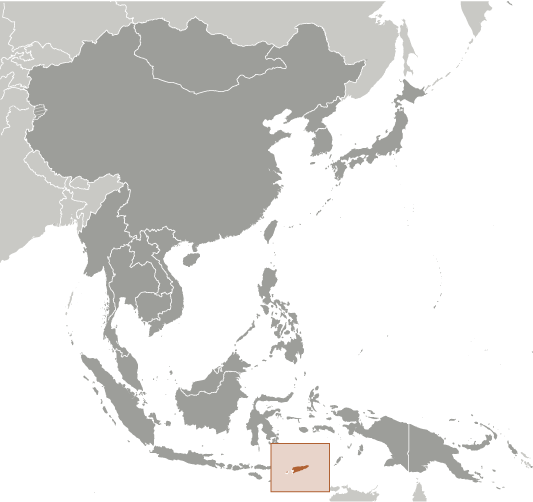 | | |
| --- | --- |
| Country | Timor-leste |
| Capital | Dili |
| Continent | East & Southeast Asia |
| Currency | United States dollar(USD) |
| Languages | Portuguese, Tetum, Indonesian & English |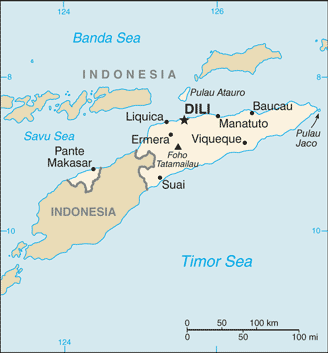 Information
Introduction
The Portuguese began to trade with the island of Timor in the early 16th century and colonized it in mid-century. Skirmishing with the Dutch in the region eventually resulted in an 1859 treaty in which Portugal ceded the western portion of the island. Imperial Japan occupied Portuguese Timor from 1942 to 1945, but Portugal resumed colonial authority after the Japanese defeat in World War II. East Timor declared itself independent from Portugal on 28 November 1975 and was invaded and occupied by Indonesian forces nine days later. It was incorporated into Indonesia in July 1976 as the province of Timor Timur (East Timor). An unsuccessful campaign of pacification followed over the next two decades, during which an estimated 100,000 to 250,000 individuals lost their lives. On 30 August 1999, in a UN-supervised popular referendum, an overwhelming majority of the people of Timor-Leste voted for independence from Indonesia. Between the referendum and the arrival of a multinational peacekeeping force in late September 1999, anti-independence Timorese militias - organized and supported by the Indonesian military - commenced a large-scale, scorched-earth campaign of retribution. The militias killed approximately 1,400 Timorese and forcibly pushed 300,000 people into western Timor as refugees. The majority of the country's infrastructure, including homes, irrigation systems, water supply systems, and schools, and nearly 100% of the country's electrical grid were destroyed. On 20 September 1999, the Australian-led peacekeeping troops of the International Force for East Timor (INTERFET) deployed to the country and brought the violence to an end. On 20 May 2002, Timor-Leste was internationally recognized as an independent state. In late April 2006, internal tensions threatened the new nation's security when a military strike led to violence and a near breakdown of law and order. At Dili's request, an Australian-led International Stabilization Force (ISF) deployed to Timor-Leste in late May. In August, the UN Security Council established the UN Integrated Mission in Timor-Leste (UNMIT), which included an authorized police presence of over 1,600 personnel. The ISF and UNMIT restored stability, allowing for presidential and parliamentary elections in April and June 2007 in a largely peaceful atmosphere. In February 2008, a rebel group staged an unsuccessful attack against the president and prime minister. The ringleader was killed in the attack and the majority of the rebels surrendered in April 2008. Since the unsuccessful attacks the government has enjoyed one of its longest periods of post-independence stability.
Map
References
Timor-Leste - Wikipedia
Timor-Leste - CIA World Fact Book
Timor-Leste - BBC
Timor-Leste - Timeline - BBC
Cities
Links
News Headlines
Google News
This RSS feed URL is deprecatedThis RSS feed URL is deprecated, please update. New URLs can be found in the footers at https://news.google.com/news

---
PH Azkals suffer embarrassing loss to Timor Leste - Inquirer.net
---
Portuguese couple detained in Darwin after arriving by boat from Timor-Leste - The Guardian
---
Emergency Obstetric and Newborn Care (EmONC) Improvement Plan of Action - Timor-Leste 2016-2019 - ReliefWeb
---
IMF Executive Board Concludes 2017 Article IV Consultation with the Democratic Republic of Timor-Leste - International Monetary Fund
---
Keeping the water running in Timor Leste - Pursuit

Pursuit



Keeping the water running in Timor LestePursuit

Little wonder then, that there is an ongoing effort by the governments of

Timor Leste

and Australia and a broad group of NGOs, to bring water closer to people's homes. When I visited

Timor Leste

as part of my research into the system dynamics of rural

...
---
Timor-Leste embassy in Pretoria sacks new mother - Citizen

Citizen



Timor-Leste embassy in Pretoria sacks new motherCitizen

A young mother is struggling despite winning a court battle for unfair dismissal against the

Timor-Leste

embassy in Pretoria, which fired her because she was pregnant, only for the embassy to hide behind diplomatic immunity. Noma Dlamalala, a South

...
---
WFP Timor-Leste Country Brief, October 2017 - ReliefWeb

ReliefWeb



WFP Timor-Leste Country Brief, October 2017ReliefWeb

WFP supported the conduct of the

Timor-Leste

Strategic Review: Progress and Success in Achieving Sustainable Development Goal 2 undertaken by local non-governmental organization (NGO) the Centre of Studies for Peace and Development (CEPAD) and Johns

...
---
Opposition to Current Political Situation in Timor-Leste - Scoop.co.nz (press release)



Opposition to Current Political Situation in Timor-LesteScoop.co.nz (press release)

Dili, 2 December, 2017 – On December 2nd 2017, the most voted political party at 2017 elections, Frente Revolucionária do

Timor-Leste

Independente (FRETILIN), held an extended Central Committee meeting at its headquarters. The meeting, that had around

...and more »
---
Football: Azkals end Taipei campaign with loss to Timor-Leste - ABS-CBN News

ABS-CBN News



Football: Azkals end Taipei campaign with loss to Timor-LesteABS-CBN News

The Philippine Azkals suffered their second straight defeat in their last game at the Chinese Taipei Football Association (CTFA) International Tournament on Tuesday. The Azkals bowed to

Timor Leste

, 1-0, two days after sustaining a 3-0 defeat at the hands of host team Chinese-Taipei. The Filipinos had a smashing opening in the CTFA when they dominated Laos, 3-1. The CTFA International Tournament is a the four-nation competition taking place at the Municipal Stadium in Taipei. (For more sports coverage, visit ...
---
42 years after Timor-Leste's declared independence, a democracy plea - Asia Pacific Report
---