Japan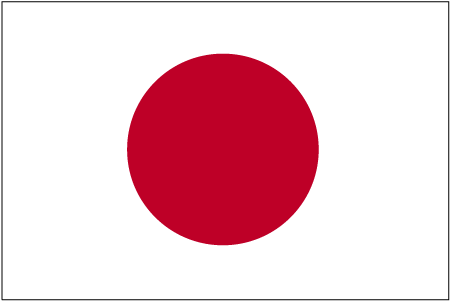 | | |
| --- | --- |
| Country | Japan |
| Capital | Tokyo |
| Continent | Asia |
| Currency | Yen(JPY) |
| Languages | Japanese, Aynu itak, Ryukyuan languages, Eastern Japanese & Western Japanese |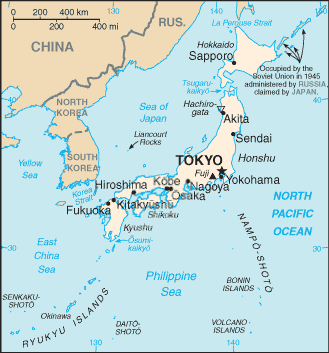 Information
Introduction
In 1603, after decades of civil warfare, the Tokugawa shogunate (a military-led, dynastic government) ushered in a long period of relative political stability and isolation from foreign influence. For more than two centuries this policy enabled Japan to enjoy a flowering of its indigenous culture. Japan opened its ports after signing the Treaty of Kanagawa with the US in 1854 and began to intensively modernize and industrialize. During the late 19th and early 20th centuries, Japan became a regional power that was able to defeat the forces of both China and Russia. It occupied Korea, Formosa (Taiwan), and southern Sakhalin Island. In 1931-32 Japan occupied Manchuria, and in 1937 it launched a full-scale invasion of China. Japan attacked US forces in 1941 - triggering America's entry into World War II - and soon occupied much of East and Southeast Asia. After its defeat in World War II, Japan recovered to become an economic power and an ally of the US. While the emperor retains his throne as a symbol of national unity, elected politicians hold actual decision-making power. Following three decades of unprecedented growth, Japan's economy experienced a major slowdown starting in the 1990s, but the country remains a major economic power. In January 2009, Japan assumed a nonpermanent seat on the UN Security Council for the 2009-10 term.
Map
References
Japan - Wikipedia
Japan - CIA World Fact Book
Japan - BBC
Japan - National Geographic
Japan - Timeline - BBC
Cities
Links
News Headlines
Google News
This RSS feed URL is deprecatedThis RSS feed URL is deprecated, please update. New URLs can be found in the footers at https://news.google.com/news

---
Japan's Naomi Osaka claims Indian Wells title - NHK WORLD



Japan's Naomi Osaka claims Indian Wells titleNHK WORLD

Women's tennis has a new star in 20-year-old

Japanese

sensation Naomi Osaka, who just landed her first top-level title at Indian Wells, California. After pulling off a string of upsets at the BNP Paribas Open, Osaka thrashed Russia's Daria Kasatkina in

...and more »
---
Japan welcomed 20% more tourists in 2017 — and the number is ... - CNBC
---
Canada secures top seed with win over Japan at women's curling worlds - CBC.ca
---
Bitcoin drops over 4% after Japan warns largest operator - Economic Times
---
Could Tepco's New Strategy Spur Offshore Wind in Japan? - Greentech Media
---
The Bizarre, Innovative World of Japanese Kit Kats - Fortune

Fortune



The Bizarre, Innovative World of Japanese Kit KatsFortune

Nestlé, which owns the brand abroad (Hershey owns it in the U.S.), leaned into Kit Kat's burgeoning popularity, fueled by

Japan's

prominent gift-giving culture, and introduced more flavors, like Mini Rum Raisin (with local Tokyo ingredients), and

...
---
Hear Shawn Mendes Flex R&B Skills With New Song 'Lost in Japan' - RollingStone.com
---
Japan to press charges against four firms over maglev train contracts - Reuters
---
An F-35B for Japan's Izumo-class: Obstacles and Challenges - The Diplomat
---
Japan Warns Binance Exchange Over Licensing - CoinDesk

CoinDesk



Japan Warns Binance Exchange Over LicensingCoinDesk

In a statement published by the Financial Services Agency on Friday, the agency confirmed Thursday's news that suggested Binance was about to be warned by the financial watchdog given its lack of registration with the regulator. Yet the statement does

...
---