Thailand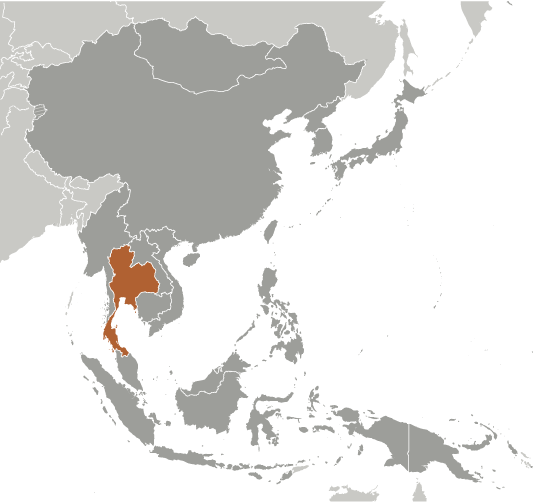 | | |
| --- | --- |
| Country | Thailand |
| Capital | Bangkok |
| Continent | Asia |
| Currency | Baht(THB) |
| Languages | Thai |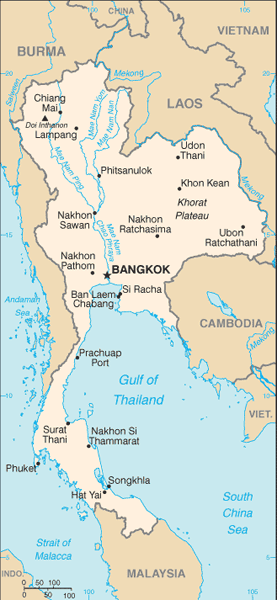 Information
Introduction
A unified Thai kingdom was established in the mid-14th century. Known as Siam until 1939, Thailand is the only Southeast Asian country never to have been taken over by a European power. A bloodless revolution in 1932 led to a constitutional monarchy. In alliance with Japan during World War II, Thailand became a US treaty ally following the conflict. A military coup in September 2006 ousted then Prime Minister THAKSIN Chinnawat. The interim government held elections in December 2007 that saw the former pro-THAKSIN People's Power Party (PPP) emerge at the head of a coalition government. The anti-THAKSIN People's Alliance for Democracy (PAD) in May 2008 began street demonstrations against the new government, eventually occupying the prime minister's office in August and Bangkok's two international airports in November. The PAD ended their protests in early December 2008 following a court ruling that dissolved the ruling PPP and two other coalition parties for election violations. The Democrat Party then formed a new coalition government and ABHISIT Wetchachiwa became prime minister. In October 2008 THAKSIN went into voluntary exile to avoid imprisonment for a corruption conviction, and has since agitated his followers from abroad. THAKSIN supporters re-organized into the United Front for Democracy Against Dictatorship (UDD) and rioted in April 2009, shutting down an ASEAN meeting in Phuket, and in early 2010 protested a court verdict confiscating most of THAKSIN's wealth. Since January 2004, thousands have been killed as separatists in Thailand's southern ethnic Malay-Muslim provinces increased the violence associated with their cause.
Map
References
Thailand - Wikipedia
Thailand - CIA World Fact Book
Thailand - BBC
Thailand - Timeline - BBC
Cities
Links
News Headlines
Google News
Thailand's Buddhist monks order reforms ahead of royal transition - Channel NewsAsia
---
Thailand: A beachside story - Forbes India

Forbes India



Thailand: A beachside storyForbes India

Instead, we are walking around the Bluport Mall in Hua Hin in

Thailand

looking for a beach accessories shop because we have decided that this holiday cannot be complete without a float. Not just any float, but one shaped like a pizza slice (bright

...
---
10 reasons why you should go to Thailand - Skyscanner News (blog)
---
Facebook says Zuckerberg has no plan to visit Thailand - The Nation
---
US, Thailand plan Cobra Gold 2018 - Bangkok Post

Bangkok Post



US, Thailand plan Cobra Gold 2018Bangkok PostThailand

and the US will launch the next Cobra Gold drill, the biggest annual multilateral military exercise in the Asia-Pacific, on Feb 13-23 next year, with 29 participating countries and more than 12,000 military personnel, according to the Royal

...and more »
---
Cuba plants its medical diplomacy flag in Thailand - Nikkei Asian Review
---
Caught on camera: Video shows airport staff in Thailand rifling ... - Scroll.in
---
Thitinan Pongsudhirak: Thailand needs to escape its political cul-de-sac - Nikkei Asian Review
---
How to register a drone in Thailand - The Nation

The Nation



How to register a drone in ThailandThe Nation

Last week, the

Thailand's

National Broadcasting and Telecommunications Commission (NBTC) announced that all drones in

Thailand

need to be registered. The NBTC said the move came after only 350 drones out of an estimated 50,000 had previously ...

and more »
---
National security tops list in Zuckerberg talks in Thailand - ASEAN ... - The Star Online
---