Thailand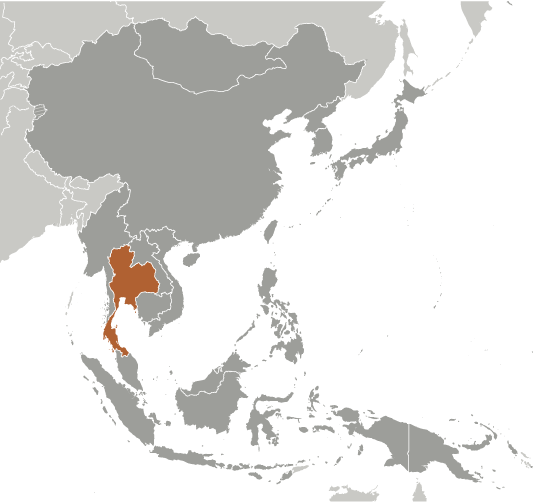 | | |
| --- | --- |
| Country | Thailand |
| Capital | Bangkok |
| Continent | Asia |
| Currency | Baht(THB) |
| Languages | Thai |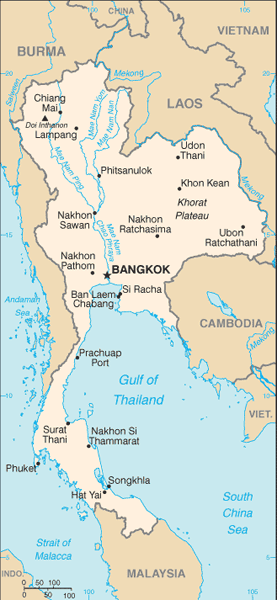 Information
Introduction
A unified Thai kingdom was established in the mid-14th century. Known as Siam until 1939, Thailand is the only Southeast Asian country never to have been taken over by a European power. A bloodless revolution in 1932 led to a constitutional monarchy. In alliance with Japan during World War II, Thailand became a US treaty ally following the conflict. A military coup in September 2006 ousted then Prime Minister THAKSIN Chinnawat. The interim government held elections in December 2007 that saw the former pro-THAKSIN People's Power Party (PPP) emerge at the head of a coalition government. The anti-THAKSIN People's Alliance for Democracy (PAD) in May 2008 began street demonstrations against the new government, eventually occupying the prime minister's office in August and Bangkok's two international airports in November. The PAD ended their protests in early December 2008 following a court ruling that dissolved the ruling PPP and two other coalition parties for election violations. The Democrat Party then formed a new coalition government and ABHISIT Wetchachiwa became prime minister. In October 2008 THAKSIN went into voluntary exile to avoid imprisonment for a corruption conviction, and has since agitated his followers from abroad. THAKSIN supporters re-organized into the United Front for Democracy Against Dictatorship (UDD) and rioted in April 2009, shutting down an ASEAN meeting in Phuket, and in early 2010 protested a court verdict confiscating most of THAKSIN's wealth. Since January 2004, thousands have been killed as separatists in Thailand's southern ethnic Malay-Muslim provinces increased the violence associated with their cause.
Map
References
Thailand - Wikipedia
Thailand - CIA World Fact Book
Thailand - BBC
Thailand - Timeline - BBC
Cities
Links
News Headlines
Google News
This RSS feed URL is deprecatedThis RSS feed URL is deprecated, please update. New URLs can be found in the footers at https://news.google.com/news

---
There's been an 'overreaction' in Thai stocks to trade war risks, says exchange executive - CNBC
---
Kerry targets Thailand through new meat research centre - GlobalMeatNews.com
---
WSB: Rea leads as eight riders split by 0.2 in Thailand - Motorcycle News
---
How Thailand made ice cream even more exciting - USA Today 10Best (blog)
---
World Superbike championship heads to Thailand: what to expect from the Chang International Circuit this weekend - Telegraph.co.uk
---
Anime, Michelin Man and Transformers: Truck art thrives in Thailand - Borneo Bulletin Online
---
After Busy FilMart, Thailand Takes Pitch Event to Cannes - Variety

Variety



After Busy FilMart, Thailand Takes Pitch Event to CannesVariety

Tongpong Chantarangkul ("I Carried You Home") will pitch his second feature, "The Fireflies," set in Barcelona, about a fire juggler; Tanwarin Sukhaphisit, ("A Gas Station") pitches LGBT-themed project "Down in Heaven"; and Chatchai Chaiyon, is

...
---
Honda CR-V named 2017 Thailand Car of the Year - Bangkok Post
---
Sustainable "Smart City" Grows in Thailand - ENGINEERING.com

ENGINEERING.com



Sustainable "Smart City" Grows in ThailandENGINEERING.com

WHIZDOM 101 aims to be "great for you, great for business, great for the community, great for earth…great for a life of fulfillment." (Image courtesy of Magnolia Quality Development Corporation Limited.) In July 2015, Magnolia Quality Development

...
---
Cambodia, Thailand to cooperate on fugitives - The Phnom Penh Post
---