Thailand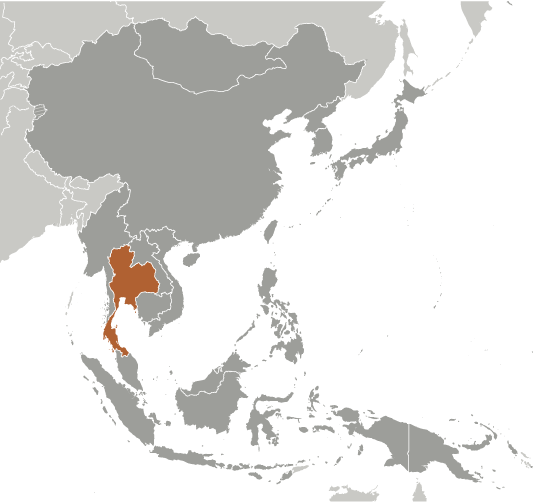 | | |
| --- | --- |
| Country | Thailand |
| Capital | Bangkok |
| Continent | Asia |
| Currency | Baht(THB) |
| Languages | Thai |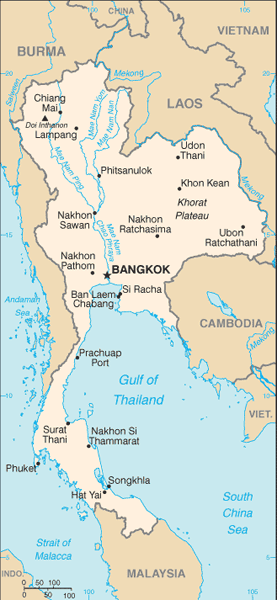 Information
Introduction
A unified Thai kingdom was established in the mid-14th century. Known as Siam until 1939, Thailand is the only Southeast Asian country never to have been taken over by a European power. A bloodless revolution in 1932 led to a constitutional monarchy. In alliance with Japan during World War II, Thailand became a US treaty ally following the conflict. A military coup in September 2006 ousted then Prime Minister THAKSIN Chinnawat. The interim government held elections in December 2007 that saw the former pro-THAKSIN People's Power Party (PPP) emerge at the head of a coalition government. The anti-THAKSIN People's Alliance for Democracy (PAD) in May 2008 began street demonstrations against the new government, eventually occupying the prime minister's office in August and Bangkok's two international airports in November. The PAD ended their protests in early December 2008 following a court ruling that dissolved the ruling PPP and two other coalition parties for election violations. The Democrat Party then formed a new coalition government and ABHISIT Wetchachiwa became prime minister. In October 2008 THAKSIN went into voluntary exile to avoid imprisonment for a corruption conviction, and has since agitated his followers from abroad. THAKSIN supporters re-organized into the United Front for Democracy Against Dictatorship (UDD) and rioted in April 2009, shutting down an ASEAN meeting in Phuket, and in early 2010 protested a court verdict confiscating most of THAKSIN's wealth. Since January 2004, thousands have been killed as separatists in Thailand's southern ethnic Malay-Muslim provinces increased the violence associated with their cause.
Map
References
Thailand - Wikipedia
Thailand - CIA World Fact Book
Thailand - BBC
Thailand - Timeline - BBC
Cities
Links
News Headlines
Google News
This RSS feed URL is deprecatedThis RSS feed URL is deprecated, please update. New URLs can be found in the footers at https://news.google.com/news

---
What Does A $100000 Dream Honeymoon In Thailand Buy? - Forbes

Forbes



What Does A $100000 Dream Honeymoon In Thailand Buy?Forbes

'

Thailand

combines luxurious accommodations, idyllic beaches and a chance for couples to truly immerse themselves in the setting," says Tom Barber, co-founder of Original Travel. "The range of choices is so abundant—whether it's dining at a world

...
---
Doi Tung Trenches - Atlas Obscura

Atlas Obscura



Doi Tung TrenchesAtlas Obscura

Second, it has no morphological barrier; the slopes of the mountains simply meet at the top, but apart from manmade fences, there are no natural obstacles between

Thailand

and Myanmar. Due to the elevation, weather can be unpredictable. On a clear day, ...
---
China to create trade zone with Thailand and Laos as tariffs bite - Nikkei Asian Review
---
Thailand Has Waived Off Its Visa On Arrival Fee For 2 Months So New Year Plans Are Sorted - ScoopWhoop
---
Thailand bans smoking in public areas, 'other places' - Times of India
---
Thailand's CP Group, BSR bid for US$6.8b high-speed rail project - The Edge Markets MY
---
Thailand loses WTO dispute over cigarette imports - Nikkei Asian Review
---
Facebook Expands Dating To Canada And Thailand - We are Social Media (press release) (blog)
---
Pan Orient Energy Corp.: Thailand Successful Appraisal Well L53-DD2 - GlobeNewswire (press release)
---
These Otherworldly Natural Pools in Thailand Are Always Vivid Blue and Green - Travel+Leisure
---