Vietnam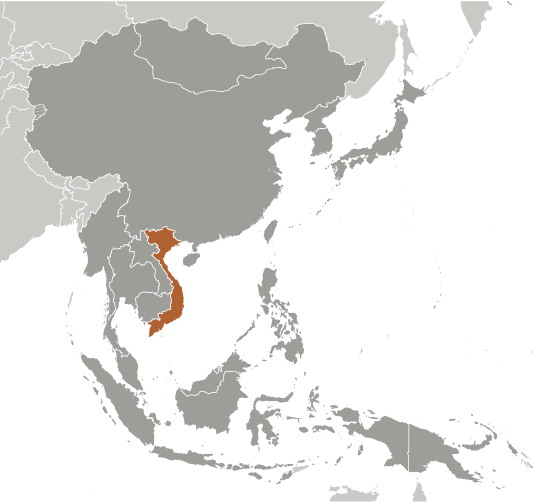 | | |
| --- | --- |
| Country | Vietnam |
| Capital | Hanoi |
| Continent | Asia |
| Currency | Dong(VND) |
| Languages | Vietnamese |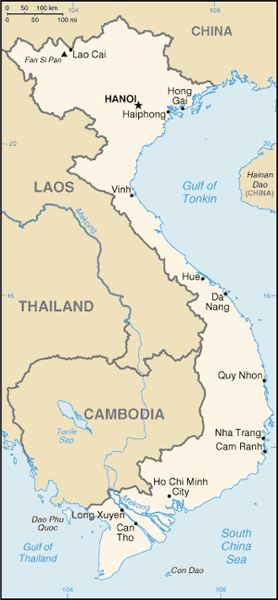 Information
Introduction
The conquest of Vietnam by France began in 1858 and was completed by 1884. It became part of French Indochina in 1887. Vietnam declared independence after World War II, but France continued to rule until its 1954 defeat by Communist forces under Ho Chi MINH. Under the Geneva Accords of 1954, Vietnam was divided into the Communist North and anti-Communist South. US economic and military aid to South Vietnam grew through the 1960s in an attempt to bolster the government, but US armed forces were withdrawn following a cease-fire agreement in 1973. Two years later, North Vietnamese forces overran the South reuniting the country under Communist rule. Despite the return of peace, for over a decade the country experienced little economic growth because of conservative leadership policies, the persecution and mass exodus of individuals - many of them successful South Vietnamese merchants - and growing international isolation. However, since the enactment of Vietnam's "doi moi" (renovation) policy in 1986, Vietnamese authorities have committed to increased economic liberalization and enacted structural reforms needed to modernize the economy and to produce more competitive, export-driven industries. The country continues to experience small-scale protests from various groups, the vast majority connected to land-use issues and the lack of equitable mechanisms for resolving disputes. Various ethnic minorities, such as the Montagnards of the Central Highlands and the Khmer Krom in the southern delta region, have also held protests.
Map
References
Vietnam - Wikipedia
Vietnam - CIA World Fact Book
Vietnam - BBC
Vietnam - National Geographic
Vietnam - Timeline - BBC
Cities
Links
News Headlines
Google News
An Annoyed Vietnam Is Taking The Upper Hand In Relations With ... - Forbes
---
Joel Freedman: Ted Studebaker fought a different kind of Vietnam battle - MPNnow.com
---
Honoring the heroes of Vietnam - Seacoastonline.com
---
Arthur I. Cyr: The Vietnam War: Legacies and lessons - Jackson County Newspapers
---
Vietnam, Indonesia vessels clash in South China Sea - Washington Post
---
50 Years Ago This Week: Vietnam and the Black Soldier - TIME

TIME



50 Years Ago This Week: Vietnam and the Black SoldierTIME

In the wake of Muhammad Ali's very public refusal to fight in

Vietnam

, TIME's cover story took an in-depth look at the often paradoxical situation facing the African-American population in relation to the War in

Vietnam

. The story doesn't escape

...
---
Vietnam veteran to speak in Yanceyville - Burlington Times News

Burlington Times News



Vietnam veteran to speak in YanceyvilleBurlington Times News

Jerond Belton Sr. joined the Army in 1965 and stayed until 1971, serving in 1966 and 1967 in

Vietnam

. He was a "tunnel rat": he crawled through tunnels to force the enemy out of holes and into the open. He was wounded by a punji stick to the leg. Later

...
---
Q&A: Messer in Vietnam - gasworld



Q&A: Messer in Vietnamgasworld

Under the contract, Messer will construct two plants in the Dung Quat economic zone in southern-central

Vietnam

to supply oxygen (O2), nitrogen (N2) and argon (Ar) to the steelworks by pipeline. The sites will produce 80,000 Nm

3

of O2 and 160,000 Nm

3 ...
---
Enterprises to combat illegal trade of wildlife - Viet Nam News
---
NFCC student travels to Vietnam - Madison County Carrier

Madison County Carrier



NFCC student travels to VietnamMadison County Carrier

One of the stops on Teagan Dunn's trip to

Vietnam

with Denise Bell included a museum tour. Bell and Dunn (second and third from left) are pictured with several members of Bell's family. Bell, Bell's mom, Bell's older brother, and Dunn departed

...
---