Vietnam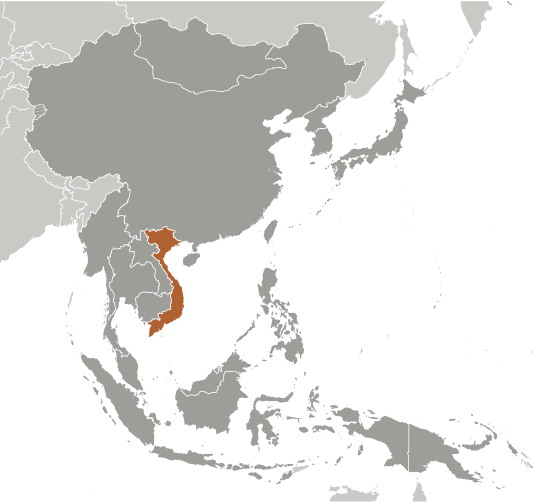 | | |
| --- | --- |
| Country | Vietnam |
| Capital | Hanoi |
| Continent | Asia |
| Currency | Dong(VND) |
| Languages | Vietnamese |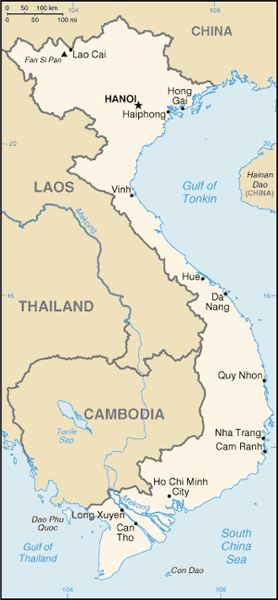 Information
Introduction
The conquest of Vietnam by France began in 1858 and was completed by 1884. It became part of French Indochina in 1887. Vietnam declared independence after World War II, but France continued to rule until its 1954 defeat by Communist forces under Ho Chi MINH. Under the Geneva Accords of 1954, Vietnam was divided into the Communist North and anti-Communist South. US economic and military aid to South Vietnam grew through the 1960s in an attempt to bolster the government, but US armed forces were withdrawn following a cease-fire agreement in 1973. Two years later, North Vietnamese forces overran the South reuniting the country under Communist rule. Despite the return of peace, for over a decade the country experienced little economic growth because of conservative leadership policies, the persecution and mass exodus of individuals - many of them successful South Vietnamese merchants - and growing international isolation. However, since the enactment of Vietnam's "doi moi" (renovation) policy in 1986, Vietnamese authorities have committed to increased economic liberalization and enacted structural reforms needed to modernize the economy and to produce more competitive, export-driven industries. The country continues to experience small-scale protests from various groups, the vast majority connected to land-use issues and the lack of equitable mechanisms for resolving disputes. Various ethnic minorities, such as the Montagnards of the Central Highlands and the Khmer Krom in the southern delta region, have also held protests.
Map
References
Vietnam - Wikipedia
Vietnam - CIA World Fact Book
Vietnam - BBC
Vietnam - National Geographic
Vietnam - Timeline - BBC
Cities
Links
News Headlines
Google News
Vietnam: Free Blogger "Mother Mushroom" - Human Rights Watch

Human Rights Watch



Vietnam: Free Blogger "Mother Mushroom"Human Rights Watch

(New York, June 28, 2017) –

Vietnam

should immediately free Nguyen Ngoc Nhu Quynh (also known as "Mother Mushroom") and drop all charges against her, Human Rights Watch said today. Police arrested her in October 2016, and pressed a charge of ...
---
How Vietnam Learned to Stop Poaching and Love Its Beasts - OZY

OZY



How Vietnam Learned to Stop Poaching and Love Its BeastsOZY

For decades

Vietnam

has seemed indifferent to its wildlife. Vietnamese traditional medicine makes use of everything from bear bile to pangolin scales, and plenty of customers clamor after status symbols like ivory. What's more,

Vietnam

is an important

...
---
'I Ain't Got No Quarrel With Them Vietcong' - New York Times

New York Times



'I Ain't Got No Quarrel With Them Vietcong'New York Times

Ali, who had recently converted to Islam but whom many papers still referred to by his birth name, Cassius Clay, was big news, whatever he did, and he was easily the most famous person to refuse to serve in

Vietnam

thus far. And he did so for reasons

...
---
The Story of a Deadwood Vietnam Veteran: "Along the Way" - KEVN Black Hills Fox
---
SHoP Selected to Design Campus for Fulbright University Vietnam in Ho Chi Minh City - ArchDaily
---
Do your kids know about the Vietnam War? Group looks to educate and honor - Q13 FOX
---
Vietnam exiles dissident after revoking his citizenship - Aljazeera.com
---
Vietnam dong, gold and interbank rates - June 28 - Times of India



Vietnam dong, gold and interbank rates - June 28Times of India

4, 2016 the State Bank of

Vietnam

has begun setting the mid-point rate on daily basis, allowing dollar/dong transactions to move in a band of +/- 3 percent around the mid point. The dong's exchange rate against other currencies is not restricted by a band.

and more »
---
Vietnam Traveling Memorial Wall coming to Bucks County - Philly.com

Philly.com



Vietnam Traveling Memorial Wall coming to Bucks CountyPhilly.com

John Rumsey, 65, a U.S. Marine and

Vietnam

combat veteran who was awarded the Purple Heart, is among 200 volunteers bringing the

Vietnam

Traveling Memorial Wall to Penndel in July. He stands outside his Langhorne home, where framed photos of two ...
---
What's Behind the Resumed Vietnam-Philippines South China Sea Activity? - The Diplomat
---