Vietnam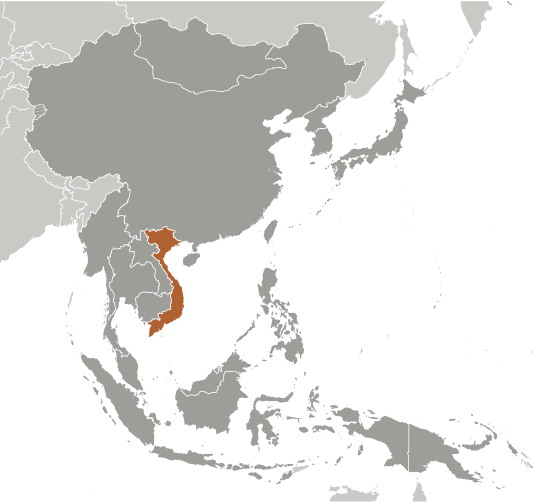 | | |
| --- | --- |
| Country | Vietnam |
| Capital | Hanoi |
| Continent | Asia |
| Currency | Dong(VND) |
| Languages | Vietnamese |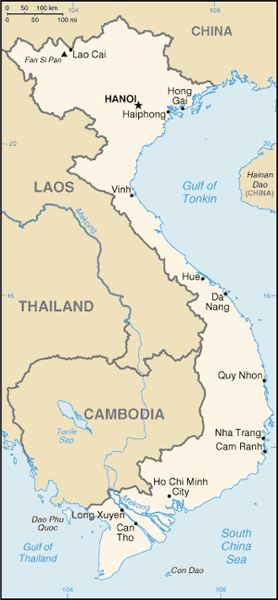 Information
Introduction
The conquest of Vietnam by France began in 1858 and was completed by 1884. It became part of French Indochina in 1887. Vietnam declared independence after World War II, but France continued to rule until its 1954 defeat by Communist forces under Ho Chi MINH. Under the Geneva Accords of 1954, Vietnam was divided into the Communist North and anti-Communist South. US economic and military aid to South Vietnam grew through the 1960s in an attempt to bolster the government, but US armed forces were withdrawn following a cease-fire agreement in 1973. Two years later, North Vietnamese forces overran the South reuniting the country under Communist rule. Despite the return of peace, for over a decade the country experienced little economic growth because of conservative leadership policies, the persecution and mass exodus of individuals - many of them successful South Vietnamese merchants - and growing international isolation. However, since the enactment of Vietnam's "doi moi" (renovation) policy in 1986, Vietnamese authorities have committed to increased economic liberalization and enacted structural reforms needed to modernize the economy and to produce more competitive, export-driven industries. The country continues to experience small-scale protests from various groups, the vast majority connected to land-use issues and the lack of equitable mechanisms for resolving disputes. Various ethnic minorities, such as the Montagnards of the Central Highlands and the Khmer Krom in the southern delta region, have also held protests.
Map
References
Vietnam - Wikipedia
Vietnam - CIA World Fact Book
Vietnam - BBC
Vietnam - National Geographic
Vietnam - Timeline - BBC
Cities
Links
News Headlines
Google News
Montagnards: Escaping Vietnam, stateless in Thailand - Aljazeera.com

Aljazeera.com



Montagnards: Escaping Vietnam, stateless in ThailandAljazeera.com

The Montagnards are the native inhabitants of the Central Highlands, one of

Vietnam's

mountainous regions that is known for its coffee plantations. Predominantly converts to Protestantism, the Montagnards say they have been facing repression and

...
---
Lawmakers: March 29 will honor Vietnam veterans nationally - TribDem.com
---
MC Mary Kom targets comeback at this year's Asian Championship in Vietnam - Zee News
---
Giving thanks to vets: Cody honors those who served in Vietnam War - Cody Enterprise
---
Chattanooga honors Vietnam veterans with long-awaited 'welcome home' celebration - Chattanooga Times Free Press
---
Vietnam dong, gold and interbank rates - March 28 - Times of India



Vietnam dong, gold and interbank rates - March 28Times of India

4, 2016 the State Bank of

Vietnam

has begun setting the mid-point rate on daily basis, allowing dollar/dong transactions to move in a band of +/- 3 percent around the mid point. The dong's exchange rate against other currencies is not restricted by a band.
---
Charlie surfs on lotus flowers: Exploring Vietnam - Aljazeera.com

Aljazeera.com



Charlie surfs on lotus flowers: Exploring VietnamAljazeera.comVietnam

- Fascinated by the contradictions of post-war

Vietnam

, a country somewhat in limbo between free-market capitalism and the strict rules of the Communist Party, Italian photographer Simone Sapienza embarked on a journey to explore the country ...
---
CapitaLand to expand in Vietnam - The Straits Times
---
Vet Center to commemorate Vietnam War at Hamlet library - Laurinburg Exchange
---
Mahesh Babu's next goes to Vietnam for a high-octane action ... - Hindustan Times
---