Taiwan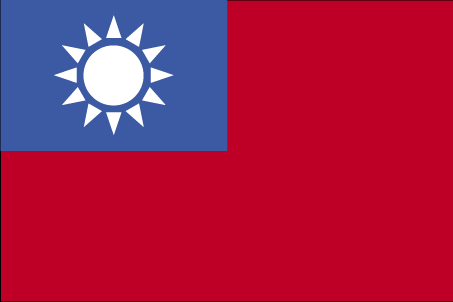 | | |
| --- | --- |
| Country | Taiwan |
| Capital | Taipei |
| Continent | Asia |
| Currency | New Taiwan dollar(TWD) |
| Languages | Standard Chinese, Hokkien, Hakka, Formosan languages & Fuzhou dialect |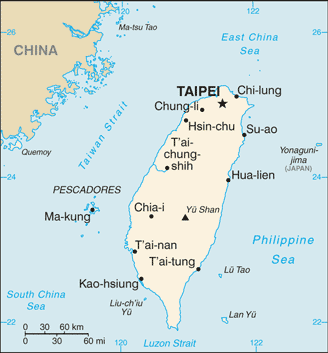 Information
Introduction
In 1895, military defeat forced China to cede Taiwan to Japan. Taiwan reverted to Chinese control after World War II. Following the Communist victory on the mainland in 1949, 2 million Nationalists fled to Taiwan and established a government using the 1947 constitution drawn up for all of China. Over the next five decades, the ruling authorities gradually democratized and incorporated the local population within the governing structure. In 2000, Taiwan underwent its first peaceful transfer of power from the Nationalist to the Democratic Progressive Party. Throughout this period, the island prospered and became one of East Asia's economic "Tigers." The dominant political issues continue to be the relationship between Taiwan and China - specifically the question of Taiwan's eventual status - as well as domestic political and economic reform.
Map
References
Taiwan - Wikipedia
Taiwan - CIA World Fact Book
Taiwan - BBC
Taiwan - Timeline - BBC
Cities
Links
News Headlines
Google News
This RSS feed URL is deprecatedThis RSS feed URL is deprecated, please update. New URLs can be found in the footers at https://news.google.com/news

---
Beijing's Threats Against Taiwan Are Deadly Serious - Foreign Policy (blog)
---
Taiwan: Legislators Launch Parliamentary Blockchain Alliance to Promote Industry Growth - Cointelegraph
---
Australian wheat penetrates Taiwan - Farm Weekly

Farm Weekly



Australian wheat penetrates TaiwanFarm WeeklyTAIWAN

could emerge as a significant market for Australian wheat, as awareness of the quality of local grain grows among local flour millers. Currently

Taiwan

averages about 230,000 tonnes in Australian wheat imports each year, worth about $80 million.
---
Fast Asia Open: Japan manufacturing PMI, Taiwan industrial output - Financial Times
---
Pillsbury Prepares New Taiwan Office After Raid on V&E - Law.com

Law.com



Pillsbury Prepares New Taiwan Office After Raid on V&ELaw.com

Kao and Tsai, both of whom are among the fewer than 50 registered foreign lawyers in

Taiwan

, will lead the

Taiwan

practice at Pillsbury Winthrop. The firm announced Monday that it intends to open an office later this year in Taipei, the capital of

...
---
Taiwan Eyes Blockchain Growth with New Parliamentary Alliance - CoinDesk
---
Taiwan's Yageo to buy US electronic components firm for $740 million - Automotive News (blog)
---
Why China isn't planning to storm Taiwan's beaches - The Interpreter

The Interpreter



Why China isn't planning to storm Taiwan's beachesThe Interpreter

The reason this gap is so puzzling is that reclaiming

Taiwan

is such an important part of the Communist Party's identity, and a core mission for the PLA. Some analysts also argue that

Taiwan

is the key to China's broader naval ambitions because it

...
---
Canada, New Zealand pledge support for Taiwan's WHA participation - Taiwan News
---
China's J-20 stealth fighters will likely patrol Taiwan's airspace soon - and the island nation is ready to counter - Business Insider India
---