Brazil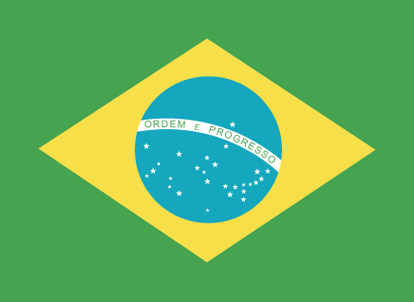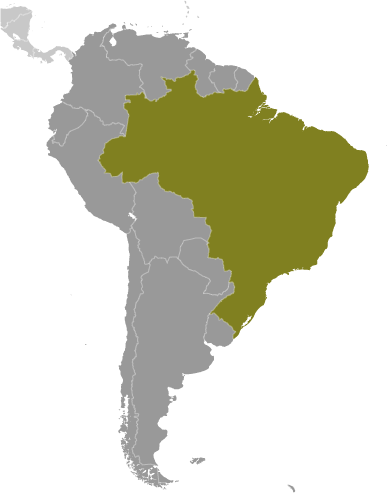 | | |
| --- | --- |
| Country | Brazil |
| Capital | Brasília |
| Continent | South America |
| Currency | Real(BRL) |
| Languages | Portuguese |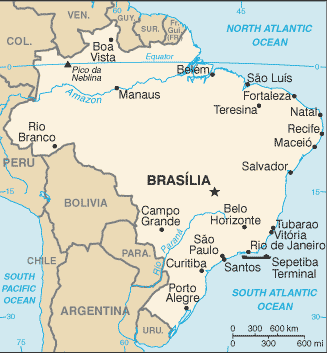 Information
Introduction
Following more than three centuries under Portuguese rule, Brazil gained its independence in 1822, maintaining a monarchical system of government until the abolition of slavery in 1888 and the subsequent proclamation of a republic by the military in 1889. Brazilian coffee exporters politically dominated the country until populist leader Getulio VARGAS rose to power in 1930. By far the largest and most populous country in South America, Brazil underwent more than half a century of populist and military government until 1985, when the military regime peacefully ceded power to civilian rulers. Brazil continues to pursue industrial and agricultural growth and development of its interior. Exploiting vast natural resources and a large labor pool, it is today South America's leading economic power and a regional leader, one of the first in the area to begin an economic recovery. Highly unequal income distribution and crime remain pressing problems. In January 2010, Brazil assumed a nonpermanent seat on the UN Security Council for the 2010-11 term.
Map
References
Brazil - Wikipedia
Brazil - CIA World Fact Book
Brazil - BBC
Brazil - National Geographic
Brazil - Timeline - BBC
Cities
Links
News Headlines
Google News
This RSS feed URL is deprecatedThis RSS feed URL is deprecated, please update. New URLs can be found in the footers at https://news.google.com/news

---
Huge Brazil rubbish dump closes after six decades - BBC News
---
EMERGING MARKETS-Brazil stocks hold near all-time highs; Argentina stocks fall - Reuters
---
Brazil legend Pele's spokesman denies he was rushed to hospital after collapsing from 'severe exhaustion' - The Sun
---
Brazil advances submarine construction - IHS Jane's 360



Brazil advances submarine constructionIHS Jane's 360Brazil

is preparing to integrate, finish, and test the first three unified hull sections for Riachuelo (S-40),

Brazil's

first of four planned diesel-electric attack submarines, at the Itaguaí shipyard. The hull sections were moved on 13 and 14 January

...
---
Brazil 'ungovernable' if court blocks Lula bid: Rousseff - Channel NewsAsia
---
Lenovo Brazil operations back in black - ZDNet

ZDNet



Lenovo Brazil operations back in blackZDNet

Last week, Lenovo-owned smartphone maker Motorola appointed

Brazilian

executive Sergio Buniac to lead its European operations in what could be an attempt from Lenovo to replicate in Europe the positive results in mobile phone sales seen in

Brazil ...
---
Orlando airport gets direct flights to Brazil - Orlando Sentinel

Orlando Sentinel



Orlando airport gets direct flights to BrazilOrlando SentinelBrazil

ranked No. 1 among overseas visitors, edging out the United Kingdom, and is second only to Canada among all foreign countries, according to Visit Orlando in 2015. The announcement comes during a record-breaking year at Orlando International

...
---
Local journalist killed in rural Brazil after receiving threats - CPJ Press Freedom Online
---
Mexico, Brazil Strong on Day One at UANA Swimming Cup - Swimming World Magazine
---
Brazil Gurung driven to kill because of drug abuse, says a friend - NEWS.com.au
---